*If you are looking for a recommendation on the exact electric guitar to buy then head here
Introduction
At the time most of us buy our first guitar, we know relatively little about the instrument and what to look for. As well as having to learn some new terminology and a little bit about how a guitar is built, set up and maintained, it makes sense to think about your own needs, too.

So, what are we covering in our beginners guide to buying an electric guitar? What are the vital considerations for a new guitarist?

Learning some simple aspects of how electric guitars are designed, as well as thinking about your musical ambitions, can help you to decide. Areas covered in our guide to help inform your decision include:
Design and materials
Body size and type
Brands
Costs
Accessories
This guide delves into detail on a huge amount of the knowledge you need to make assured purchases in the world of electric guitars. It can be a big purchase, and if you don't make the right choice it may put you off learning for good. Our information is designed to make sure you end up with a guitar you enjoy playing rather than one you get frustrated by. It can also serve you in good stead for the future. Make the right call on your first guitar and you may even end up keeping it for years.

Our tips will leave no stone unturned in helping you to get the right model and brand for your musical needs.

Detailed Answer – Buying an Electric Guitar
Finding an electric guitar to purchase is a delicate balance between many different considerations. There are some golden rules to making the right choice for you, which we have listed below, before delving into explanations on what some of the terminology means and the components and brands of electric guitar.

The Golden Rules of Buying an Electric Guitar:

Buy from a reputable dealer and not a private seller. If you head to eBay or other online marketplaces you will see thousands of guitars for sale, but you don't know how they have been looked after. As a beginner, it may be tough to spot any imperfections or issues with the guitar.
Always read reviews. Some manufacturers can nearly always be trusted with making a decent guitar, but even within one brand the quality can alter from one guitar to the next, even at the same price point.
Listen to the guitar in action if you possibly can. This might mean going to play it in a music shop, which is a great way of testing whether you like the sound and the feel. Most people like to order online, though, and this doesn't mean you shouldn't be able to hear the guitar. Find YouTube videos of it in action or even videos on the manufacturers website. Just be careful not to get fooled by the amp or the guitarist!
Don't make a vanity purchase. Most guitarists are guilty of getting incredibly tempted by words like "vintage" and "limited edition". There's nothing wrong with this, and the guitars will hold their value very well if you make a wise choice, but the extra value in terms of features may well be minimal if you opt for a signature or special edition guitar.
Pick a budget and stick to it. You don't need to spend a fortune to get a decent guitar, but once you go down the rabbit hole of reading about different models, or looking through a range of guitars, it is easy to fall in love with a guitar! Be sensible about it, see if there is a cheaper alternative in a similar design which you like just as much.
Cost of Buying an Electric Guitar
Though it isn't the most romantic way of looking at buying a guitar, you need to have an eye on your budget. We'd all love to go out and buy a $4,000 guitar, but it may not be suitable to do for a beginner. Even if you plan to stick with the hobby for better or worse, this is a huge amount to spend.

The more relevant question a lot of beginners have when they are choosing their first guitar is "how much do I have to spend in order to purchase a guitar which is suitable for my needs?"

This is one of those products that has an absolutely huge price gap between cheapest and most expensive. If you're on a very tight budget, there are guitars out there for under $100, but these don't normally offer the best features or a decent level of reliability. Expensive guitars can cost many thousands of dollars, and while these are great for the pros, they may be overkill for a beginner.

It is also important to know that the guitar market is slightly skewed by a lot of fanatics. A guitar being expensive is a fair indicator of quality, but it can also be a sign that the guitar is in scarce supply or has fans based on a famous guitarist who advocates it.

If you are going to go down the affordable route, keep in mind the fact that purchasing a $90 guitar will probably mean you end up replacing it in less than a year if you stick with your new hobby. There are some brands of beginner guitar who offer budget ranges, as we explore in the "Brands" section below. These can be purchased for between $250 and $500, see our recommendations here. These ranges and brands (such as Squier by Fender & Les Paul by Epiphone) are built to last, and guitarists can find themselves using them up until they are ready for a more pro model. Squier and Epiphone guitars even have the benefit of being available in the same iconic designs as the Fender range.

If you have the income to go ahead and spend $1000 on a guitar then you have plenty more options, but this isnt necessary for a beginner.

New Guitars vs Used Guitars
The second hand market for guitars is absolutely huge. This is true for a lot of instruments, and shows that many guitars hold their value relatively well. An electric guitar which has been properly looked after can be just as good for beginners, and can be a way to get a decent brand at a good cost. However, this does come with its pitfalls.

Not every guitarist is as careful with their guitars. While most of us look after them as the precious instruments they are, some beginner guitars can get a little neglected when their owners graduate to advanced models. Electric guitars can go wrong in a number of different ways, as they have a lot of electronic components which can break if not kept properly.

If you are going to go down the 'used' route, it is wise to still buy from a music shop, many of which have a second hand section. This means it will have been checked and even reconditioned, or at least set up again as if new. Many second hand retailers will also give some form of warranty so you can alleviate all of the risk from your purchase.

Electric Guitar Brands
Gibson
Gibson is a manufacturer of some incredibly well-made guitars both in the electric and acoustic field. The brand has over 100 years of history, and all of their models are designed and made in the USA.

Models they are famous for include the Les Paul and the SG. These are two guitars which most people will instantly recognize when looking for electric guitars. The guitars are associated with all sorts of different rock music. As well as the Les Paul and SG, they offer models with more unusual designs such as the Flying V which may be associated with heavier genres like metal and hard rock.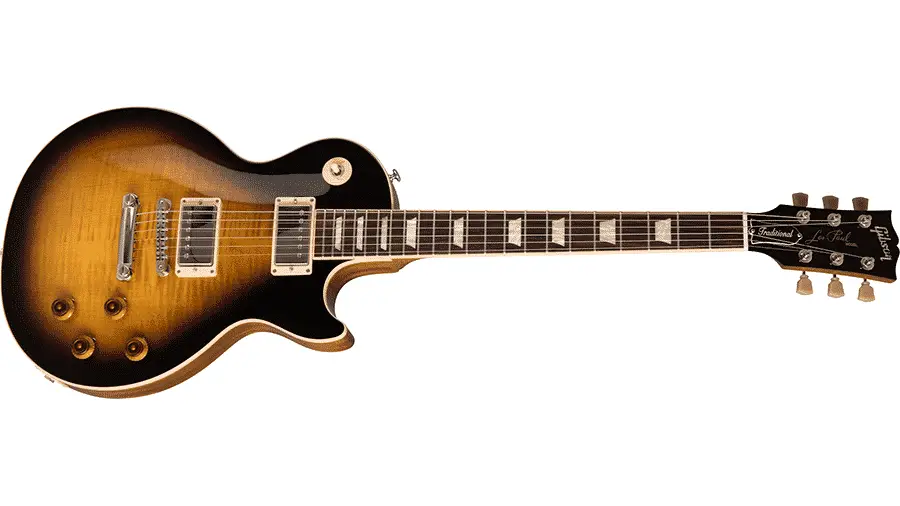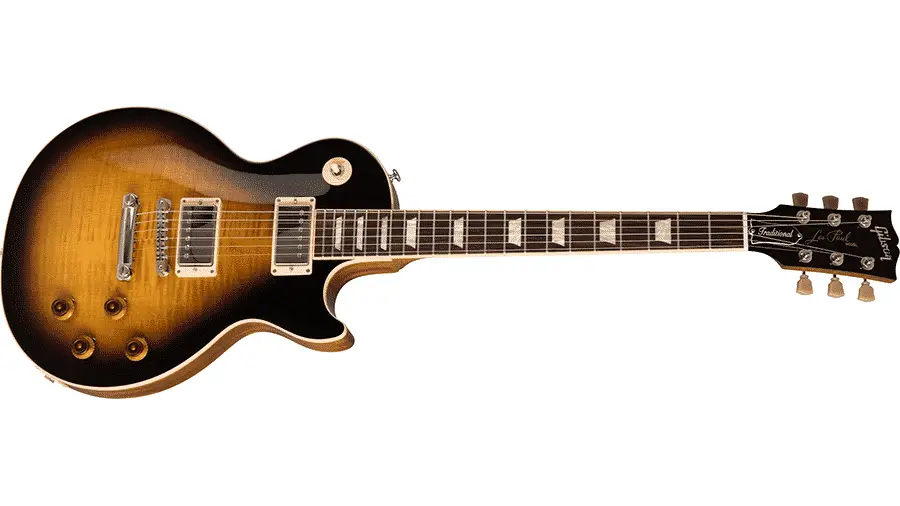 Gibson guitars are not cheap. Their workmanship is really top quality, and the tone which the guitars produce is a wonderful starting point. If you can afford a versatile guitar like the Les Paul as your beginner guitar then you can rest assured that you are going to be playing a model with a lot of quality. However, for those on a budget, they own another brand which can offer a compromise.

Epiphone
This is where music brands and audio manufacturers can get confusing. Technically, Epiphone is an older brand than Gibson. It has been around since the 1800s, however, it basically functions now as a cheaper version of the Gibson brand. It has many of the same model designs as its parent company. In 1957, Epiphone was purchased by Gibson.

Why are the models cheaper? Well, in spite of sharing the same designs, Epiphones are manufactured outside of the USA and use some cheaper parts (and tonewoods) to their more expensive counterparts. This doesn't mean they are low quality though, and Epiphone guitars can often provide a brilliant starting point for guitarists, with guitars on the market for a very reasonable price. Plus, they still have the iconic Les Paul and Epiphone designs many of us know and love. To look from a distance, you wouldn't necessarily be able to tell between Epiphone and Gibson.

Due to the low price and reliable build quality of these guitars, they are popular among beginners who still want a guitar with a recognisable design and character. Many Epiphone models tend to make the lists online of "best affordable guitars" or "best beginner guitars".

Fender
There's no way we could make a list of brands for beginners without including Fender. If you've ever attended a concert or music festival, the chances are you will have seen plenty of Fender equipment. Guitars, effects pedals, bass guitars, amps and more. Fender is an iconic brand in the world of guitars, and many people aspire to own one of their models.

Since starting in the 1940s, Fender has had hundreds of famous fans, from Buddy Holly to Bruce Springsteen, Kurt Cobain to Jonny Greenwood. Their guitars are associated with rock and alternative music genres, and are synonymous with quality.

Fender guitars include the iconic Stratocaster (often abbreviated to a "strat") and Telecaster models. Others such as the Jazzmaster and Jaguar are also extremely popular. Ask any guitar nut, and they will probably have favorites within the Fender range.

Fender guitars are expensive, but not always eye-wateringly so. For a basic model, the price is somewhere in the mid-range, but there is no denying the value-for-money on offer. If you start looking at limited edition or signature versions of Fender guitars, the price can quickly start to look scary.

Just like the Gibson models, there is an alternative…
Squier
Squier is a brand which is owned by Fender. Originally started by making Fender copies, this brand grew to the stage where it was bought out by Fender, and is now considered the "budget range". It still offers the same designs we all know and love, but like Epiphone, Squier uses cheaper components and the models are made outside of the USA.

Squier products are immensely popular among beginners, and those who want to eventually play a Fender, but aren't sure it is worth the investment just yet.

If you are buying a Squier, don't be fooled into thinking it is a cheap imitation. These products are actually very high quality. There have been some pretty famous YouTube videos comparing the original Fender model with the Squier alternative, and the sound isn't that far from the original.

It should also be noted that Squier guitars come set up very nicely out of the box, so they are ready to play as soon as they arrive.

Ibanez
A brand which is often associated with heavier genres, the Ibanez range is quite large, and has something for everyone. As a Japanese brand, this was the first Asian manufacturer to gain a lot of traction in the USA and Europe. Their range has models which are endorsed by guitarists such as Joe Satriani.

The Ibanez range has something for everyone, and a lot of their products are fortunately on the more affordable end of the market, making them a realistic choice for people who are just getting started but still want quality. Some more unusual and quirky designs can also make you stand out a little more.

Yamaha
Yamaha is a brand which likes to dip its toe into pretty much every type of musical instrument manufacturing you can imagine! You may think of them as making keyboards and digital pianos first and foremost, but Yamaha has some decent electric guitars including the Pacifica series. This model is not dissimilar from the Fender Strat, and is an affordable way to get your first guitar. Yamaha also offers accessories and amplification systems.
Notable Mention Brands
The above brands are undeniably the most common guitars, especially at the standard price point most beginners will be looking at.

They aren't the only brands on the market, though. PRS, Gretsch and ESP guitars are all brands which are known in the industry, even if not as popular.

There are a huge amount of "unbranded" guitars, or brands which certainly aren't well known. A lot of cheap, imported guitars under $100 will not have the brand power of the others on this list. This doesn't always mean they should be totally ignored. If you are unsure of whether the hobby is for you, or want to spend the minimum, don't expect to get a household name brand. In the case that you end up considering a guitar which is relatively unknown, reviews are your best friend!

When buying a guitar, don't just trust brand name alone. Though an established brand name is a good indicator of quality, it isn't everything. On the very cheapest end of the market, always read the reviews to see what those who have already purchased have said. There are a few gems out there by unknown manufacturers, even if they probably won't last as many years or hold their value as well.

Looks and Shape
Before going into the more technical aspects of guitars and how they are designed, it is worth discussing the look of a guitar. Should looks play a part at all?

The truth is, there are plenty of good options on the market, meaning you can probably find a guitar you love the look of within budget. Looks don't have a huge bearing on the sound, but they can impact how easy it is to play. For instance, think of a "Flying V" style of guitar.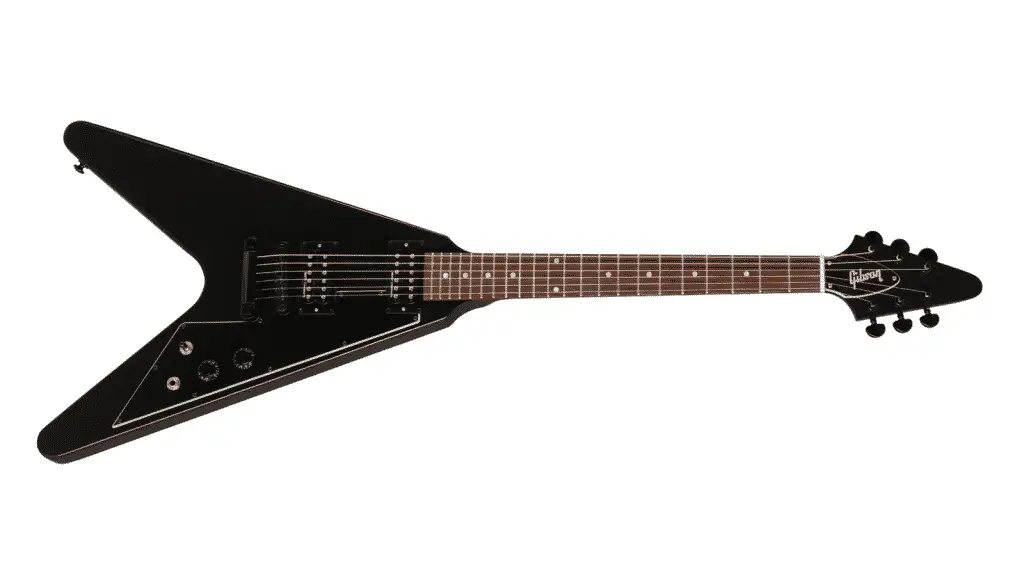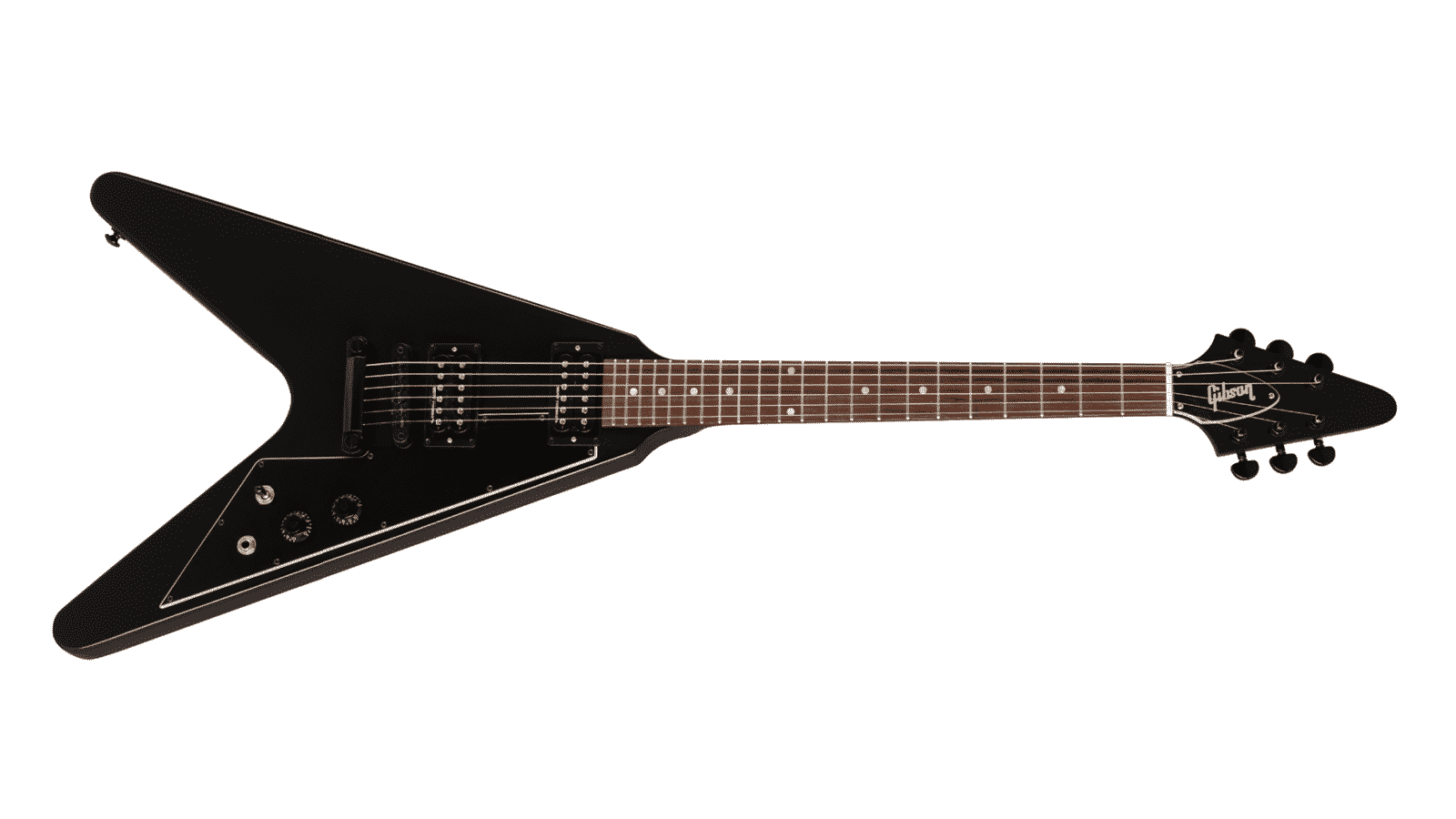 These are popular in rock and heavy metal styles, and if you are planning to stand up to play then they will be no problem at all. As soon as you sit down, they may be lopsided and awkward.

Though looks probably shouldn't be your number one priority when you choose your electric guitar, there's nothing wrong with wanting a model you don't mind being seen playing.

The shape of a guitar can also have an impact on the way it is played. For instance, the "cutaway" shape of a guitar. These are the horned areas near where the body attaches to the fretboard, and they're called cutaway for a reason. Some give an asymmetrical design. Think of the Les Paul for an example of this. The area which is cut away on the underside is designed to make it easier to play your guitar at the highest frets.

Body Type
As a beginner, some of the terms you will likely hear early on which confuse you will relate to the body type. This is, in essence, the hollow or solid nature of a guitar.

Solid, semi-hollow and hollow are the three standard body types. As you might imagine, whether a guitar's body is hollow or not can have a big impact on the sound it makes. Electric guitars get a lot of their sound characteristics from the strings and the way the strings vibrate, but this is vastly impacted by the shape of the body.


Solid body means exactly what you think. These guitars are made out of one solid slab of wood. This is the sound a lot of us are used to hearing from electric guitars, and many of the most popular models are solid body guitars. They're less bulky to hold, and their tone is more impacted by the electronics, the design and the pickups than by the wood. Tonewood does have some impact, but not as much as a hollow bodied guitar.


Hollow body guitars have a really 'thick' sound featuring a lot of resonant tones. This sound is good for rhythm guitar and is often favored by jazz guitarists. They also produce more bass tones than many of the solid body electric guitars on the market. Some hollow body guitars can have problems with feedback during amplification. They're not as mainstream, but can produce a very rich sound.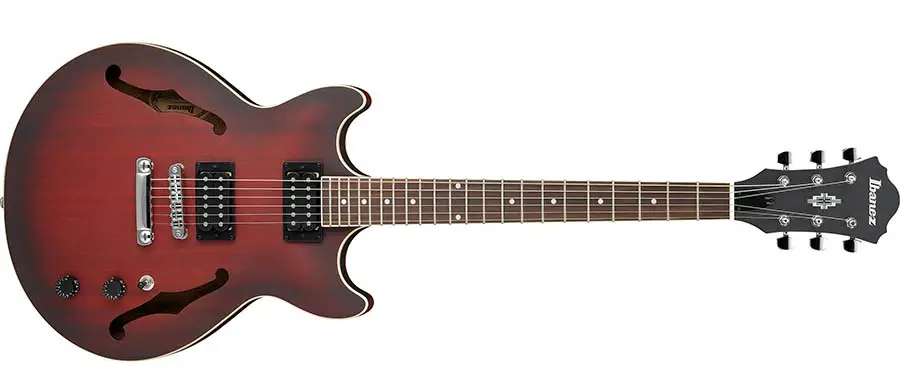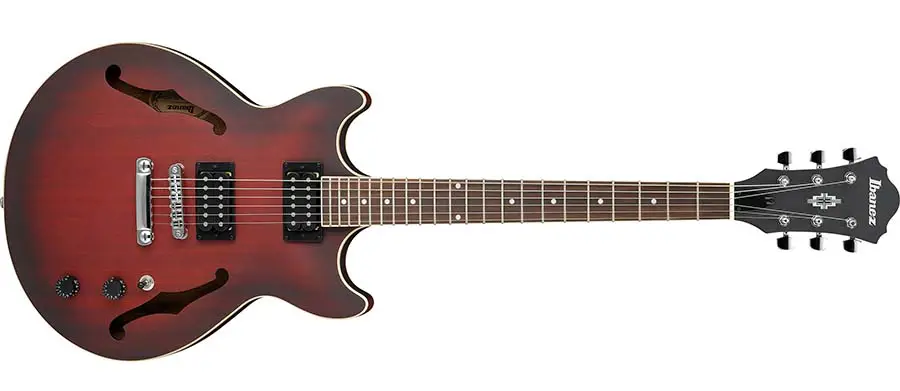 Semi-hollow body guitars are somewhere in between, as you can probably imagine! These are like a hollow guitar but with a solid wood centre. The middle ground is designed to have a fuller, rich resonance like a hollow guitar, but also the stable sound and sustain of a solid body guitar. They are less prone to the feedback issues as a totally hollow body guitar. These semi-hollow models are great for a blues sound or for jazz, rock and just about anything else you can imagine. Think of a thick sound rather than a thin, jangly lead sound you might get from a solid body.

Tonewoods


As a beginner, thinking of the main things that make up an electric guitar sound, you probably don't instantly think about the wood it is made from as being vital to the overall sound. Whereas it is pretty clear why the tonewood is key for an acoustic guitar, it is easy to think that the wood doesn't project the sound, and therefore isn't important. This is very far from the truth.

Tonewoods are vital to electric guitars. They all have their own characteristics, and there are certain types of wood which get used time and time again in the manufacture of electric guitars. These woods are also a huge part of how the guitar is priced. If you've ever purchased the most sturdy furniture possible, you will have some idea of how different the prices can be based on the wood. Some wood is easy to source and grow, other wood is more difficult. A body made out of one of the sturdier and more rare types of wood is bound to lead to a more expensive guitar.

Plenty of the more affordable woods have good qualities for electric guitars, though. This list will help you to understand which woods might be suitable and affordable for your purchase.

•        Mahogany – to use our furniture example again, you will probably know that mahogany isn't cheap. This wood is strong and unlikely to break, and this is relatively popular in making guitar bodies. In spite of being strong, it isn't the hardest wood, and this can give a lovely mellow sound with levels of resonance you might associate with semi-hollow guitars. Mahogany is not commonly used on the neck or fretboard as these need harder wood

•        Ash is used a lot in solid body models. It is a relatively hard wood and has a lot of sustain. The mid-range and high end sounds tend to shine through with an Ash body. The wood looks quite grainy but is normally finished in a way that the wood is not totally visible.


•        Alder is another type of wood which has quite similar characteristics to ash, in spite of not being quite as hard. It is used a lot to produce solid body electric guitars and commonly finished with a solid color so you cannot see the wood itself.


•        Agathis completes the three "A's" in a row, and all three have some tonal commonalities with a brighter sound and plenty of resonance. Agathis is an affordable wood to source, but does a decent job of making guitar bodies, so you will see this used an exceptional amount in the cheap end of the market. A huge percentage of beginner guitars priced under $200 will tend to have some sort of Agathis component.


•        Maple is one of the few types of wood that is commonly used for different parts of the guitar. You can get maple fingerboards, necks and bodies. It has a fast "attack" which means the sounds are clean and that the guitar responds quickly to your playing, great for funk or for solos. Maple is used in a huge amount of guitars and is seen being played by guitarists for blues, rock, metal and country genres.


•        Rosewood is a very common option for the fretboard of guitars. It is tonally pleasant and has a nice ring and resonance to it if used as the body of the guitar, but as it is a heavy wood, it is often avoided for bulky sections. Rosewood has a really pleasant feel for fretting, hence it being on the fingerboard of so many guitars.


•        Basswood is another which is relatively common due to being affordable. The best way of describing basswood is 'versatile'. The wood doesn't taint the sound too much at all, and leaves something of a blank canvas. It is affordable for manufacturers and pretty sturdy, giving a good balance of all the things many people look for in an affordable beginners option of electric guitar.

The guide to these tonewoods should give you some guideline as to why the wood is important. It can take many years of playing and listening to guitar to work out the subtle differences they make, but they are important. The right wood can give a nice feel, playability and tone to a guitar.

Pickups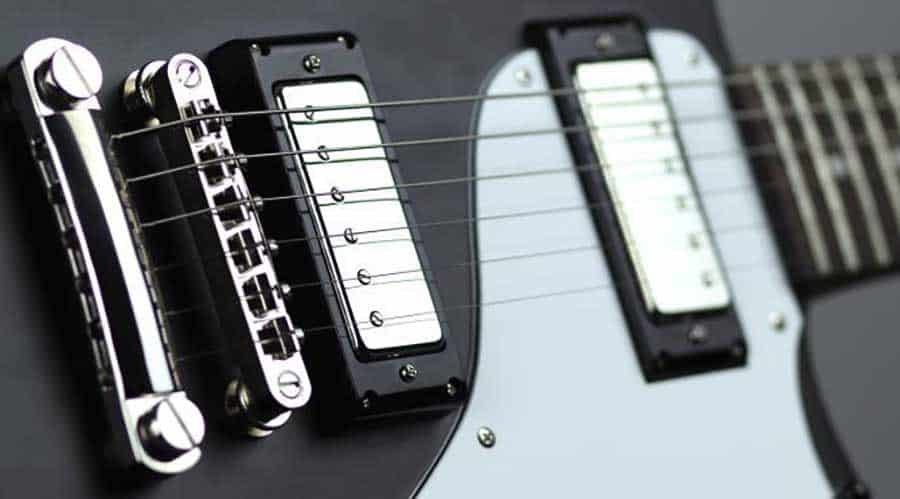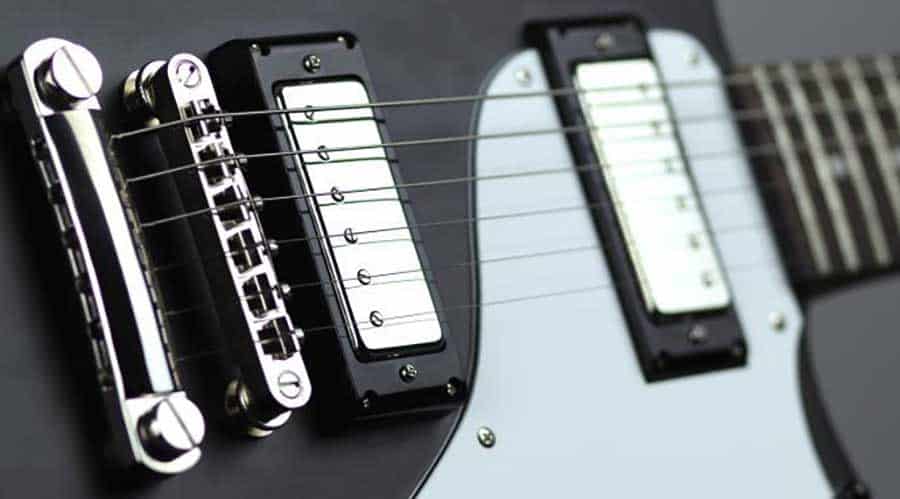 Pickups are located on the body of the guitar. Specifically, underneath the strings. They should not be ignored, especially if you are looking for a specific sound from your electric guitar.

The pickups are an electronic part of the guitar, which sense the vibrations when you strum or pick your strings and then turn these into electrical signals. This is how we are then able to amplify this signal.

The sound of an electric guitar is hugely influenced by the setup of its pickups including how many it has and which types of pickup.

Active or Passive
This is terminology to get to grips with before we look into the specific types of pickup. Active simply means that they are powered, normally by a small battery. This electrical power translates to audio power and a thick, strong and clear sound with louder potential. Think metal chugs and heavy rock sounds. A passive pickup is fine, too, and can mean one less thing to maintain (the battery within). The sound of a passive pickup will be a little softer, but it is all about how you amplify the guitar.

Types of Pickup and What They Mean


Single Coil Pickups
Single coil options don't tend to be active, and are among the most simple and balanced pickups out there. They have a bright tone great for playing lead guitar or funky riffs. These were the first types of pickups ever manufactured when electric guitars were designed, so can be good for creating a vintage or retro sound, though they sound perfectly modern if needed, too. You may notice a hum from a single coil pickup, this is just part of its character.

Humbuckers
Humbuckers are a powerful pickup and they have more 'bite' than the other types. The name comes from the "bucking" of the "hum" that we talked about in single coil pickups. By getting rid of this hum there is a more powerful tone with a lot of mid and a little more bass than the other types. These are loved by rock and metal guitarists. Combine a humbucker with an overdrive effect and you have a signature heavy guitar sound.

P90 Pickups
The P90 is another balanced pickup, but they are tonally somewhere in between the single coil and the humbucker. They were first seen in a Gibson Les Paul first released in 1952, which quickly became very popular. The coil within the mechanism is wider which results in more mid-range and low-end frequencies in the overall sound.
To put the difference between the three common types of pickups simply, the single-coil is a high sound great for lead guitar and bright tones. The Humbucker has bite and a low end response great for rock and metal, and the P90 is a very even and balanced tone.

Configurations of Pickups
Just to make things even more complicated! A lot of electric guitars on the market nowadays have multiple pickups. If you see "HH" on your guitar's description, that means it has two Humbucker pickups. "SSS" means three different single coil pickups. Their location gives a different character to the sound.

The little switch on the front of a guitar which can be flicked back and forth is not just for show, this is to choose between the pickups included on your guitar to create a tone you are happy with. It may be that some songs are played in one configuration, and you switch to another for different songs.
Guitar and Pickup Controls
As well as the control to switch between the pickups, there are often other controls on the front of your guitar. What do they do?

These relate to the pickups and the signal it creates, too. One is usually a simple volume control. Turn it up and the output increases, turn it down and it decreases. Usually, you will want this volume as high as it can be, this means that your amp gets a clean and clear signal to work with.

Other common knobs on the front of the guitar are "tone" knobs. This can allow you to change the tone of the pickups themselves, and often alter their response to different frequencies. By doing so you can make higher sounds or lower sounds stand out as per your preference. Many guitarists will find a nice balance and stick with this for the majority of the time.
Electric Guitar Anatomy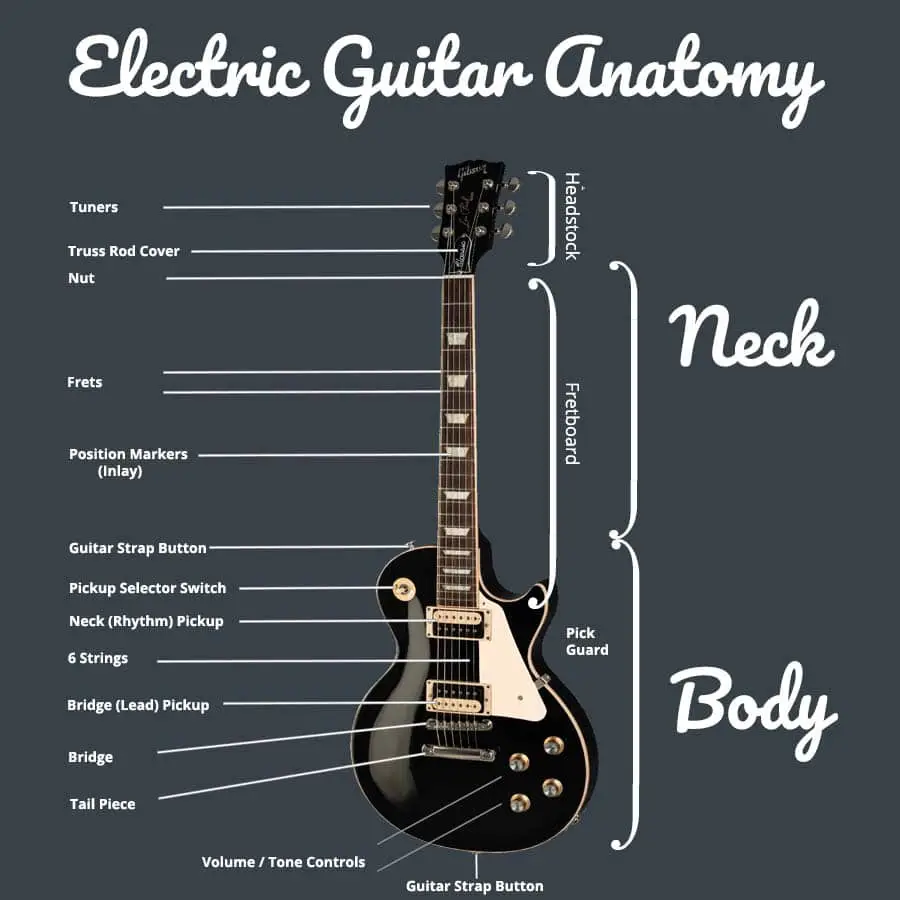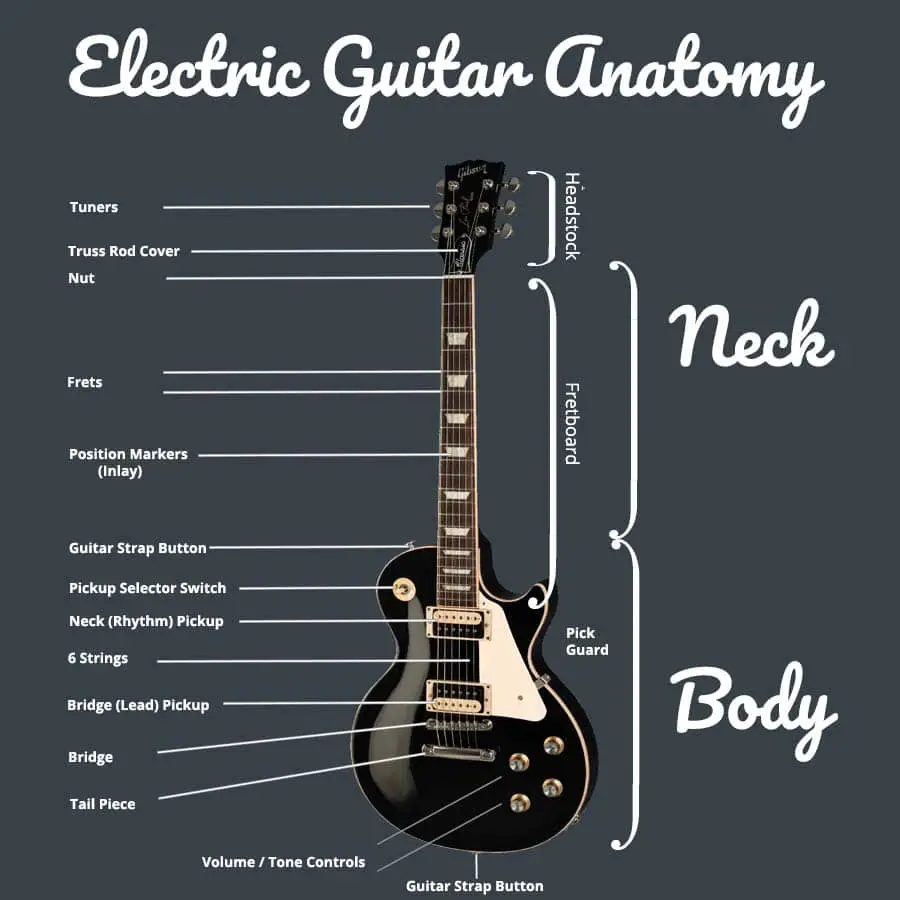 The Neck
The Neck of the guitar is in a pretty self explanatory place. If you consider the "headstock" as the area where the tuning pegs are, the neck is what runs between the body of the guitar and the "head". This includes the fretboard.

The Neck of a guitar has a vital impact on both the sound and the playability. If you've picked up and played multiple guitars and noticed a different feel to them, a lot of this will come from the neck. The materials and the setup are important, but as an absolute beginner it can be very hard to tell the difference from one guitar to another. As your knowledge grows and your guitar preferences become a little more nuanced, you will begin to feel what kind of Neck configuration you prefer.

Neck Joint
This is where the neck of the guitar attaches to the body. These two parts of the guitar are usually made separately and then joined together.

The two common ways of doing so are either to bolt the neck on with a small metal panel and some bolts, or to "set" the neck with glue. It may seem like this is a totally cosmetic detail, but as well as impacting the looks, it changes the sound of the guitar, too.

Bolt-on necks tend to have a higher, bright sound, whereas set-neck options give a more resonant tone. The impact isn't huge, and you probably shouldn't make the choice of a first guitar on how the neck is joined to the body. They do feel different though, so if you are trying out guitars in person, think about which of the two types is preferable.

Keep in mind that the easiest type of Neck when it comes to making repairs is the bolt-on design.

Bolt-on designs tend to be associated with Fender. A huge percentage of their guitars have the neck bolted on. Gibson designs tend to have a set-neck, as do a lot of hollow and semi-hollow guitars.

There is one other, less common way of doing it. This is called "Neck-through" and means that the neck actually goes from the top to the bottom of the guitar, and the two parts of the body are attached either side of this. They are quite pleasant to play and the resonance definitely changes as a result of the design, but they are more rare, especially among cheaper models of guitar.

Neck features aren't limited to just the material and how they are attached.

Number of Frets
The number of frets on your fingerboard is an important decision to make early on. It will largely depend on the style of playing. 24 frets is the most that electric guitars tend to go to, and these are popular among guitarists who like to play complex solos. The extra range allows for more complicated playing close to the body of the guitar.

The industry standard fretboard will have 22. This is a good balance between chords and rhythm playing and also allows room for solos. 21 or 20 fret guitars are a bit of a compromise and should only really be considered if you want a short scale guitar. Which leads us to the next point.
Scale
The scale of a guitar is, quite simply, the length of the neck. This is measured from the nut (where the neck connects to the headstock) and the bridge (where the neck connects to the body). The scale is different to the amount of frets, frets can be different sizes and this means that the measurement doesn't directly relate to the number of frets built in to the fingerboard.

A long scale guitar has more tension as the strings are tighter. This can make some of the soloing techniques (such as bends) a little more difficult. The sound is resonant and very bright on a long scale guitar.

Short scale guitars have less tension and close together frets. Because of the lower tension within the strings, short scale options can be good for changing to a lower tuning, very popular among a lot of contemporary metal musicians.

Generally speaking, any guitar with a neck under 24 inches long is short scale. Over this is longer scale. The style of guitar you plan to play may play a big part in this decision.
Radius and Profile


Necks are made in different shapes or "profiles". Imagine a plank of wood whittled to a certain shape all the way down. The profile affects how the left hand (or non-dominant hand) feels moving up and down the neck. C shape and V shapes are common, and these are more chunky. D shapes are also available, often used by lead guitarists who want something slimmer with an easier feel moving up and down the fingerboard.

The radius is related to the profile, and is quite self-explanatory. Large radius necks are flatter, and therefore great for solos and moving up and down the fretboard. Some of the smaller radius options have quite a large, drastic curve, and these are easier for playing chords and rhythm techniques rather than fast solos.

Neck radiuses are generally between 7-12 inches.

Bridge and Tailpiece
The bridge and tailpiece are part of what is sometimes described as the 'hardware' of a guitar. The bridge is utterly vital to the sound and the feel of your guitar, and it needs to be in place for you to keep your guitar in tune and feeling good.

The bridge is what the strings are balanced over, keeping them away from the body of the guitar. Having been routed through this section they come to an end at the tailpiece, which sits slightly below the bridge.

The bridge is vital to what is called the "action" of a guitar. The action is a big part of how the strings feel to play, and how high they are off the body and the fretboard. A lot of bridges let you choose how high they are and this adjusts the action simply and easily.

This is a clever part of the design of a guitar. Bridges can cope with pretty much whichever string gauges and types you put on them, and as well as keeping them away from the body they allow adjustment of the length of the string, allowing you to keep the strings in tune with each other and in tune all the way along the fretboard. This ensures that when you play a note on the 5th, 8th or 14th fret, for example, the notes will change accurately. This is called intonation. When you are getting your guitar set up, the intonation will be a big part of this.

The bridge has often been described as the "anchor" by guitarists. Being the end of where you interact with the strings, the bridge and the way it is set can impact the tone. The material the bridge is made out of can have an impact on the sound, as can the tension it provides along the strings. How rigid and firmly in place the bridge is can also change the sustain and resonant frequencies of a guitar.

Bridges are where the Tremolo or "whammy bar" can be attached. This is something a lot of beginners are drawn to as it is fun to play with, and can give a cool effect for metal and other genres of music. The tremolo can be used subtly during solos or less subtly for giving a heavy effect. The basic principle is that all of the strings on the guitar have their pitch bent and adjusted based on how you use the tremolo. If you buy a guitar with one of these, be prepared to spend more time tuning it!

For beginners, the key knowledge is that an adjustable bridge will allow you to alter the action of your guitar, but this is not something people tend to do until they have developed a bit more knowledge of playing guitar. For more information on the importance of a bridge, this post offers some insight.

Accessories
Electric guitar accessories is a huge area to explore! There are hundreds of different accessories you may come across in your life as a guitarist. While we're not going to delve into all of them, it is important that we discuss some of the accessories which are required. A huge amount of accessories are optional, but those listed below are not things you want to be without when you buy your guitar.

It should also be explained that if you are purchasing a new guitar, a lot of them will be sold as bundles. Buying an electric guitar bundle can be a good way for a beginner to make sure nothing is being forgotten when making the purchases, and that you have all you need to start playing. It is incredibly frustrating for your guitar to arrive and you not have the right tools to set up and get started.
Amplifier
The obvious accessory that you need for your electric guitar. You simply won't be able to hear it without proper amplification. Choosing the right amp is a topic which we won't cover in full within this article, but a reasonably low-powered practice amp with 10 or 20 watts of power is suitable enough for beginners. Once you start playing gigs or recording then it might be worth getting something with a bit more "oomph".

Other Accessories
Strap. You will probably want to play your electric guitar standing up at least some of the time, and even if you do sit down to practice it is best to keep your strap in place to give the right posture for playing guitar.
Guitar Cable. There is no point in having a guitar and an amp if you can't connect the two. Guitar cables are often described as "Jack-to-Jack". They are ¼ inch to ¼ inch in size and plug from the output of your guitar to the input of your amp.
Tuner. While many guitarists are eventually able to tune by ear or use an online tuner, it is far simpler to use a tuner which can tell you whether or not your guitar is perfectly in tune.
Plectrums/Picks. Do you want to play with a pick? It is common for electric guitarists to use picks as this gives a strong attack and clear sound. Purchase some when you're getting your guitar.
Spare strings. Strings can break, especially if you have a guitar with a lot of tension along the fretboard. Replacing strings is a good skill for beginners to learn, and though it isn't easy, it makes sense to have some spares.
Case. Don't take your guitar anywhere without a case. Even if you leave it at home 99% of the time, a case can still help to keep your guitar away from dust or drastic temperature changes which can warp the wood.
Final Thoughts
As our guide shows you, there is always a balance to be struck when purchasing a guitar. Price, features, build-quality and materials all need to be thought about. There is no denying that some types of guitar are better suited to certain types of player. Think about whether you picture yourself playing muddy riffs or jangly solos before matching up the features listed in this guide.

It can feel overwhelming trying to make the right choice, as pretty much every part of a guitar will have some influence over the sound. The important thing is to get a reliable and well-made guitar. Our recommendations are here which are very good for the comitted beginner. If you get the chance to listen to some examples and also to get a feel for what is natural to you, go with your gut instincts while keeping in mind what may or may not be sensible.

Related Questions
Is it best to learn on electric guitar?

Generally speaking, starting with electric guitar is easier than acoustic. It requires less finger strength and is generally a little more forgiving of errors you might make. Electric guitars also often have slim necks which make it easier to grip and move around, and reach the chord shapes. Whether it is "best" or not depends on your opinion. Building up the hand strength by playing acoustic guitar has its advantages too, and means that transitioning to electric guitar will be much easier when the time comes.

Do I need to play a guitar before I buy it?

This is a matter of opinion. Generally speaking, it isn't 100% necessary to have played the exact model of guitar you are thinking of purchasing. What is a good idea is to go to a guitar store and play a few different models of electric guitar to decide which features you like. Think about whether you like shorter or longer scale, the feel of the neck and the tension in the strings.

What is the minimum I should spend?

This is a question often asked by parents who aren't certain that their children are going to stick with the hobby! It is a difficult trade-off. You can buy guitar bundles for $100 which, in theory, have everything you need to get started. However, these don't always feel or sound the nicest, which can put off an aspiring guitarist. Around $300 is probably the minimum to get a half-decent guitar.

How many strings should my guitar have?

If you enter the realms of alternative music and metal, you will see that there are guitars with more than the usual six strings. For a beginner, steer well clear of these. Once you have built a foundational knowledge of the guitar you can consider whether you might want a model with more strings in the future.

Should I buy an effects pedal?

To get started, you don't need effects pedals to learn the basics of guitar. Purchasing an electric guitar usually means buying a lot of accessories at the same time, don't make your life any more complicated and expensive by purchasing effects pedals before you've learned the basics.