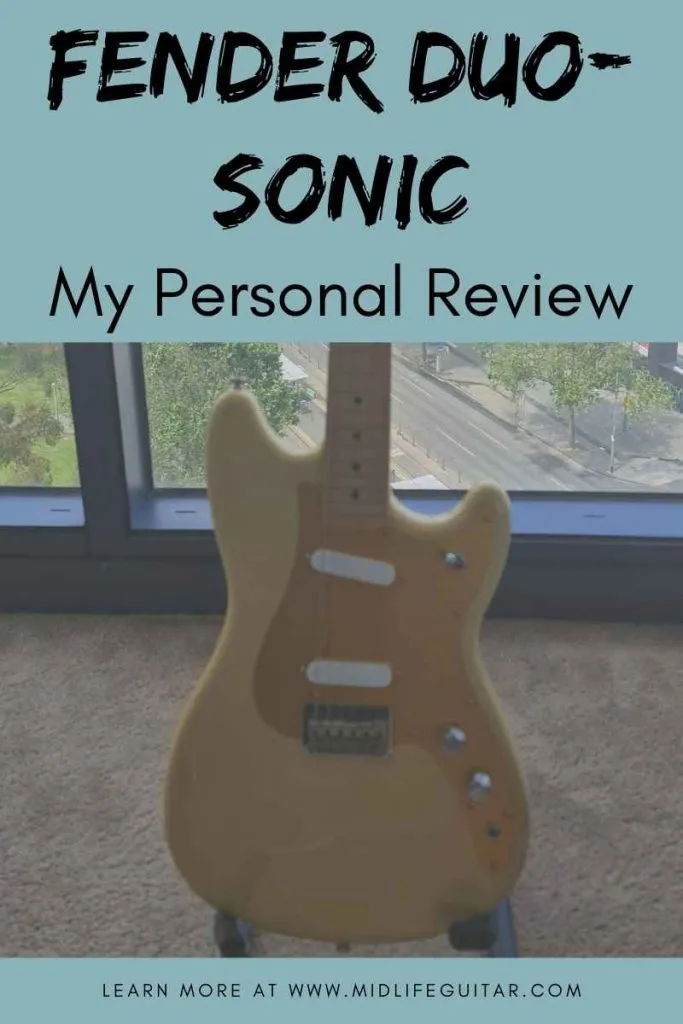 Although initially intended for beginners, the Fender Duo-Sonic quickly became an underground sensation that paved the way for alternative rock in dingy New York bars in the 1960s. 
This beautiful instrument has had several models released over time, and each model comes with its own modified features.
So the ever-evolving Duo-Sonic should not be looked past as just a beginner's guitar but a pocket rocket that will fit right at home with your collection. 
At 6″ 4 and having a few axes in my collection, the ¾ size guitar is a personal favorite.
Why is this guitar so good, I hear you ask?
The Duo-Sonic is an excellent guitar because it is easy to hold, easy to play as your fingers will run seamlessly up and down the neck. Its sound is unrivaled as it packs a lot of punch for its size, and it is versatile enough to allow you to play most styles of music. 
Due to its small size (24″ scale length) and lightness, this guitar can be carried and held by youngsters as well as adults. 
Its "C"-shaped maple neck, and 9.5″-radius maple fingerboard with 22 medium jumbo frets, make running your fingers up and down the neck seamless no matter your skill level and age.  
With a six-saddle string-through-body hardtail Strat bridge with bent steel saddles and a three-way pickup switch, the guitar's sound is versatile enough to play most styles of music. 
Its tone is reminiscent of a hybrid between a Telecaster and a Strat. 
It can also reach a Jazzmaster's warm tone and deliver a grungy feel. 
Related: Are The Fender Jazzmasters Good Guitars?
It may not have the variations of tones you might find on a Stratocaster, but the three-tone option is more than enough to get what you want out of the guitar. 
One thing to keep in mind, this guitar won't rock the socks out of a large venue like a Strat if playing live… 
However, it is optimal to jam with mates, recording at home, or just a lazy afternoon playing at home, rocking out to your favorite tunes. 
Target Audience
Although the intended audiences were young kids and beginners alike when it was first released, this particular axe has a cult following in hard rock, blues, and pop.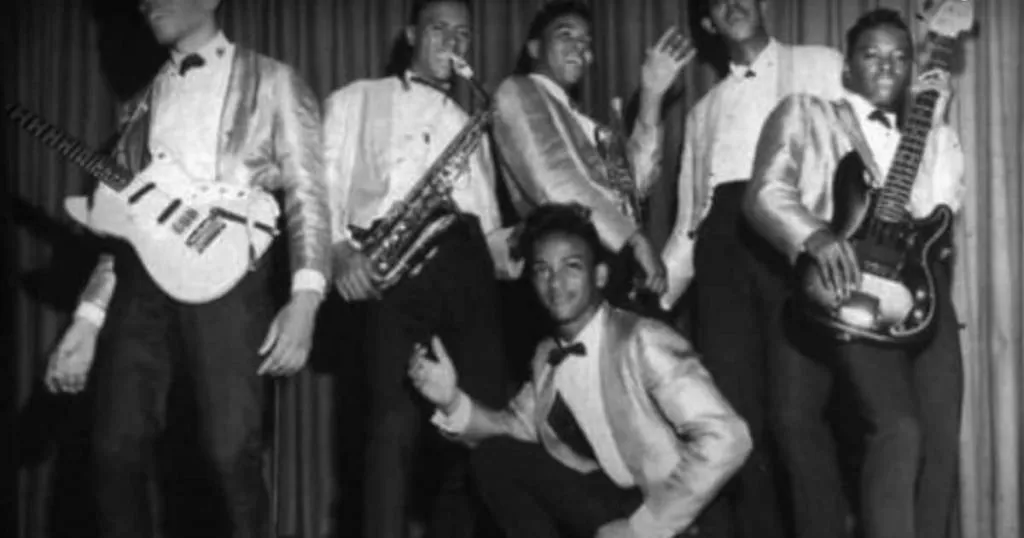 Talking Heads' David Byrne also recorded the band's first two albums with a Duo-Sonic. 
Players have warmed up to the Duo-Sonic over the years. 
Its initial intended audience of youngsters is all but a distant memory as this classical guitar is sought after by musicians from all walks of life. 
Key specification and Features
| | |
| --- | --- |
| Bridge type | Six-saddle string-through-body hardtail |
| Body Material | Alder |
| Neck | "C"-shaped maple neck with 22 frets |
| Scale length | 24″ |
| Pickup setup | A single-coil neck pickup + a tappable humbucker bridge pickup |
| Controls | Master Volume + Tone, three-way toggle switch |
| Latest price | USD 699.99 – 729.99 |
Core Features
Body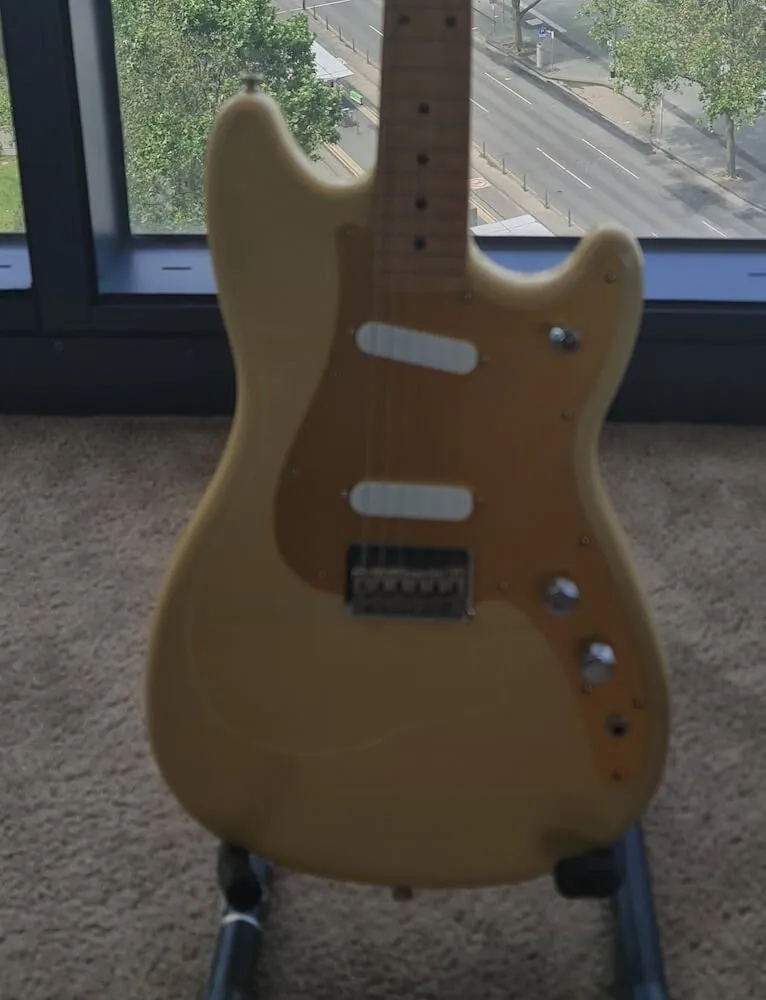 All versions of the Duo-Sonic have a thin waist Alder body, making this guitar robust, durable, and super lightweight. 
At only 6.7-pounds, this guitar is one of the lightest in the market.
The Alder wood boasts many sonic advantages, including its resonant, balanced tone. Which is brighter than other hardwoods.
Its tone emphasizes the upper midrange. 
This wood also imparts excellent sustain and sharp attack.
The Bridge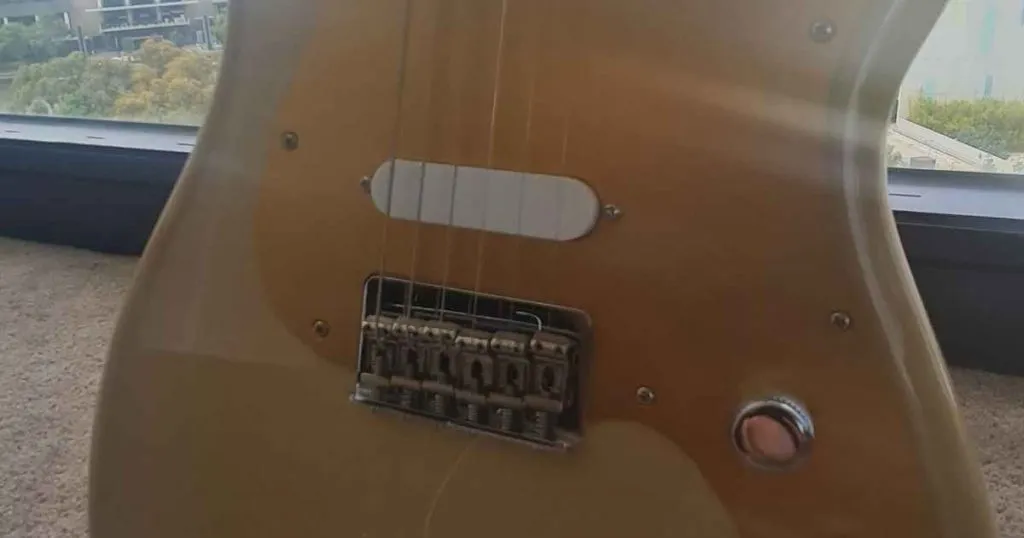 This guitar comes with a top-loading non-tremolo hardtail bridge, allowing for better tuning stability. 
Therefore, bending one string doesn't de-tune others.
The bridge has a chrome finish.
Sound
The sound is reminiscent of a mixture between the hard-hitting Stratocaster and the twangy Telecaster. 
Reliability
With a mixture of sounds reminiscent of a Strat and Tele hybrid, the Duo-Sonic is reliable in terms of sound, whatever genre you choose to play… 
Hardware is also very reliable, just like any other Fender guitar, so you don't have to worry about that side of things. 
Price
Price varies, but the usual range as of November 2021 is USD 699.99 to 729.99.
The Pros and Cons Of playing a Fender Duo-Sonic
| Pros | Cons |
| --- | --- |
| The small size and lightweight wood of the guitar is an enticing feature for many guitarists of all levels. This is because it is easy to hold and carry.  |  The price tag warrants the quality you get with the guitar. However, better models such as the Strat or the Telecaster are only a few hundred dollars dearer.  |
| With its slick neck and smaller scales, learning how to master the axe will be easier on this little pocket rocket.  | The three-tone-way toggle switch feels like it could do with a few more options as the three tones limit players.  |
| Although the guitar's sounds are not as iconic as the Stratocaster, you will be able to play almost any genre on the Duo-Sonic, from hard rock, blues to pop.  | The lack of 'phase switching' can also limit players. |
| The feel of the guitar is unparalleled and is like no other guitar. This, in my opinion, is its best feature.  | |
| Its "C"-shaped maple neck, and 9.5″-radius maple fingerboard, make running your fingers up and down the neck seamless no matter your skill level and age.   | |
Conclusion
Overall, the Fender Duo-Sonic is a great guitar to add to your collection. 
I speak from experience as I own one. 
This guitar is hard to walk past whether you're a seasoned veteran or a beginner. 
With its hybrid sound, small size, and unique shape, this guitar is optimal for guitarists who want something a little different. 
Ideal for a jam or a rock-out session, the Duo-Sonic will have you covered. 
Don't let the size fool you; it is a guitar you will not regret buying. 
Even though the price tag is not far off the better-known Telecaster and Stratocasters, the Duo-Sonic is revered and sought after around the globe. 
Its three re-releases prove that, as it offers a unique sound that is only found within this little gem of a guitar. 
If you're a lover of Fender, then the Duo-Sonic is a no-brainer. 
If you are a lover of hard-hitting tones that can interchange between smooth and twangy, AGAIN, the Fender Duo-Sonic, is a no-brainer. 
So if you have the chance, play one; you'll fall in love with it immediately.