I bought and played through Mary Spender's Masterclass on Teachable. It is her beginner guitar course and first course released to date.
Alongside this, I researched from others who have taken the course, and together with my own opinion based on playing through other beginner guitar courses, wrote this review.
Before we start, please note that this is an entirely independent review, it is my genuine opinion from having bought and played through the course, and is in no way affiliated with Mary Spender.
This my YouTube review of the course where you get to see inside and how the lessons are laid out, I share my experiences of having played through it and share my likes and dislikes / what I think could be improved.
Luke
Table of Contents
Add a header to begin generating the table of contents
Who Is Mary Spender?
If you are unfamiliar with who Mary Spender is, she is a singer-songwriter from the UK and has a degree in Classical Music from Bristol University. Perhaps what she is most known for online though is her YouTube channel where she performs her songs, showcases covers, interviews, reviews, and generally targets guitar players and singer-songwriters.
Combining her sultry voice and electric guitar to create rock songs infused with blues and soul, Mary Spender's songwriting showcases her virtuosic style of guitar playing as well as her wide vocal range.
At the time of writing, she has over 350,000 Subscribers with growing Patreon support. In March 2020 she released her first beginner guitar course aimed at the beginner guitar player. From what I know, she has not produced any other previous courses teaching others to play guitar, aside from YouTube videos here and there. So today we are going to take a look at
her course which is available here
.
Who is Mary Spender's Guitar Course Suitable For?
Mary aims to help the complete beginner who wants to develop a foundation in fingerpicking and learn how to play without a pick or plectrum. The basics of the guitar will be explained and simple fingerpicking patterns will be taught along with how to develop and maintain a practice schedule. The main focus and the bulk of the time in learning is geared towards her songs. So if you are a fan of her songs then this is for you.
How Much Does It Cost?
At the time of writing this, the course costs $50 USD and is hosted on Teachable which means there is a 30 day money-back guarantee if you don't find the course suitable for you. One single guitar lesson in person is likely to cost you around $50 and a series of lessons will be hundreds of dollars, thousands if you really want to progress. So this is incredible value when you think about how much guitar lessons cost in person, and you get to learn her original content.  However, in the online guitar learning space, costs are extremely competitive and some courses are even free so it will be interesting to see how this compares. However, we all like people to differing degrees and we prefer to learn from those who inspire us as individuals or we are fans of, and if Mary is someone who does that for you this could be the course for you. So let's get into the detail below and I will share with you what it is like to play though including the good and bad.
Incidentally, if you are looking for a good, entirely free beginner guitar course then check out my article here
Best Free Beginner Guitar Courses.
Course Breakdown
The course places an emphasis on learning Mary's songs and her style of guitar playing. But what do you get overall? Well in total there are 44 videos, the majority of which are bite size lessons under 5 minutes with the longer videos being the tutorials for the songs.
2.5 Hrs Total of Video
1 Hour Teaching
1.5 Hrs Learning Songs
There are 44 Videos in total equating to approximately 2.5 hours of total video watch time. This is made up of 1 hour of teaching and then the balance of the course is learning songs by Mary. The first 13 lessons of the course are made up of choosing the right guitar, how to maintain your guitar, and then the basics of playing. This includes posture, hand position, and warm up as well as advice on creating a practice routine. Following this, you then get some advice on reading chord charts and TAB's which will stand you in good stead for the future. You then get in to actually playing the guitar.
Strumming
There is one lesson on strumming without a plectrum which is useful but not the main focus of the course. Mary forms a G chord whilst explaining how to do different strums but never explains that she is playing a G chord. This may confuse beginners if they are playing along and can't make the same 'sound' (the chord does get shown later though). How she explains strumming with her fingers is good to know and required to help play some of her songs that she goes on to teach you.
Open Chords
Mary introduces you to a good mix of open chords that will enable you to play thousands of songs if you wish to. They are popular chords, many often known as 'cowboy chords' or 'campfire chords' that people write songs with but don't all feature through the songs that Mary teaches you in the course. So if you want to practice these then it would be best to find some songs that utilize them elsewhere. Some of the chords that Mary teaches you I believe a new guitar player would really struggle with, like C Minor, F Major, and Minor. They are not barred chords but an extremely awkward position for your fingers when first learning. These are chords that would not be easily transferrable to beginner-friendly guitar songs elsewhere. Still, the chords are not only fun but also interesting so they are enjoyable to learn and play.
Introduction To Fingerpicking
I found this too brief and it felt like we raced through this basic picking pattern.  The beauty of video though is that you can just rewind and watch over and over. However, if you were a complete beginner I think you wouldn't get much confidence from this until you replayed more than a few times. The exercise does help you prepare for what is to come within her lessons though.
Mary's Songs That You Get To learn
Mary has worked and developed her craft of songwriting, singing and guitar playing, and one of the main draws of this course, I believe, is to be able to learn some of her songs and emulate her playing style. Her songs that you will get to learn are:
Blues Duet
Meet Me In Croatia
Primrose (Simplified version)
Long Island City (Simplified version)
Blues Duet
This isn't your cowboy chord type song to get you started. I am not sure what I was expecting but it was certainly a lot easier than this. You need a song to work on but if you were a complete beginner coming to this I think you would struggle to get used to it. The first two chord shapes are a comfortable shape for the fingers but the techniques used to play the song in the style that Mary does will take some time. However, the format that you get for both 
Blues Duet 
and 
Meet Me in Croatia
are as below: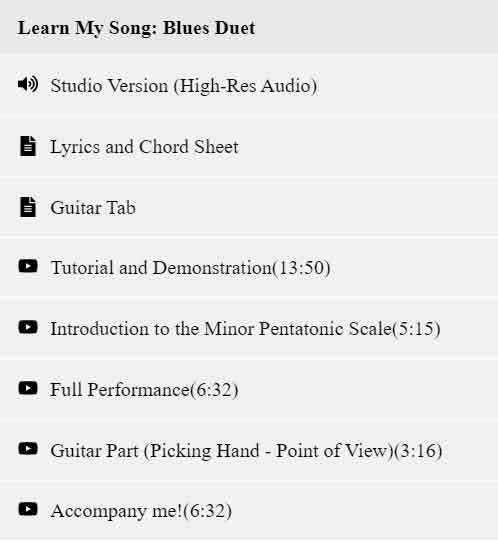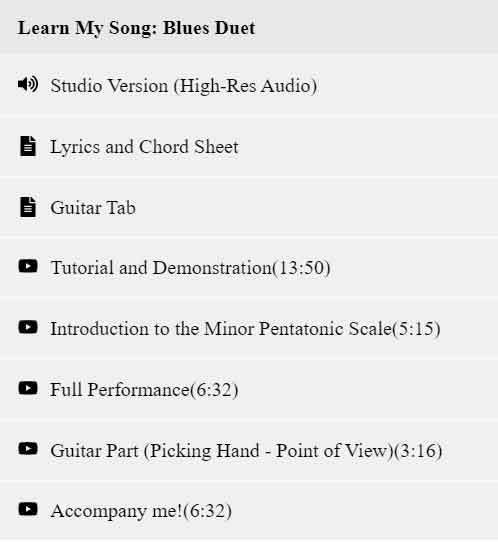 The audio track is exactly that and is useful to listen to and understand the pacing. The Lyrics and chord sheet along with the guitar tab are what you will need to print off (I struggled on one screen if you have a dual-screen setup or an extra-large monitor you would be ok) and play along with. The Tutorial and Demonstration are a full guide to playing the song which can be supplemented with the 'Guitar Part' video where you get a close up of her picking hand. Finally, you get to accompany her and play through the song. She will sing (no guitar) and you get to play the guitar part whilst a metronome ticks away so that you can get your timing right. I talk more about what I thought of these song tutorials in my likes and dislikes of the course further below.
Meet Me In Croatia
This is the second song that you will get to learn in full and whilst a beautiful but sad ballad it is not an easy one to learn for a beginner.
The format of the learning the songs follows the same layout as 
Blues Duet 
above.
Following this, you then get the opportunity to learn simplified versions of both Primrose and Long Island City.
These are simple strum along songs with just the chords and Mary explains that the fingerpicking pattern for these is more for the intermediate. 
Mary is not only an excellent presenter but also has a naturally clear and calming voice so it is easy listening to her explain the basics of playing guitar to you. I found the videos well produced and easy to follow and it was good to go through the basics of posture, hand exercises, and hand placement to understand exactly how you should be positioning yourself. The majority of the videos are short (under 5 minutes) which helps keep a good pace to the course. Being able to learn the songs that she has personally written directly from her is excellent if you are a fan of her as an artist. What I also like is that you can jump around the course as you please, there are no restrictions like I talk about i
n Paul Davids Beginner Guitar Course Review
. 
What I Didn't Like / Could Be Improved
There is some well explained and useful information about the different types of guitar, strings, and pros and cons. However, I feel that this would be a little late as someone is likely to already have a guitar rather than bought the course and then looking to go choose a guitar based on the information provided. I think it would sit better as an introduction to the course outside of the pay wall. It would then be free to everyone to view looking to sign up so that they could make an informed decision on a guitar purchase before it is too late.  As a side note, this is actually becoming a common theme as I play through YouTuber's guitar courses. The course takes too long to actually get into playing guitar. In fact, it is only by the 14th bite-size lesson that you actually get to start using the guitar, and that in itself is a finger exercise. If there was some playing mixed from earlier on I think it would help with retaining the early interest of a beginner guitar player and help build the skills required to play the full versions of her songs. Whilst the videography of the course is well lit, clear and the sound is well produced I do feel it lacks in on-screen graphics and also the additional angles provided arent always helpful. I was trying to learn Mary's song
Blues Duet
for example and Mary's playing doesn't match the TAB entirely. The lesson was too fast and the additional angle didn't allow me to see exactly what she was doing. It was a frustrating learning experience. This could be improved by adding chord positions on-screen whilst playing and a graphic showing which strings are being plucked at which point could really help those absolute beginners who get caught up in their own strings as they attempt to learn fingerstyle. As mentioned previously, the chords that you get to use throughout the two main songs aren't your typical beginner chords and could prove a little tricky for some beginners. Also, there is no real music theory throughout the course. It would be nice to have a little that introduces you to a few ideas and could 'plant a seed' for the future.
Is Mary Spender's Guitar Course Worth It?
The cost of the course is very reasonable but it feels short and doesn't teach you enough to develop a well rounded basic understanding of finger-style guitar. Whilst Mary is very clear in voice, calm and easy to understand I do feel that sometimes that she races through things a little too quickly and the additional tools provided don't always make the guitar playing clear for an absolute beginner. There is also very little theory and too many lessons at the start without playing guitar so it becomes tempting to jump ahead. The strongest emphasis of the course, however, is on learning her songs and this is excellent for that. However, the chords within the songs and the fact that they aren't easy to learn could make this a frustrating learning process for an absolute beginner which this course is targeting. I feel that Mary hasn't remembered what it is like to be an absolute beginner and there aren't enough 'easy wins' early to help keep confidence high and encourage the learner to come back.
So overall Mary's beginner guitar course is excellent for those who are fans of her as an artist but not for those looking to develop a strong foundation in finger-style guitar
.