If you are looking to learn online but have become frustrated with jumping from lesson to lesson from different teachers on YouTube or are just looking for some structure to learning guitar and don't want to have to pay then this article is for you.
Below I will show you the best free beginner guitar courses. These are structured beginner guitar courses and they will show you all you need to know to help you teach yourself guitar for free.
These are not just individual guitar lessons they are complete online beginner guitar courses for zero cost.
If you are more of a visual person then below is a video where I talk about the exact 4 courses described below.
***All the headings below serve as links to the courses, please click them to learn more. ***
Over 50 thousand people have taken this course and it has over 1,500 ratings. It currently sits at 4.4 stars out of five. Pretty good right? Well this doesn't always tell the full picture so lets take a look at the course and see what you get.
Firstly the course is entirely free (well it has to be it's on this list). Secondly, it was actually produced by Truefire.com and if you don't know who they are they are a huge online learning resource for guitar players. Their lessons are mainly aimed at intermediate and advanced players and offer 'masterclasses' from well known and famous guitar players.
However, the course that they offer through Udemy for free is aimed at the complete beginner and your guide is Ravi Hutheesing. By the end of the course, they claim that you will be able to play hundreds and thousands of songs on the guitar.
They aim to do this by teaching you 8 simple guitar chords because those 8 chords are common in tso many songs which is absolutely true.
The crux of what you will learn is the following:
How to hold a guitar
How to tune a guitar
How to play eight simple chords
How to strum
How to keep beat
Bonus Material (also free):
More open position chords
The moveable barre ystem
All they ask is that you dedicate 20 minutes a day of your time for 21 days and you will reap the benefits of their teaching.
What You Will Get From This Course
Overall this is a great course to get you started playing 'campfire' type songs. As described above you get to know 8 essential open chords that will enable you to learn hundreds and thousands of songs if you want to. The course is well-paced for a complete beginner and the strum patterns shown are simple to help get you started.
The videos are a bit dated now but what Ravi teaches on the course still holds up. They provide you with a huge list of songs you can play with the chords that are in the song. What you won't get are individual song tutorials, tabs, or strum patterns for them. However, what you can do is find that song on youtube and try and play along with it which will be really good practice.
The course doesn't contain any theory or teach you how to read music but what it does do is get you quickly learning some chords so that you can take those and learn some songs from the get go.
Overall it is a fun course for those who have a short amount of time to learn each day and want a light introduction to the guitar with a gentle pace of learning.
It has hard not to know who Steve Stine is if you have any time on YouTube searching for guitar tutorials. Hes is an extremely well versed musician with a huge history of teaching guitar.
As per his about page on his YouTube Channel:
He has over 30 years of teaching and playing experience. He's helped millions of guitarists in over 103 countries quickly and easily improve their playing.

He holds a bachelor's degree in music education from Minnesota State University Moorhead and has played lead-guitar in bands that have toured throughout the U.S. and U.K.

He's also a featured guest instructor at Guitar World Magazine and the former professor of Modern Guitar Studies at North Dakota State University. Steve is considered the world's top instructor because his students see noticeable improvements in their playing, fast.

Steve Stine
Steve also runs Guitar Zoom where he has paid for premium courses which people talk about as very good courses and it is not hard to understand when you look at his beginner course introduction.
Let's take a look at his beginner guitar course (available here) that he offers through his YouTube Channel and see what you get to learn. Below is a brief synopsis of the key lessons.
How To Hold A Guitar
How To Hold A Pick
Learn The Guitar String Names
Placing Your Fingers On The Strings
How To Strum (5 Lessons on this)
How To Tune Your Guitar
Learn Your First Chord
2 Tips to switch your guitar chords quickly
Learn To Play Your Very First Guitar Song
Must-Know Major Chords
Must-Know Minor Chords
How To Play a Power Chord
Music Theory Basics (2 lessons)
What Is a Pentatonic Scale? (3 Lessons)
How To Memorize All The Notes On The Guitar
Most of the lessons range from 5 to 10 minute approximately and offer a great start for the complete beginner guitar player. Steve always explains things really well, includes a lot of detail and his voice has a well-paced cadence and easy going nature to it.
What You Will Get From This Course?
Following the completion of this course, you will have a deeper understanding of the guitar than the Udemy course. Steve touches on theory, and the pentatonic scale which isn't really covered in the Udemy course.
You will still need to supplement your learning with songs whether this is through a TAB's resource like Ultimate Guitar TAB's or YouTube videos for example. However, the lessons that Steve provides in his course are an excellent foundation, are well shot videos along with clear instruction.
In addition, you will start to learn some basic music theory which you may not feel you need when you start but as you progress you will start to realize its importance.
Overall, this course is more well rounded than the Udemy course and if you are looking to get a deeper understanding than just some basic chords without it being too heavy then this course is for you.
If you don't know who Jamie Harisson is then watch this video below as a way of introduction. This is Jamie covering John Mayer's song Slow Dancing In a Burning Room and if you don't know the song then just know that this is an exceptional cover.
These adverts often crop up on YouTube if the algorithm knows that you watch guitar videos. For me they often keep me transfixed throughout the whole thing even when I have seen the video before. Flawless guitar playing that just leaves me thinking, I wish I could play like that.
Jamie offers paid courses to learn particular covers that he has uploaded to YouTube and these come at a premium. However, he also offers a beginner course that not many people know about. I think this is mainly due to the fact that it isn't really advertised.
So click the title link above to take you to it. The course is advertised as one that is paid for but if you scroll all the way down to the bottom of the page then you can share it on facebook and get it for free.
Once you are in you get to see that the course offers a decent amount of lessons and is structured well to get you started. It has everything covered that a beginner really needs to know from holding the guitar and tuning it right though to learning some cool riffs and easy songs.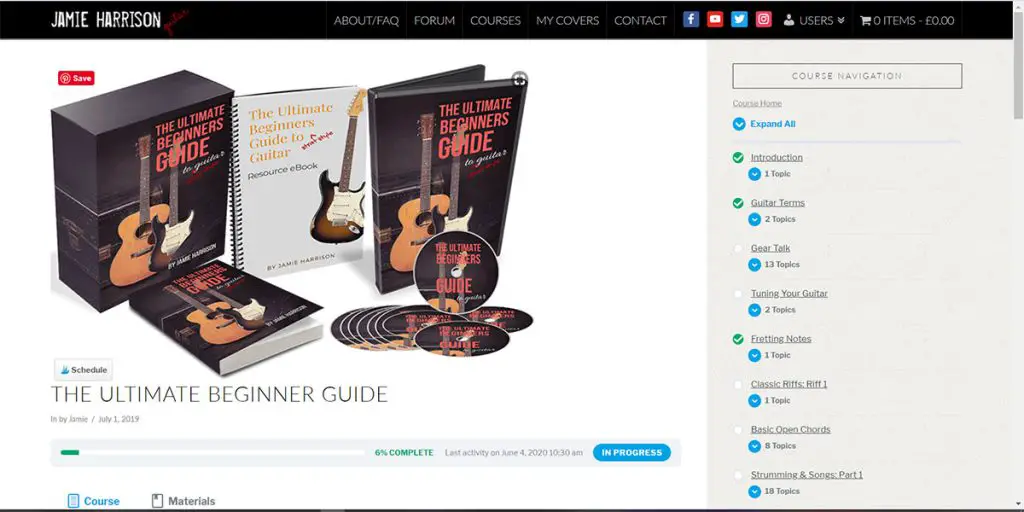 For example, you get to learn the riff to Satisfaction by The Rolling Stones and then get to learn songs like Knock Knock Knockin on Heaven's Door and Highway to Hell. Some great first songs to learn.
The course then goes on to detail Barre chords, Hendrix Style chords, more classic riffs, blues, scales, hammer sons, pull offs, sliding, bending, vibrato chord embellishments and fingerstyle basics along with much more.
On top of this there is a progression system, so every time you log in you can see what percentage you are through the course. In my opinion, this serves as a great motivator when things get a bit tricky and frustrating. Also you can jump to any lesson you like and you don't have to complete any prior lessons to get access.
The videos appear to be in 4k and are hosted by Vimeo so you can slow them down as you want to and you can download the videos if you so wish.
There is just so much value in this course and it is all offered up for free.
What You Will Get From This Course?
While the course is many ways a precursor to the 'strat' style of playing that Jamie loves and is so adept at, it is also in its own right a great introduction to guitar.
The absolute basics are covered, from learning about the parts of a guitar, gear, tuning, and all the way through learning riffs and songs, strumming, and more advanced techniques. There is everything here to give a beginner a great start.
Some elements of it might sound better on a 'strat' but it really doesn't matter. You can play any song on any guitar and great sound and tone, it may not be authentic to the song but it will sound damn good.
Overall I think this course would suit an absolute beginner as well as those with a bit more time under their fingers as there is lots to learn and you can pick and choose what you need to. It is all in a constructive and structured order and will be a great choice to start learning.
I am going to go through this course myself soon, so if you are interested then sign up for my email on the front page and you will get to hear about this first.
4. Justin Guitar's Beginner Course – Classic & Updated
Justin Sandercoe aka Justin Guitar is the godfather of online guitar tuition. His beginner guitar course was and still is the best beginner guitar course on the internet, in my opinion.
It stands up high when measured against paid-for courses, surpassing most and in but only a few cases arguably not quite as good.
If you were to take a poll I think you would find most people who tried to learn guitar online would agree. Justin's beginner course is extremely comprehensive and he asks for nothing in return. He is the good karma gent of the guitar world and his teaching is excellent.
I personally learned to play guitar exclusively through his beginner course, bought his beginner songs books and had a blast working through the stages. I recorded and uploaded my videos along the way, you can check them out here if you would like to see what it is like playing through the course.
However, the TLDR version is that Justin's website and app (there is a cost for the app) are incredible resources for anyone looking to learn guitar online. The beginner course is the most comprehensive so far talked about in this article.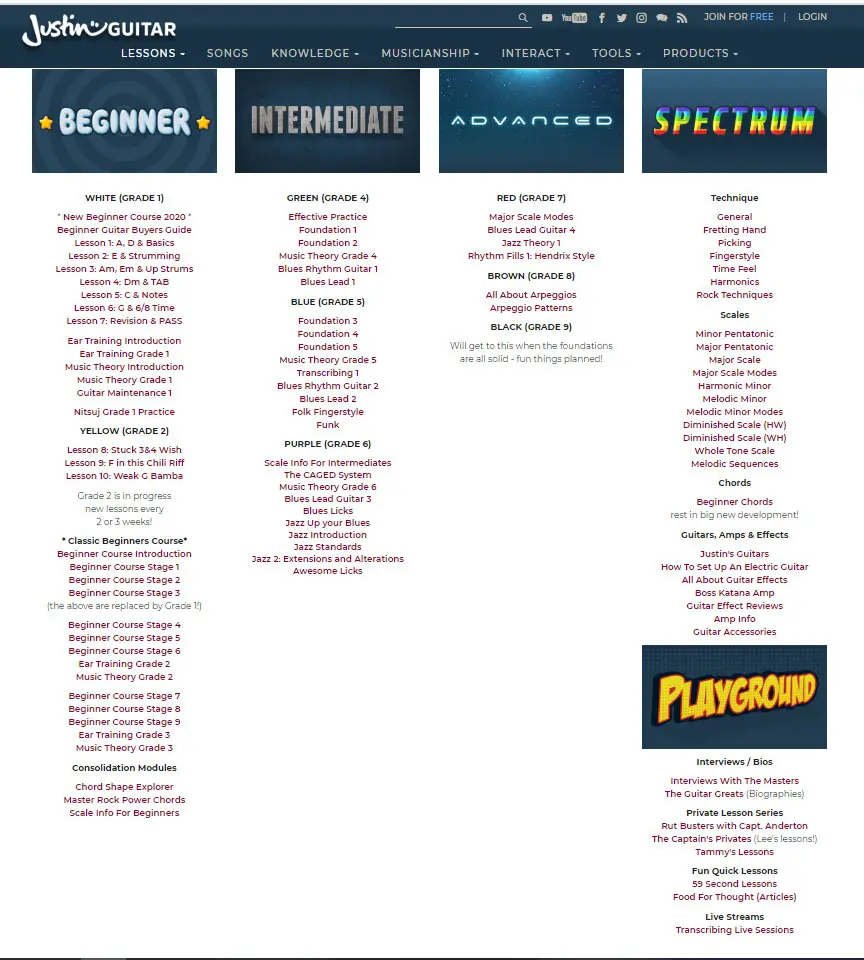 Not only does Justin have a beginner course but also intermediate and beyond which are also free in cost. The only costs come if you decide to do his music theory course which I have started and is excellent by the way and using his app (I haven't used this so can't comment).
I completed Justin's *Classic* beginner course and the new version is slowly being released as I write this which I am sure will be even better as he has taken feedback from the classic course to improve it.
What You Will Get From This Course?
Justin's course will teach you everything a beginner needs to know. From holding the guitar and strumming right through open chords, increasing the speed of chord changes, barre chords, basic music theory, individual song tutorials, ear training, practic schedules, and much, much more.
Along with all this, there is a progression system so that you can save where you have got to each time so that when you revisit you pick up where you left off. This course rivals the best paid courses currently available on line, you cannot go wrong by learning from it.
If you want some proof that it works then please watch my 1-year guitar progress video below, the first 5 months of my learning were exclusively through Justin Guitar's beginner course.
You can see in my video below how far this took me. All my learning has been online and I am just an average guy so what I have achieved below can easily be exceeded if you put in the time. I generally practiced between 5 and 7 hours a week so you can use that as a guide to what it might take.
If you really want to know how long it will take to get to a proficient level then I recommend reading my article here How Long It Takes To Learn Guitar [The 6 Stages]. In that article, I cite scientific research carried out on those learning musical instruments and the estimated time it takes to learn.
Alongside this, I have been measuring my own learning (using online resources), so if you take the hours over my first year of 365 and then check out the article you will be in for a surprise. A good one.
Conclusion
This list, in my opinion, details some excellent courses to get you started learning online. Learning guitar doesn't have to involve great cost or face to face lessons with a guitar teacher. There are obvious benefits to this but it isn't required and the most important aspect is the same as when you learn anything new and that is the building of a habit that is born from a desire to learn.
So my advice would be to pick a course and go through it in its' entirety, pause when you want to learn songs you love but overall take your time and enjoy the learning process.
If you want to make sure you don't quit and get the most from learning online then check out my article here 8 Tips On How To Not Give Up Learning Guitar.