Isn't an acoustic guitar either good or bad, regardless of what you're using it? Well, the answer to this question is both yes and no. If you have a very good quality acoustic guitar then it is unlikely that it won't serve you well for recording. If you choose the right microphone and follow the steps to a good quality guitar recording, you should be able to get it if your guitar is up to scratch. However, there are some guitars which are better than others for the purposes of making a studio recording. In this article, we've broken down some of the ideal features for guitars for recording and also picked out five great acoustic guitars which can translate well on a microphone.
Should I Have a Guitar Specifically For Recording?
If you are looking for a new acoustic guitar and know that you will be using it for recording at some point, there are some specifics you should look for.
There's certainly nothing wrong with having multiple guitars, and different models can have different characteristics. If you've been to a live show you may notice that many guitarists switch their instrument multiple times throughout.
One thing to note is that things can differ greatly when it comes to recording the acoustic guitar and getting this right for the situation needs to be considered.
If you are considering recording your playing and or performances then read our article on how to record acoustic guitar here How To Record Acoustic Guitar (Phone, Computer, Direct, Amp). It provides all ways of recording to suit you along with recommendations for every budget.
---
Features of a Good Quality Guitar for Recording
So, what are the best features you should be looking for when recording? What makes a guitar good once it has been committed to 'tape'?
Comfort and Playability
There's no point in having a guitar you don't want to play because it is clunky and uncomfortable. The fretboard should feel smooth, the guitar should sit nicely whether you're playing sat down or standing up with a strap. Though this doesn't necessarily affect the tone of the guitar as such, it will absolutely affect your performance as a guitarist, and things like the speed and effectiveness of your chord progressions. It also makes for a far more enjoyable experience if you're spending long periods of time playing.
Projection
One of the most important features for both recording and playing live is the projection of the sound. Your guitar should create a clear and dominant sound when the microphone is on, in order to drown out fret noise and the other ambient noise of a guitar such as moving your fingers around the strings. A guitar which projects well can give a lot more choices when it comes to recording techniques and using things like room mics to expand the sound and create more warmth and detail.
Sound Quality and Tonal Properties
This is quite an abstract feature. It is very hard to put your finger on, and the science behind what actually makes a guitar sound good is extremely complex. A mixture of the woods that it is made with, the craftsmanship and the accessories, as well as hardware, can have a big impact on the sound.
There's no denying that when a guitar has been made by a manufacturer, sometimes they hit the jackpot and create a product with a beautiful tone, and sometimes they don't manage to create such a beautiful instrument.
Capturing that sound is an important part of the recording process and having the correct microphone can provide those listening to your recorded performance exactly what you wanted to achieve. In our article The 10 Best Microphones For Recording Acoustic Guitar we delve into what you need to consider when buying a mic for recording and also recommendations for every budget.
All of the guitars that we've mentioned in this article have different audio properties, some have a brighter sound, some have more mid-range and body, but all sound brilliant in their own way.
---
Choosing a Guitar With a Pickup
Guitar pickups can be very divisive in audio circles, especially when being used on acoustic guitars. This is the same technology that is in an electric guitar, and an electro-acoustic guitar. It amplifies the sound and turns it into a signal that can be sent to an amp, PA system or directly recorded through an interface or DI box.
Pickups on acoustic guitars will often sit over the soundhole and can be used in live or studio environments.
When looking for the best acoustic guitar for recording, many people like to opt for something with a pickup already installed. This means you can have multiple choices when it comes to how you are going to record guitar. Some people will choose to take a signal directly from the pickup and run this into a mixing desk or amplifier, you can also choose to record via both pickups and microphones at the same time. When recording, getting a lot of source material to blend and choose from can be a big bonus and ensure you have a clear audio signal to choose from.
If you don't have a pickup on your existing guitar or you want to buy a guitar without one then there are many ways you can record your acoustic guitar. We go into all the best methods and how to do them here in our article How To Record Acoustic Guitar (Phone, Computer, Direct, Amp)
If you do opt for a guitar with a pickup already installed, make sure it is high quality. If you have the best guitar in the world and then use an awful, $5 pickup to take the audio from it, the end result is going to be disappointing.
---
Knowing the Sound You Are Looking For
The only way to truly identify which acoustic guitar is best for your recording is to work out the sort of sound you are looking for beforehand. Are you looking for brightness and resonance from your guitar or do you want something a little darker with more bite for your chords and playing?
If you're looking for one sound and choose a guitar that doesn't have these characteristics, you're unlikely to be happy with your purchase even if the guitar itself is very good quality.
Be prepared to do some listening to pick a guitar which is suitable. Fortunately, in the digital age, there are more guitarists on YouTube than ever before. Listen to demos of guitars and any videos put out by the manufacturers, and also listen out for any guitar tones you particularly like, you can then reverse engineer this sound and establish how it is being created and via which instrument.
---
Our Five Recommended Guitars for Recording
Truthfully, there are dozens, if not hundreds of guitars which can be suitable for recordings. It is also just one small part of the jigsaw. If you end up going with a different model of guitar then there is still every chance it will sound great if recorded properly. That said, these five products are always reliable and provide a good level of versatility and sound quality that works with a variety of styles and genres.
Gibson Montana Hummingbird – Best High-End Acoustic Guitar For Recording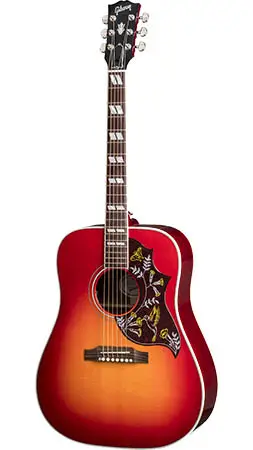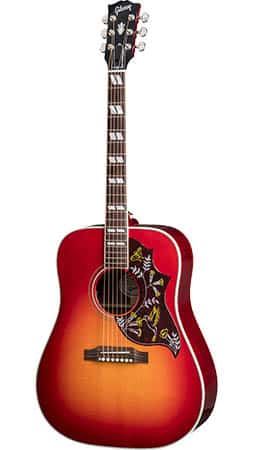 This guitar is nothing short of iconic, and we couldn't leave it off our list. It may be a very expensive guitar but the build quality absolutely justifies this price tag. It is the weapon of choice for many famous musicians and the sweet sound of the Hummingbird is as effective in rock and pop as it is in folk.
This is made out of only the best materials including a mahogany neck and back. The tonewood is always top drawer when Gibson make a high-end acoustic guitar. The Spruce material used also helps to enhance the higher frequencies and 'shine' of this model.
At 24.75 inches, the guitar has a sweeter audio tone than some of the others in the Gibson range such as their Avant-Garde products.
The hardware and hand-scalloped bracing are as reliable and quality as they always have been. The brand has a great track record. Naturally, the price reflects this amazing quality, expect to pay a few thousand for this guitar. It does come with a hard-shell case, though!
There is a pickup and a preamp included, which is why we've picked this out as one of the top recording options. The preamp is made by LR Baggs, and the pickup sits under the saddle and doesn't get in the way. You can quickly and easily plug your audio into a mixer.
There are many reasons the Hummingbird is known the world over. If you need a good quality guitar and don't mind what it costs, it is worth considering.
---
Yamaha FG800 Acoustic Guitar – Best Budget Acoustic Guitar for Recording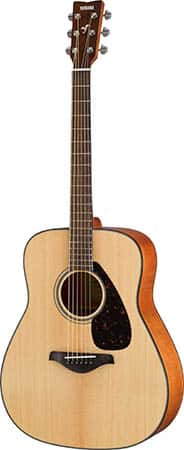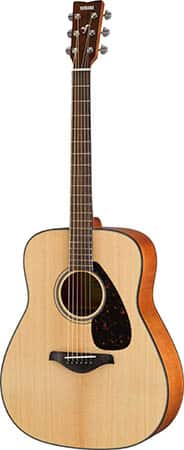 From one end of the price spectrum to the other! This is the best cheaper guitar we've come across for recording. It can be bought for under $300 and often comes bundled with a lot of different items including tuner and strings. Check here for the price of the Yamaha FG800 at Amazon
The brand of Yamaha is often reliable, and this is what might have been designed as a budget or mid-range guitar. However, they've really knocked it out of the park and the way this is designed makes for a guitar which you can't fault for sound quality. It doesn't quite match the tonal depth of something like the Gibson model above, but it certainly doesn't sound like a cheap or flimsy guitar, either.
The FG-800 is often played by people who have a folky verve to their playing. The bright tone comes from a spruce top and scalloped bracing, a similar design to many more expensive guitars. The unusual Nato and Okume back and sides also seem to have a real quality in both tone and sturdiness.
The guitar is rounded off with quality chrome tuners, a robust pickguard and a rosewood fretboard which has a nice, comfortable action for beginners and professionals alike.
You probably won't see many Glastonbury headliners playing this guitar, and it isn't an 'elite' product, but it certainly performs well above its price tag. This is the kind of guitar it is always useful to have around in a studio.
---
Martin LX1E – Best Travel Acoustic Guitar for Recording


Years ago, the idea of recommending a travel-sized, compact guitar for any form of recording may have been laughable. There weren't that many options, plus recording on-the-go was nowhere near what it is today. Fortunately, you can record when you're out and about now, at band practices, in a friend's house, or just about anywhere that's acoustically suitable. Check here for the price of the Martin LX1E at Amazon.
The Martin LX1E, famously used by Ed Sheeran, is a stunning travel guitar and has a huge amount of compatibility due to its electro-acoustic nature.
Martin is a brand which really needs no introduction in the world of guitar. There aren't many manufacturers which are so highly regarded and respected in the industry, and the LX1E replicates their signature sound and acoustic depth in spite of its smaller size.
As well as being a portable product, this comes with a case that you can carry it in, to make it even easier to take with you wherever you go.
The mahogany back and sides offer brilliant durability and a rich sound, complemented by the Sitka spruce top which gives a shine in the high frequencies. The fingerboard is Richlite and comfortable to play in spite of being more compact than you may be used to.
A real highlight, and the reason this is one of the top recording options, is the fact that this has an excellent Fishman pickup and electronics system, converting your acoustic playing into an electronic signal to amplify and record how you wish with ease.
If you've thought about a portable guitar for gigging, recording and practicing, this option is hard to ignore.
---
Yamaha A5R ARE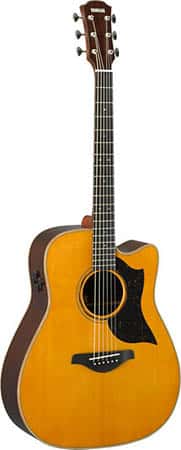 The Yamaha A5R ARE is on a totally different spectrum to the FG800 we've already mentioned. It costs significantly more, but this price difference is justified with the luxurious features and brilliant feel of the guitar, combined with the electronics which are in place. The A5R ARE is an electro-acoustic option, like many of those we've recommended on this list. Click here to check the price of the Yamaha A5 ARE at Musicians Friend.
Electronics and pickups sometimes get a little bit of a tinny sound, and can tint your beautiful acoustic guitar or make it sound less rich and tonal. This is not the case with the A5R ARE, and we would go so far as to say this is the best replication of an acoustic sound which is on offer from an electro-acoustic. The audio signal which it provides could have been recorded by a high-quality mic, which is praise for this guitar.
This guitar has a dreadnought shaped body, and a cutaway to allow for easier soloing and playing of the higher frets. A spruce top (pretty standard for top acoustic guitars) is complemented by a mahogany neck, and rosewood bottom and sides. The tonewood adds up to a beautifully rich sound with great highs and mid-tones.
While this certainly isn't a cheap guitar, it is a rival for options like the Hummingbird and doesn't cost quite as much as this. For an incredible sound straight out of the guitar before you've even thought about a mic, this Yamaha model is a good choice.
---
Martin D-15M – Best All-Mahogany Acoustic Guitar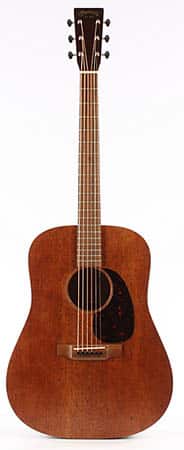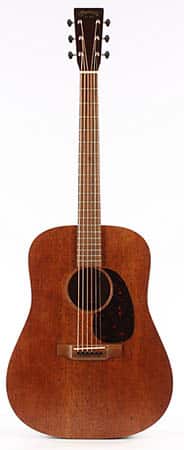 As well as the Martin travel model mentioned above, this list just wouldn't be complete without a full-sized Martin, and this one offers something a little different from the rest of the options we've mentioned. Click here to check the price of the Martin D15-M at Musicians Friend.
The D-15M is made out of quality mahogany. While many guitars have some mahogany, the Martin D-15M has a lot, and this creates an incredible warmth and tonal quality that stands out from the crowd.
As well as all of the iconic quality of the Martin brand, it also has a really unique look and the "StreetMaster" variation has a distressed satin look. This guitar looks like it could have been handed down for generations!
As well as the brilliant mahogany build, this is rounded off with a maple bridge and Sitka Spruce bracing. It has a high-quality bone saddle giving it an old-fashioned and quality, robust feel. The Katalox fingerboard is very comfy and smooth whether you're playing chords, picking or any other style of playing!
All-in-all, this is a guitar which has a really interesting look and gives something that is an alternative from most of the models we've picked out, due to the fact that it has a deeper sound and far more mahogany than many of the other models. The build quality is great and this guitar should last many years. Unfortunately, it doesn't have any electronics built-in, but it responds well to many different microphones which are built with acoustic guitar recording in mind.
---
Conclusion
Guitar is a subjective thing! While some are undeniably built to a better standard than others, some of the tonal aspects of acoustic guitars are a matter of opinion. All of the five guitars we've reviewed above offer something a little different, and all can sound rich and vibrant when recorded properly. Which specific tone you will be looking for is up to you.
If an acoustic guitar does have pickups and an electronics system to allow you to plug straight into a mixer or computer then this is a big bonus, but it is not the end of the world if it doesn't, you can always mic up your guitar in a more traditional way. Most iconic acoustic guitar performances were recorded on traditional microphones rather than via pickups.
There are plenty more options from the brands mentioned above, and other brands, too. Whichever you go for, try to do some research and work out how it is likely to sound when recorded.