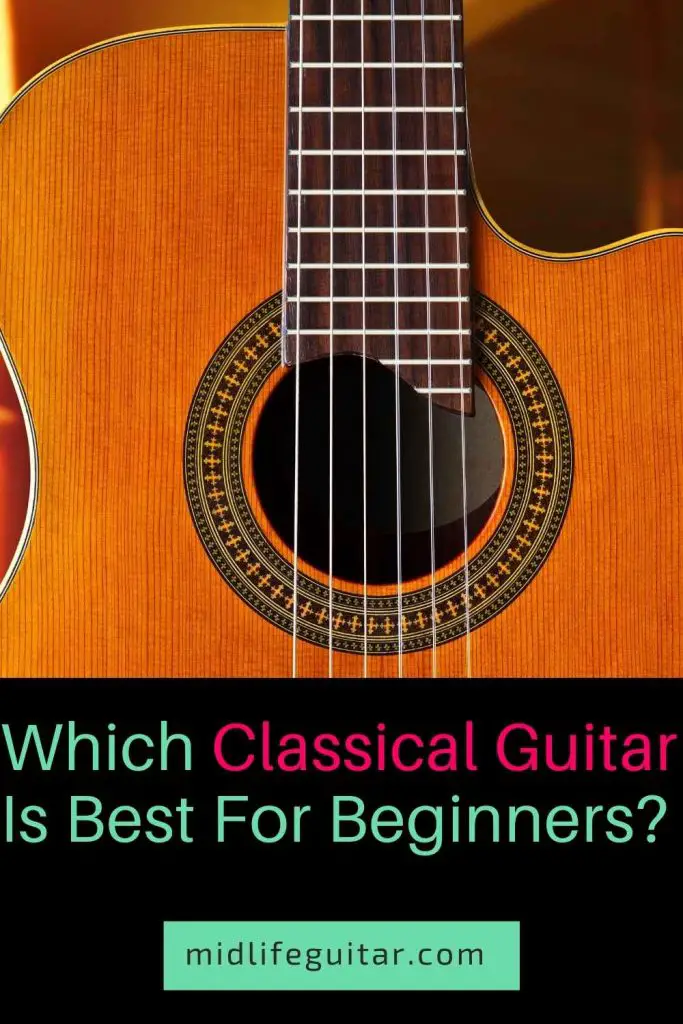 Classical guitars and steel-string acoustic guitars can almost be classified as two different instruments. Although they are tuned the same and have similar features, they have distinct construction and sound differences. With the style of play associated with classical guitar, there are differences in approach, e.g., how the guitar is held.
This little guide is for two types of guitar players: the very beginner interested in the classical guitar, and the guitarist who has played the steel string for a while and is interested in expanding to the classical guitar. Let's look at a selection of 14 classical guitars to get you started!

| Pros: | Con: |
| --- | --- |
| High-quality wood for great sound | Temperamental with drastic climate swings |
| Very comfortable to play | On the higher end for a beginner budget |
This is a great classical guitar to start with if you have the budget. For some, this may not be considered entry-level in terms of budget, but it's a good price to pay for good quality woods. Part of a good beginner experience is a guitar that sounds good, even if the player only knows a few basics.
The finish is an open-pore natural finish which means it doesn't have a lacquer coating. The exposed wood will experience changes due to humidity and temperature. This swelling and shrinking could be problematic if you live in a diverse climate or if you travel a lot with it. 
The issues in those cases would be problems staying in tune and changes in string height. That is simply remedied by frequent (every 6 months or so) trips to the repair shop for a tune-up. When kept in a relatively stable climate with moderate humidity, the guitar will sound its best.

| Pros: | Cons: |
| --- | --- |
| High-quality wood for great sound | Slightly bulkier neck |
| Easy to adjust the neck for personal preference and annual setups | It is at the higher end of most beginner's budgets |
Alvarez is a trusted brand in the realm of entry-level to mid-level guitars. They don't have much of a selection of classical guitars, but the ones they have, are of excellent quality. 
The woods are good tonewoods like mahogany for the back, sides, and neck, and cedar on top.
This guitar has a two-way truss rod which means the neck can be adjusted at the headstock and at the soundhole. This truss rod style makes it easy to adjust the neck to suit your comfort level, which can be done by a good repair technician or luthier.
The neck is just a little on the bulky side, so fretting it may take some getting used to. That is standard with most classical guitars, but some, like this one, will have a little more heft than others.

| Pros: | Cons |
| --- | --- |
| Excellent quality for the price | Lower quality tuners make it challenging to tune |
| Comfortable to hold | Sharp or rough fret edges |
Cordoba is a household name in Spanish classical guitars. 
The C1 is a perfect entry-level guitar, and there is a lot of quality for the price. 
There are no laminated woods, and the guitar is generally quite comfortable.
While the gloss poly finish may help protect the wood from humidity changes, it can feel a little uncomfortable to the bare arm. 
There are also just a few compromises in materials to keep the low price:
lower-quality tuners, and 
Sometimes the frets can be a bit rough at the edge of the neck. If you come across this problem, it's a simple filing job for a qualified repair tech.
These guitars can vary slightly in quality from one to another, so just keep that in mind. 

| Pros: | Cons |
| --- | --- |
| Good playability and comfortability | Cheaper neck material can slightly affect the tone |
| A more authentic sound for classical-style play | |
The C3M is a step up from the C1, with the main difference being a cedar top instead of spruce. 
Cedar sounds different; it's not necessarily better but is traditionally the wood of choice by classical guitar makers. Cedar is warmer and smoother than spruce, but is quieter when the guitar is played hard.
The C3M has a matte finish which is more comfortable to play than a guitar with a lacquer or poly finish. This is because the bare skin will not stick to the guitar, and the fretting hand can move a little more freely since there is less friction.

| Pros: | Cons |
| --- | --- |
| High-quality woods and nut/saddle materials | Higher-end of most beginner budgets |
| Lightweight and comfortable | |
Next in line with the Cordoba classical is the C5. Even more of a step up, this is an excellent guitar for anyone new to classical guitars, especially if you have some experience playing guitar already. 
What brings the price up here is the materials used for the neck, bridge, and bindings (the trim around the edges).
While the bindings are primarily a cosmetic feature, the mahogany neck and the Indian rosewood bridge make this guitar noticeably better sounding than the C3M. 
If you are a beginner with a slightly higher budget ceiling, the sound quality of this guitar will be worth the extra money.

| Pros: | Cons |
| --- | --- |
| Comfortable for smaller players or those with small hands | Somewhat of a deadened sound |
| Very affordable | |
The Estudio is a smaller, ⅞ size guitar in the Cordoba Protege line. 
This is the perfect guitar for a young beginner or an adult with small hands. 
The neck width is the same as any other classical, but the more petite body and scale length can help make the neck more accessible, so the player doesn't feel like they have to stretch out their fingers or bend their wrists as much.
Mahogany is used for the entire body, but it is not specified which type of mahogany, so don't be misled. Although a sought-after wood, the cheaper, generic mahogany woods do not sound very clear and just don't have the punch of a tropical, "Capital M" Mahogany.
| Pros: | Cons |
| --- | --- |
| Narrow neck for comfort | Low quality sound |
| Comes with accessories | |
Dean is a familiar name brand of entry-level guitars. 
They tend to cater to the beginner crowd, so it's always worth trying out some of these guitars when starting out. 
Their classical guitar has a respectable construction of a spruce top with mahogany back and sides.
The notable difference with the Dean is the 51mm neck width. 
I know it's only 1mm smaller than standard, but you may be surprised at the difference that makes to the fretting hand. 
These guitars also usually come as a package deal complete with a tuner, footstool, and gig bag.
| Pros: | Cons |
| --- | --- |
| Much better sounding materials than the Dean Classical | Quality control means inconsistency from one guitar to another |
| narrow neck for comfortability | No truss rod for neck adjustments |
If you want the Dean Classical's comfort with a better quality sound, then save up another $70 and grab the Plus model. 
This model has a narrow neck at 50.8mm for comfort.
I say save up an extra $70, but truth be told, it may be a good idea to save up $130 or so. 
The additional $60 is for the guitar setup. Otherwise, the nicer tonewoods will be canceled out by the lack of tuning and playability from most models that come from the factory. 
They are made in China, so, unfortunately, quality control can be a bit of an issue.
The other downside is these guitars do not come equipped with truss rods in the neck, making it difficult to set up if you get a dud that refuses to stay in tune or the strings are too high or low due to the necks' bow. 
The best thing to do is make sure you can get your hands on one of these to try for yourself rather than buying one unseen from the internet.
| Pros: | Cons |
| --- | --- |
| Very comfortable neck | Cheap materials and sound |
| affordable | |
The PRO-1 may be the most comfortable guitar on this list. 
This guitar is a ¾ in size, perfect for young beginners or adults with small hands (though it is still very playable for just about anyone). 
It also sports jumbo frets that easies fretting notes and moving notes and chords up and down the neck.
This guitar is super comfortable. However, the compromised ability is in the sound quality. 
If you prefer comfort over sound, then this is the guitar for you.

| Pros: | Cons |
| --- | --- |
| Very narrow neck for comfort | Cheap back and sides for lower quality sound |
| Two-way truss rod for easy neck adjustment | Overpriced new |
| Good Fender construction | |
The best thing about the Fender Classical is its super narrow neck. At just 43mm, it is smaller than some steel-string guitars. 
This is especially an excellent option for small hands or players who are transitioning from steel-string acoustic over to classical.
Construction on Fender guitars is high quality, so tuning and playability are not usually a question with these guys. 
That said, the laminated back and sides will hamper the sound quite a bit, and in my opinion, makes the guitar worth less than what it retails for. 
My suggestion is to find a used one for closer to $175 – $185 if you are interested in this guitar.


| Pros: | Cons |
| --- | --- |
| Affordable | Wood is more susceptible to dents and scratches |
| Good sound | |
Oscar Schmidt is an offshoot of Washburn, another respected name in the entry-level guitar space. In my experience, its quality and recognition are very similar to Dean guitars, but a little better quality. 
What helps keep the price down on these guitars is the cheaper Catalpa wood for the back and sides. 
Although the catalpa wood is cheap, the sound in this guitar is decent. 
Catalpa wood is delicate and tends to dent and scratch a little easier. For some, those extra dents and scratches in their guitar add to the charm!
The guitar has good sound, but as with many guitars of this price range, it may need a setup immediately before playing to adjust the intonation and string height. This can add about $65 to your bill.

| Pros: | Cons |
| --- | --- |
| Good quality construction | Low-quality sound |
| Very affordable; low commitment | |
Yamaha is one of my favorite brands to recommend to beginners. 
They have high-quality control standards and make good-sounding guitars. 
The C40II is a great guitar to get someone introduced to the classical guitar. 
This model is just a step up from the ¾ student size, so don't expect much sound quality. However, it holds its tune and plays well.
Yamaha is the way to go when going below $200 for a guitar. The woods are cheap, and the sound is a little dull compared to others, but the construction is solid.

The next step up from the C40II is the CG102. 
For beginners who are serious about learning, it's worth the extra $50 to get a better-sounding guitar for morale.
The other upgrades to this guitar are:
The tuners are of higher quality, allowing the guitar to hold the tune better, and 
The smoothest of the turning action allows for easier minor adjustments to the guitar strings' height.
Other than the tuners and some better quality wood choices, the specifications in the CG102 are the same as the C40II.
As a side note, you can purchase an acoustic-electric version of this guitar for $100 more.
| Pros: | Cons |
| --- | --- |
| Better sound compared to the C40II | It May be uncomfortable for players with small hands |
| Higher quality tuners compare to the C40II | |

| Pros: | Cons |
| --- | --- |
| Upgraded top wood | Laminated neck contributes to a lower-quality sound |
| Under-saddle pickup | |
There are two main upgrades to the CG122MCH by Yamaha. First is the cedar top with the warmer, darker sound that is more characteristic of higher-end classical guitars. The second is a pickup installed under the bridge saddle.
While not every beginner needs an acoustic-electric guitar straight away. It may be nice to have it if your aspiration is to play live in the not-to-distant future.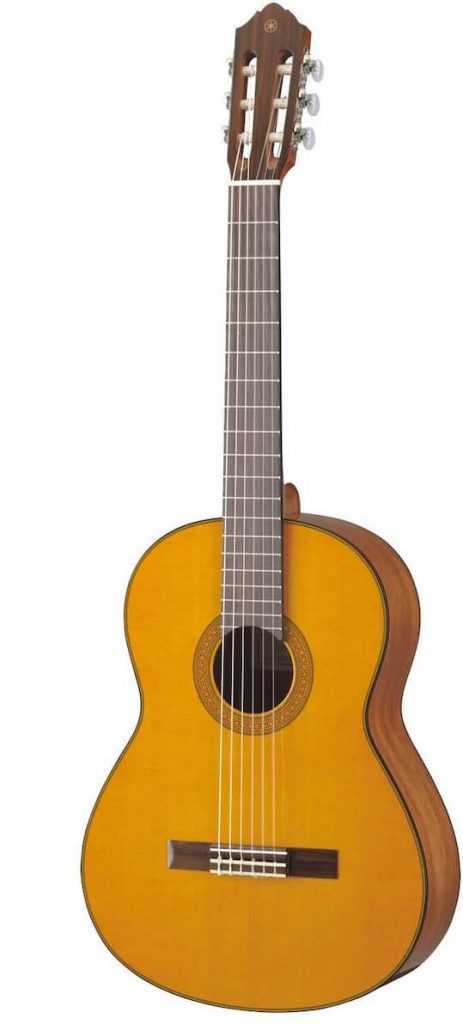 | Pros: | Cons |
| --- | --- |
| Middle-of-the-road quality woods, but no compromises with inferior woods or composites | Not a good option for someone with small hands |
| Low action | |
The CG142CH is a step in the right direction for a higher quality entry-level guitar without a pickup. 
As a beginner, you may not find any particular feature in this guitar, such as a more narrow neck or a shorter scale length. However, this guitar features good neck construction with a low action which really helps with fretting.
What should I look for when buying a classical guitar?
There are three key considerations when choosing a classical guitar:
The sound of the guitar.
How the guitar plays. And
Value for money, and brand reliability.
Our article, "Ultimate beginners guide to buying a classical guitar," discusses all of the above points in more depth.
Classical guitars feel different compared to steel-string guitars. The body feels different on the lap, and the neck feels different to the fretting hand. The strings are spaced out further and are of a different material altogether.
How much should I pay for a classical guitar?
On average, $100 – $200 is a good price range for a good quality beginner classical guitar. However, venturing into the $200-$300 price range will give you slightly higher quality, which will help boost your morale. In turn, this will make you a better player and will help you stick to it for longer.
You can read more in-depth on pricing for beginner classical guitars in our article "Ultimate beginners guide to buying a classical guitar,"
Conclusion
The classical guitar is a beautiful instrument. 
It takes a little research and trial and error to find one that suits your needs and goals, but that can be part of the fun. 
As a beginner, get your hands on a guitar before you buy it. Make sure you can feel it in your hands and on your lap, then make your decision.
Take your time shopping around to avoid buyer's remorse and settling for a guitar that will give you more grief than satisfaction.