Playing the guitar is a vacation in and of itself, but did you know that actual guitar-related retreats are a reality? Whether it be an artist workshop, a structured learning program at a college, a big acoustic guitar weekend at a beach, or a quick stop at a museum, there is something out there for every guitarist.
Guitar vacation retreats range in price, length, and intensity. There are very pricy and prestigious programs from major music colleges. Then there's the beach gathering where local and regional songwriters flock for their annual festival filled with impromptu jam sessions and networking. 
Museums and "holy sites" dot the landscape for those who enjoy a more relaxing getaway without the need to register or worry about a set schedule. These, of course, can be done anytime throughout the year.
Whatever your cup of tea, there is plenty for guitarists of any walk of life to do for a weekend, a summer, or a day trip. Here are a few workshops, retreats, and vacations that you will find in 2020, with many of the structured events occurring annually.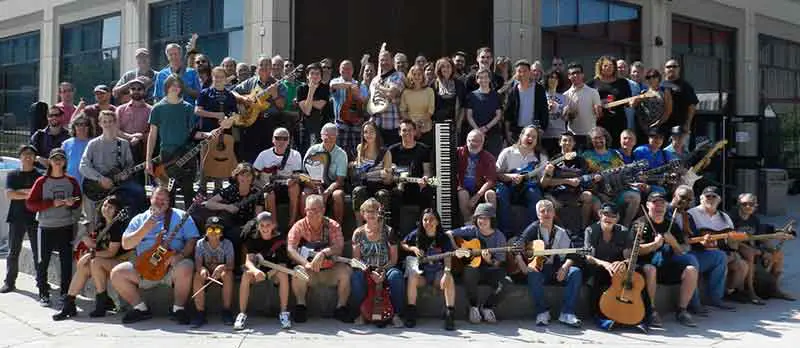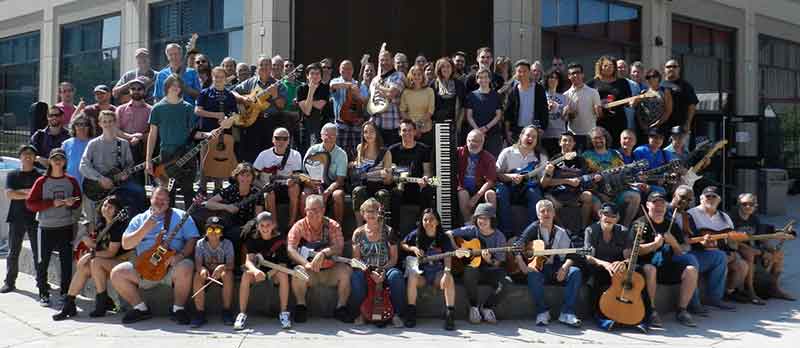 When: June 21-26; July 19-24; July 26-31
Where: San Diego, Seattle, Nashville, Toronto
Cost: $980 – $2290
Okay, this is a big one. It spans multiple cities and has many special guest instructor and performers that make this one of the biggest guitar events of the summer. With names like Satriani, Petrucci, Scofield, and Sheehan, this is sure to draw guitar superfans with plenty of disposable income from all over the world.
About the Event:
Guitar Workshop Plus is a music education program based in Ontario. The events themselves are held in various parts of the US and Canada and boast big-name guest artists. Guitarists of all levels from 12-adult are encouraged to attend.
Classes are offered for various skill levels and on day one, students are evaluated to ensure they are placed in the proper classes.
Seminars are larger sessions that focus on specific topics. These are typically for the intermediate to the advanced player, but some seminars will be open for all levels. Seminars typically feature a guest artist and last the entire day.
Two or three clinics are held each day and focus on particular topics such as improvisation, scales, songwriting, etc. Students sign up for these clinics on campus. Guest artists are on a TBD basis and will vary from city to city. After all, summer is the touring season.
Cost & Venue Info:
The San Diego workshop is held at the historic Lafayette Hotel near Balboa Park. Other attractions include Seaworld, the San Diego Zoo, and the USS Midway Museum.
Cost starts at $1340 + $70 registration fee for the basic attendance and two meals per day. For $1890 + $70 registration, attendees get more workshop access, three meals per day, and basic hotel accommodations with a roommate either of your choosing or at random who is also attending the workshop. $2290 pays for the same access as the previous package but with a private room.
The Seattle workshop will be at the campus of Northwestern University in Kirkland, Washington which is just 10 minutes outside Seattle. Attractions here include Lake Washington, the famous Space Needle, and Pike Place Market.
The price for Seattle attendance starts at $980 per session plus the $70 registration fee. For an additional $550 per session, attendees get on-campus room & board. Attending multiple sessions gets you $100 off. For off-campus students, a meal package will cost $255 for lunches and dinners.
There are other optional purchases including amp rental, an extra night for early arrivals, and a private room upgrade.
Running the same dates as Seattle, Nashville's workshop will be held at Middle Tennessee State University in Murfreesboro. Nashville amenities include The Grand Ole Opry, the Country Music Hall of Fame, and Music Row.
The pricing structure for the Nashville workshop is identical to the one in Seattle.
For those who want to travel across the border, there is also a workshop in Toronto. That one will require proper identification and Canadian money to attend. The pricing structure is identical to that of San Diego, only in CND dollars.
When: August 16-21
Where: Boston, MA
Cost: $1345 – $2240
Berklee is one of the top music schools in the world with all levels of educational programs online and on-campus. If you really want to take your guitar playing to the next level, any amount of time spent learning from Berklee will give you a huge boost. However, most of us don't have time to go back to school and become a full-time musician, especially with a $64000+ annual on-campus price tag. This is your chance to get some Berklee in your blood for a relatively cheap price.
About the Event:
The Berklee summer program gives a guitar player an introduction to the school and provides a truly unforgettable experience that gives you a taste of what it's like to be a real musician.
Comprised of a 35-member faculty (all with impressive resumés), this weeklong experience includes intensive technical training and inspiring performance opportunities. Networking is a huge part of the Berklee experience as well, so you are sure to walk away with some new phone numbers and Facebook friends.
To get more information about what is involved and what the schedule looks like this year, you will need to fill out a form on the website to get a free information packet mailed to you.
Cost:
The cost breakdown starts with a $50 registration fee which doesn't guarantee a spot. You are only afforded that if you pay in full. The rest of the cost is a $1295 tuition fee and an optional $895 for housing.
Target Audience:
This is certainly for the more serious guitar players as this is a straight-up sample of a college experience. You don't have to have a burning desire to play music for a living; maybe you just want to be good enough to play in a band on the weekends. All skill levels are welcome, but it would be beneficial to be somewhere close to the intermediate level.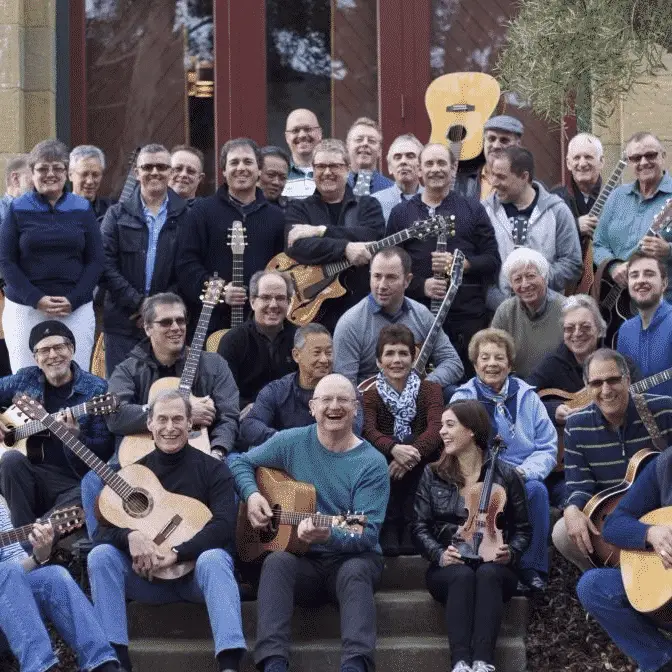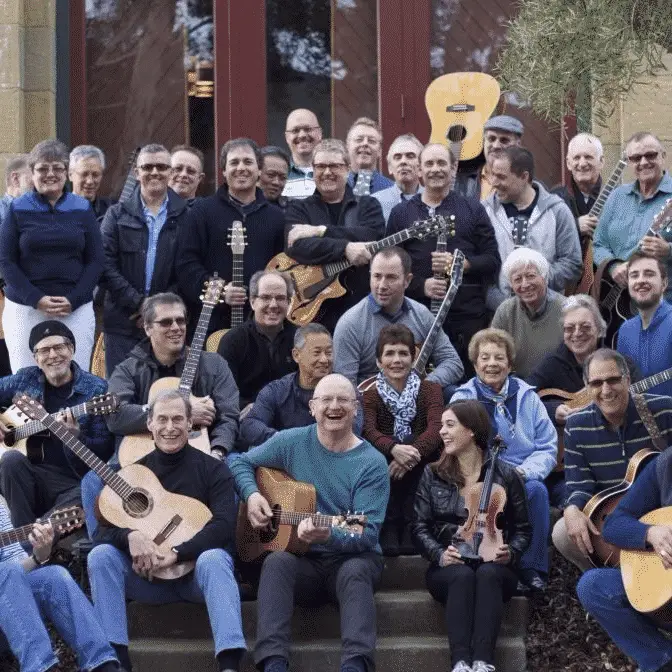 When: January 24-26; August 31 – September 4
Where: Benicia, California; Big Indian, New York
Cost: $1500; $1700-$2700
Okay, so the retreat in California has already happened at the time this article is being published, but this is an annual event. This year was the sixth time this acoustic guitar weekend has taken place in the Golden State so if this is of interest to you, keep an eye out for 2021. This typically happens around the time of the January NAMM show, so some of you gearheads might be able to get a twofer.
If you are more of an east coast traveler, then you are in luck. This retreat will also happen at the end of the summer at the Full Moon Resort in the beautiful Catskill Mountains. It's about 2.5 hours out from New York City and a half-hour away from where Woodstock took place.
About the Event:
Martin Taylor is not a combination of the Martin and Taylor guitar makers. Martin Taylor is a Grammy-nominated British jazz and fingerstyle guitarist who founded this retreat. The retreat features Taylor and guest teachers he commissions for various breakout sessions and performances.
This year in New York, teachers include fingerstyle guitarist John Knowles, blues guitarist Scott Perry, jazz guitarist and luthier Jim Cunningham, vocal coach Alison Burns, and creativity and music business coach James Taylor. 
The New York retreat, unlike the weekend vacation of the one in California, is a Monday – Friday event. The calendar for the majority of the event is completely filled from 8:30 am – 11:00 pm so you won't be bored! During the day will be workshops, breaks for lunch and dinner, followed by an evening concert. Closing out the night will be a good old fashioned jam session.
Cost:
As for cost, there are options ranging in price depending on your accommodation needs. The cheaper one is $1699 which is a standard room for two, however, this one has already sold out at the time of this writing. For $1899, attendees get a bigger room with a sitting area and air conditioning. From there, there are several more options going all the way up to $2699, each one having additional benefits.
Target Audience:
Guitarists of all levels will get something out of this, especially if you are a fan of jazz and fingerstyle. Although primarily acoustic-driven, the instructors also do some work with archtop and electric guitar. If you are at all interested in a career in "The Biz", then the business coach at the NY event will definitely be a worthwhile guitar retreat.
When: March 20-22
Where: Jefferson, Maryland
Cost: $439 / $539
Bones Jones Music is a guitar and piano school in Rockville, Maryland which is not too far northwest of DC. They offer lessons in acoustic, electric, bass, piano, keyboard. They have recitals in the area and plug their students into bands to apply what they have learned.
About the Event:
The Bones Jones Music Acoustic Guitar Weekend Retreat takes place at Fox Haven Farm, a working organic farm about 45 minutes north of Rockville in Jefferson, Maryland. The weekend is filled with instructional sessions, breakouts, practice sessions, and good ol' fashioned campfire jam.
Students are housed in the Spring House which is a B&B-style house with private and shared rooms, a common area, laundry, and kitchen reserved just for the Bones Jones guests. It's a beautiful area with woods, streams, a pasture, and walking trails.
The sessions are led by the staff of Bones Jones with a total of four, two-hour instructional sessions, a Saturday break-out session, a jam session around a campfire, and practice and rest sessions in between to work on your material and just enjoy the beautiful landscape.
Cost:
For a shared room of 2 or 4, the cost is $439. A private room is $539. The cost also includes meals and instructional materials. Not bad for a weekend getaway in one of the most beautiful areas along the east coast, especially in the Spring!
Target Audience:
This retreat caters primarily to the student base of Bones Jones, so it can be difficult for the general public to reserve a spot. If you find yourself near the DC area, then you will want to check this out as a possible vacation destination. If you are a beginner or intermediate acoustic guitarist, you will very likely get a lot of this retreat.
Vacations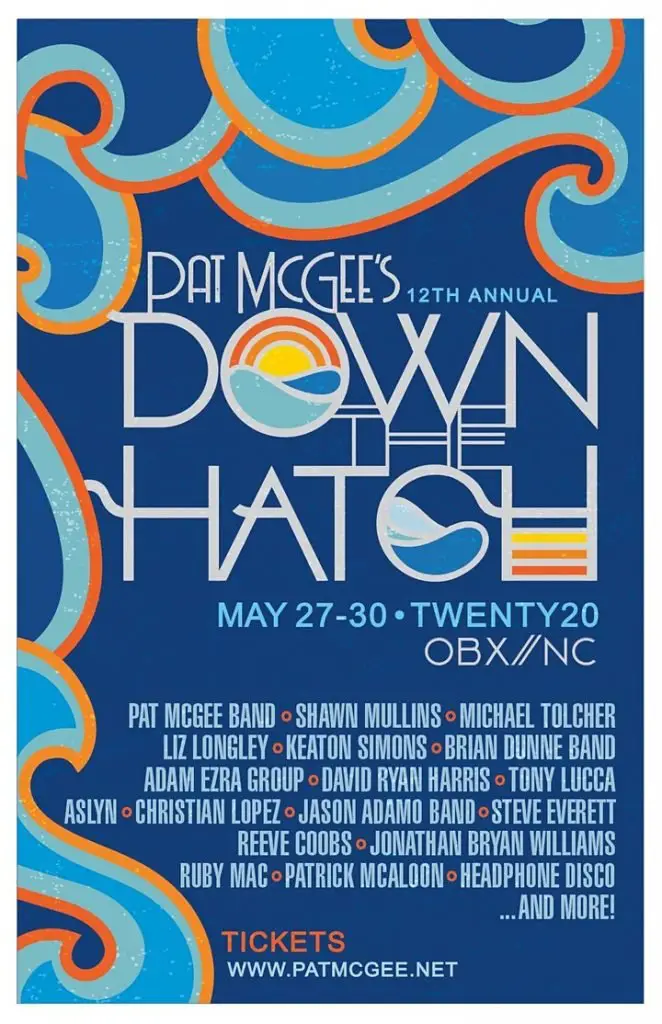 When: May 27-30
Where: Kill Devil Hills, NC
Cost: $300
This is a Mecca for acoustic guitar lovers who are big fans of the regional singer-songwriter scene. This is hosted around the same time every year and is a sun-up to sun-up-again festival of non-stop music and fellowship. Bring your guitar and get your calluses ready for an all-out marathon.
About the Event:
Pat McGee is a singer-songwriter out of Virginia and is a staple in the regional music scene. He founded this event as a way of giving other regional and local songwriters more exposure. This event was designed to showcase little-known artists and to share the Outer Banks experience with others.
Here, music lovers are introduced not only to music they likely have never heard but to the artists themselves in an intimate, personal setting. This event is completely artist-run and combines beachfront concerts with jam sessions nearly 24 hours a day.
Having personal experience with this festival, I can say this is one of the best-kept secrets of the year and is an absolute MUST if you are an acoustic guitar player and a fan of local artists. Because of this event, I have made friends in the business and discovered wonderful new music that I never would have otherwise been exposed to. 
And the music really is phenomenal – as in "where has this music been all my life" kind of awesome.
You don't have to take my word for it. Just look up artists such as Pat McGee, Tona Lucca, Matthew Mayfield, Adam Ezra, Ryan Adams, and Matt Duke. One can attend this event and literally jam with these guys, take turns in a circle trading songs, and hear new song ideas from these musicians before they ever take them to the studio. There is absolutely nothing like it!
Cost:
Just $299 gets you a ticket to the four-day event. You are responsible for all lodging and meals beyond that. The event utilizes the Ramada Plaza Nags Head Oceanfront hotel, so you will want to contact that particular hotel directly and ask for the Down The Hatch room rate to get a good deal on a room.
Don't worry too much about spending a lot of money on a nice hotel. You will not be getting much sleep!
Target Audience:
This has been going on for 11 years now, so this has really become a family reunion of sorts for those who are familiar with it. These are mostly east coast local and regional singer-songwriters and the people who attend their shows. If you consider yourself a creative musical person at all, are a big supporter of the local scene, or a working local artist yourself, then this will no doubt become an annual trip for you.
When: 8am-5pm Monday-Friday
Where: Nazareth, PA
Cost: Free – $25/person
As far as an acoustic guitar getaway goes, it's hard to beat a trip to the Martin factory. These are some of the most sought-after acoustic guitars on the planet and for a measly $free.00 you can take a tour of where these guitars are made! Martin is the oldest guitar maker in the country, so if you want to know how an acoustic guitar is made, look no further.
About the Venue:
Visitors get to follow a guitar from its rough lumber form all the way through the more than 300 steps it takes to complete its birth. Public tours are held at regular intervals between 11:00 am and 2:30 pm most weekdays and last about an hour. The schedule has some irregularities to it from time to time, so you'll want to visit the Hours of Operation page to plan accordingly. Tourists will not be able to take video, but are allowed to take pictures.
Private group tours can be booked by filling out the request form. The private group tour reservation is only required if you are a group of 10 or more.
Special "behind the scenes" tours are available Monday-Friday at 9:30 am for groups of 6 adults or less. The private tours last about 2 hours and must be booked in advance by calling the number listed on their website.
Then, of course, there is the museum that is open all day long with over 170 guitars being showcased. Here you will also find the 1833 shop for all your souvenirs and whatnot.
As an additional bonus, you can visit the Guitar Makers Connection which is located at the original Martin factory and homestead just a short distance from the visitor's center. The GMC is a retail store that offers a unique collection of guitar-making tools.
Cost:
There is no charge to visit the factory, the 1833 shop, or to take a tour. Tours are on a first-come, first-served basis and vary in frequency depending on the season. There is a nominal fee for reserving a tour if you will be arriving in a group of 10 or more. $25/person gets you the behind-the-scenes tour which to me is a no-brainer!
Visitors can of course purchase a guitar during their visit, so if you are an impulse buyer, you make want to bring an extra thousand bucks or so.
A really neat program Martin offers is the Factory Delivery Program. You can order a Martin from an authorized dealer and arrange to go out to the factory as a VIP. You will take a private tour and enjoy the experience of the museum, then a representative will present you with your new guitar right there. The Factory Delivery Program is free, but the guitar sure isn't!
Target Audience:
Not much to say here except that this is for anyone and everyone who even has a small interest in the acoustic guitar.
What guitar vacation list would be complete without mentioning Music City itself? This really is the Holy Land for musicians and if you are having a hard time deciding where you want to have your guitar retreat this year, just start by heading to Nashville. From there, just throw a dart.
Here are a couple of quick suggestions, especially for you acoustic guitar lovers:
For $20.95 + parking, you can help yourself to the museum any day of the week from 9:00 am to 7:00 pm. AAA members, military, college students, and seniors get $1 off. Groups of 15+ can fill out a form for a group rate. The Museum has a café that serves breakfast and lunch.
Just $5 gets you into this museum at Belmont University. Exhibits include acoustic guitar body styles, a quartet of master-series instruments by Lloyd Loar, a very rare 12-fret pre-war Martin, the Evolution of the Mandolin, and more.
Nashville is a wonderful place to experience great live music with little to no cover charge and see some great sights on a budget. For such an affordable place to visit, it's hard to come up with an excuse to not go.
In general, there is so much out there in the world of guitar vacations and acoustic weekends. So get out there and explore. You work hard(ish). You deserve a good six-stringed retreat!