This tried and tested review of guitar capo's under $20 is to help those looking for their first beginner guitar capo or those that want a capo that is reasonably priced and functions as it should.
So when I first started my guitar journey, which I document on YouTube here, I bought a capo, in fact, I bought 3 capos.
These were the 3 most popular capos on Amazon at the time:
Nordic Essentials Deluxe Capo
When I bought them I didn't even know really what they were and when to use them. The only reason I really bought one was that it was recommended I do on the Justin Guitar Beginner course.
So making a choice about which one to buy wasn't easy and whilst a capo doesn't have to cost you a lot of money, I wanted to help provide some advice to those who are in the same position.
When you google 'best capo for acoustic guitar beginner' you tend to just get review sites from people who haven't actually used the capos they are recommending and purely want the affiliate commission and not to add actual real value.
For example, none of them run through if they detune a guitar or show the results.
So I thought, for this reason, I would buy the 3 most popular and reasonably priced capos for acoustic guitar on Amazon and test them myself on my 6 string acoustic guitar, my Seagull S6 Original (click here to go to read my review), great guitar by the way.
Having now got some experience under my belt using a capo I thought it would be a good time to sit down and look at these three and provide some actual detail on what they are like to use, their quality, whether they detune the guitar and positive and not so positive elements that may help you in deciding which one to buy.
Tried & Tested Review – Best Capo's on Amazon For Under $20
These are the criteria we are going to use (in no particular order)
Look
Functionality (Includes Detuning)
Ergonomics
Durability
Warranty
Kyser Quick-Change Capo Review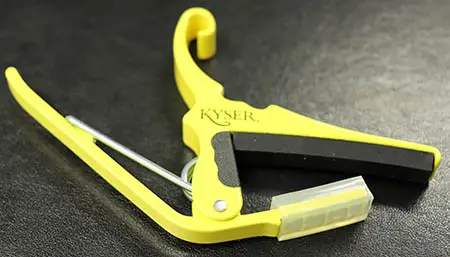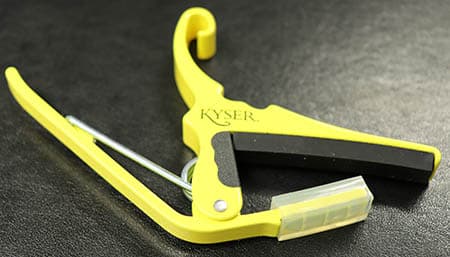 Kyser is a Texas-based family-owned company and has been going since the 1980s and over that time has built up a deep and well-founded reputation as a manufacturer of quality guitar accessories.
Their capos are hand made in the USA and Kyser provides a downloadable app which helps you to transpose chords and find new fingerings with your capo also.
The Kyser Quick-Change Capo is available for 6 string acoustic guitars (click here to check the current price on Amazon) and for the electric guitar (click here to check the current price on Amazon)
They are one of the most well-known brands of a capo in the world and possibly one of if not the most popular also.
For many people, they are the industry standard.
Look
The look is very much subjective and for many won't play a part in their decision making when buying a capo.
That said, this Kyser capo is very unique in its look, the curled short arm, the upright long arm all make for a visually interesting product. Whether that is one you enjoy or not is purely up to you.
For me personally, as much as the Kyser is a good performing capo, and we go more into the detail below, I prefer a capo with a more streamlined and smooth look.
Functionality
This is an easy to use Capo. The length of the arms means that your hands are well away from the guitar and that you can use either your right or left hand with ease.
It is very easy to place the capo on to the guitar and it is very easy to take off. So if you need to change the placement of the capo quickly in between songs then you won't have any issues there.
What is also great with a spring-loaded clamping style capo is that when you remove it you can just quickly clamp it on the headstock of your guitar for when you next need it, say in between songs.
What you don't get with this capo is the ability to adjust the tension. Why should this matter? well if the tension of the capo is too high it can knock your guitar out of tune. Some users have complained of exactly this but to be fair they are few and very far between and it is possible to make adjustments to the capo.
You can make a simple adjustment to reduce the tension by changing the boot over like in the photos below. As an aside if you do lose this boot cover on the capo you can buy a replacement boot for the Kyser quick-change capo on their website here.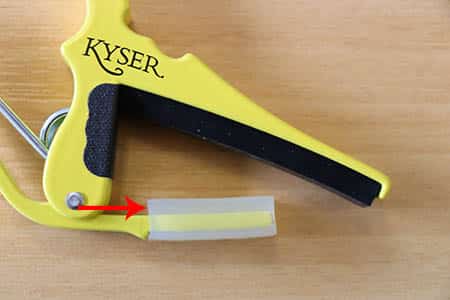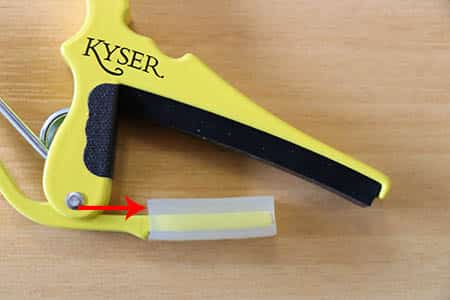 The boot can be removed and refitted so that the thinner part of the part makes contact with the guitar, resulting in slightly less tension on the strings.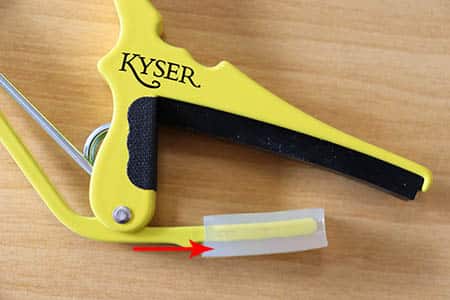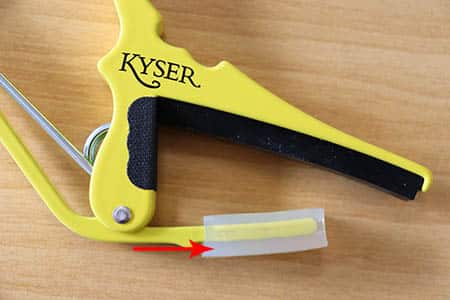 or you can pull out the short arm, effectively bending it in order to release tension.
While these are 'fixes', many people won't be comfortable bending something they have just bought, will it break? unlikely but possible and the fact you may have to do this could put some people off.
If your budget allows for one capo only and you are performer worried about tuning then this might not be the capo for you.
Does The Kyser Quick-Change Capo Detune A Guitar?
To get a better understanding of this watch the video below, which starts at me testing this out.
Ergonomics
Whilst the finger placement holders on the capo make it easy to use I would also add that the curled short arm isn't as smooth as others and can 'pinch' your finger a little.
Secondly, the overall size of this capo makes it easy to use but if I was nitpicking I would say that the shape and size of it do not make it the most ergonomic. Unique yes, sleek no.
Thirdly, I have seen some reviews that people have provided who find it hard to use due to hand strength. This is due to the fact that the spring can be tight for some, so you may need to use two hands to place it on the guitar.
Finally, I would add that it is more intuitive and easier to use, due to the position your hand will be in, your strumming hand to place and release the capo. This is important to think about particularly if you have some weakness or issue in your strumming hand that could make it difficult to open the capo.
Durability
Whilst this a light capo, yet it is built well. It has a simple mechanism and nothing about it feels cheaply made. I work in the construction industry and am used to seeing new products that have a lot of promise only to be let down by faults in design often by having too many working parts or weaknesses around the moving parts.
Taking hold of the Kyser quick change and attempting to move it in directions it shouldn't result in next to no movement, wobble or obvious sign of weakness that would have it fail anytime soon.
That said this is a spring-loaded capo so there is the potential for the spring to wear out, and a few people have noted this.s.
One other thing to point out is the cheap piece of plastic tape (see photo below) that is used on the capo to protect the neck of the guitar from the metal edge of the capo.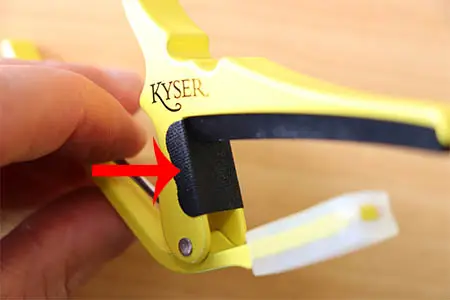 Some have recommended removing this and used some thick electrical tape instead to add a little more cushion.
Warranty / Guarantee
Kyser includes a lifetime warranty (click here to go to their warranty page) to the original owner of the capo. This is for defects in materials and workmanship only.
If it ever fails due to any of these reasons, even after extended use then they will repair or replace the product (at their discretion) without charge.
They clearly stand by their product and is this is great to see and Kyser are a well-established company that has been making these capo's since the early '80's so they are a name you can trust.
Nordic Essentials Deluxe Capo Review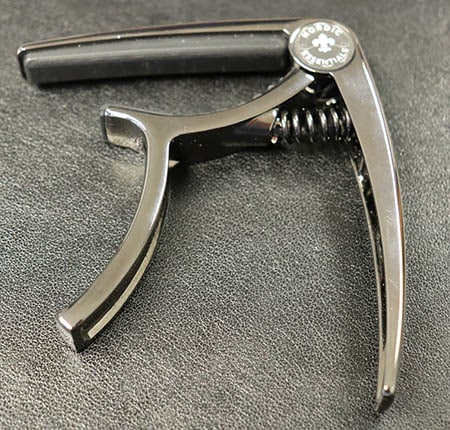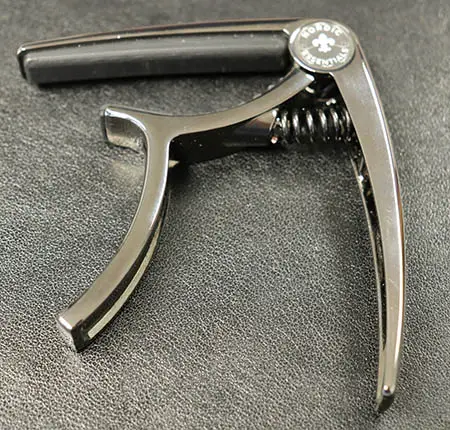 To check the current price of the Nordic Essentials Deluxe Capo Click here.
Look
Personally, I love the look of the Nordic Essentials Deluxe Capo. It is sleek and elegant and looks sturdy. It comes in 5 different colors all made from a 'premium zinc alloy'.
It has clean lines with an understated color and a low sheen finish. There are five color's to choose from and the one that I own and is shown in my photos is the 'metallic black' color.
One thing I would note is that you can see fingerprints when you use these capo's but they aren't really noticeable from distance.
It also comes with a carry pouch which you can see in the photo which is really useful to help keep your picks in.
Overall this capo has a luxurious look and feels and for me is visually appealing.
Functionality
Some argue that a heavier capo can change the tone of the guitar slightly and this capo is substantial. It weighs 2.1 oz and it feels substantial in the hand.
Is it easy to use? well as I eluded to earlier you will likely use your hand that goes up and down the neck of the guitar to place and remove this capo, due to the action of the capo being to the rear.
I would say that it takes a little less strength to open this capo than it does for the Kyser. Some may find it easier due to the shape of the capo encouraging you to use your palm area.
Does The Nordic Essentials Capo Detune A Guitar?
Again, this is a spring-loaded capo let's so let's find out if it detunes the guitar:
Ergonomics
This is made to be used by your fretting hand due to the action of opening and releasing the capo sitting to the rear. With the Kyser, I found that you are more likely to use your strumming hand to open and close the capo.
In my opinion, it feels nicer in the hand than the Kyser, it has smoother, rounder edges, it sits nicely in the palm and overall it takes less effort to open and place the capo on the guitar.
The way it is shaped encourages you to use your palm which enables you to get more purchase and therefore helps it feel easier to open.
Durability
Overall the capo feels solid and well built. It is made from a zinc alloy, feels weighty and durable.
The working parts do not wobble when you try and move them in a direction they shouldn't and the capo gives you confidence that it will last.
It is a spring-loaded capo so this will eventually fail and the silicone pads will wear out eventually but by that time you will likely just throw it away and get a new one.
From my investigation, you cannot buy any replacement parts and I go into this further below.
Warranty / Guarantee
So according to the packet that the Capo comes in it has a lifetime warranty for defects. However when you try and visit the website that the packet references it redirects you to another Amazon product that they sell.
This to me is a bit of a red flag if you are ever looking to try and replace a part in the future. In comparison to the Kyser and the Shubb, it just doesn't have the credibility here.
Both Kyser and Shubb are well-established companies with great reputations built upon years of trading. So it can be expected that a newer company won't have this but with Nordic having a redirect for their website, it doesn't build trust or confidence.
All this being said, many people won't worry about it or will even check out if they have a warranty or replacement parts because if it breaks they will likely just buy an alternate capo for $20.
Shubb S1 Deluxe Capo For Steel String Guitar
Shubb is the longest standing company involved in this capo comparison. Before I bought the three capos on Amazon I didn't know the history that they had because I was new to the guitar.
Since researching however I have found that the Shubb S1 is one of the most highly recommended capos for the money. So I was eager to test it out and you can see the results in the video but let's do some analysis now.
Look
The Shubb S1's look could be described as 'utilitarian'. It hasn't been made to win you over with its looks but the design is all about functionality.
That is not to say that it has its elegance, however. If you appreciate well designed simple engineering then this capo will win you over instantly.
For some of us then it will resemble the look of some inventors contraption, but can it perform as it should? let's find out.
Functionality
Well, this capo is extremely solid and once you snap it on it actually cuts a low profile on the guitar and clamps extremely well to the strings.
Moving it up and down the guitar isn't difficult but in comparison to the other two capos, it is more cumbersome due to its design.
To the rear of the capo, there is an adjustable screw which allows you to alter the tension, which is extremely important for detuning issues.
The other two very popular capos that we have reviewed above do not have the purpose-built ability to change the tension of the capo. So, in theory, this should help with accurate tuning.
Some people have expressed concern that it would not fit a wider nut guitar. Well the Seagull S6 Original I own has a 1.8″ nut and this Shubb S1 Capo fits fine.
You have to be a little intentional with the placement because it is getting close to the width limits of the capo but it works just fine. You can see this if you watch through the video.
Does The Shubb S1 Deluxe Detune A Guitar?
If you have read and watched the video on the previous two capos then you will know that they both detuned the guitar, perhaps only subtly but enough so that the sound wasn't as accurate as it should be according to the chromatic tuner.
So let's find out.
Ergonomics
Let's be clear here, this capo is not about ergonomics in the hand and for very good reason.
You hardly need any physical purchase on this capo in order to place it on the guitar. So this capo will suit everyone at any age, including those with weaker hands.
It doesn't need to be ergonomic because it doesn't need to be gripped in order to place it, it is all about functionality and it does that in spades, much better than the rest.
Durability
These are built to last, many people keep these for a long long time and for good reason. They are durable.
You can also replace any parts that need replacing and these are listed on the Shubb website here
Warranty / Guarantee
If you visit their website you will see their thoughts on this. They are a long-standing company with an excellent reputation and again for good reason.
We have never published one in writing, simply because we feel that it should go without saying that a company stands behind its products. In actual practice, YES. If something goes wrong with your Shubb Capo, we'll fix it at no charge.

http://www.shubb.com/faq.html
If you want to learn more or get in contact with their service department then head to their guarantee page link here.
---
Winner – Best Capo Under $20
If you have not watched the video or it isn't entirely clear, or maybe it is a case of TLDR; then my overall recommendation and winner is the Shubb S1 Deluxe (click here to check price on Amazon).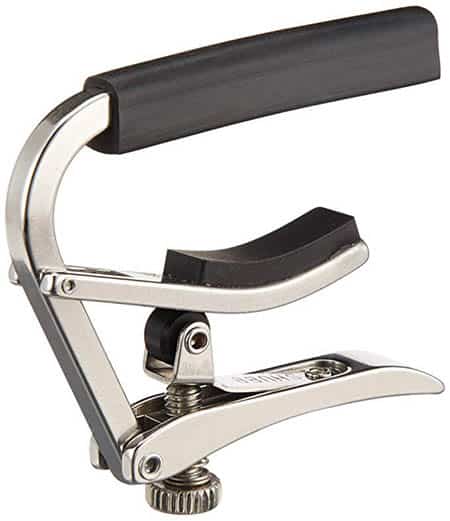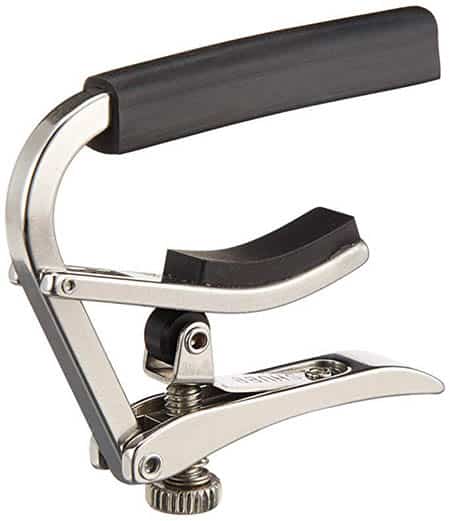 The Shubb S1 is the Best Capo Under $20.
It doesn't detune the guitar like the others, requires the least pressure to place on the guitar, is extremely durable, works on both electric and acoustic, can be adjusted, is reasonably priced and is made in the USA by a long-standing and well-respected company with a solid reputation.
In my opinion, if you are looking for a capo for under $20 then it is the one to buy.
If you are looking for more tried and tested recommendations, then click on this link here to visit my recommended gear page.
The image below is for saving on Pinterest if you felt this article and video added value.