Pain and discomfort in your back, neck and shoulders when playing guitar is common for many different reasons and is likely inevitable, particularly as you get older.
Fortunately there are ways to prevent this but also alleviate any existing issues if you know how. In our article Best Stretching Exercises For Guitar Players – Illustrated Guide (Back, Neck, Hand, Elbow, Fingers) Jeff Caulfield, a Senior Physiotherapist, talked about how to play to avoid issues occurring in the first place but also how to prevent and alleviate the most common guitar injuries so you can keep on playing.
All the help aside however, sometimes, some of us are in a position where we can't 'fix' the issue. Fortunately there are manufacturers who have recognized this and created products that can help many of us who play with pain or in a position that might not be recognized as 'normal'.
So in this article, after spending many hours finding the best products, I'll share 10 of the best essential guitar accessories for guitar players who play with back, shoulder, neck and wrist / hand pain to help you keep playing guitar.
1. Best Weight Relief Guitar Playing Stands For Back, Neck, Shoulder Pain
There are two great options, depending on your budget, when it comes to self supporting playable guitar stands. They both take the weight of the guitar entirely off your shoulders and back, and enable a flexible position for you to play the guitar, whether that be sitting or standing.
So if you have back, neck or shoulder pain these can be a fantastic option for you.
Most Affordable Guitar Playing Stand
The Mbrace stand attachment (lick here to check price at Amazon) fixes to your guitar or bass using 2 strap buttons, and then you can fix to any existing tripod mic guitar stand. It works for electric, bass, acoustic and even round backed guitars.
If you have an existing stand then this will be the most economical method of a gaining a weight relief guitar playing stand.
Pros
Professional performing guitar stand
Takes the full weight of the guitar
Very sturdy
Very portable
Comfortable playing position
Height adjustable (can play
seated)
Felt lined
Separate models for acoustic and electric guitar
Cons
Can't adjust the tilt
Economical materials (glued strap ends)
Has to be used on a tripod stand like this one at Amazon (check price)
Not as sturdy as the KM Performer Stand
Not recommended to be used on an cheap stand unattended.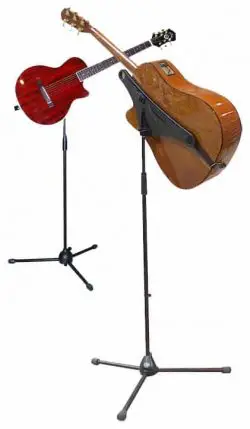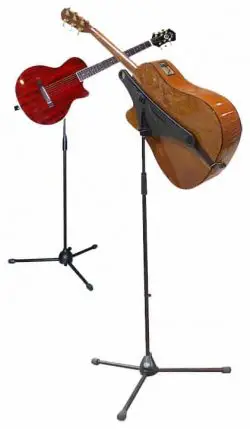 ---
---
Most Robust Guitar Playing Stand
The K&M Performer Stand is a sturdy, well built guitar playing stand with excellent adjustment. You get what you pay for and whilst this will set you back a lot more money than the MBrace, it will provide you with assurance of an excellent guitar playing stand.
Pros
Professional performing guitar stand
Takes the full weight of the guitar
Very sturdy
Very portable
Comfortable playing position
Height adjustable (can play seated)
Felt lined
Separate models for acoustic and electric guitar
Cons
More expensive than Mbrace
Won't work with a rounded back guitar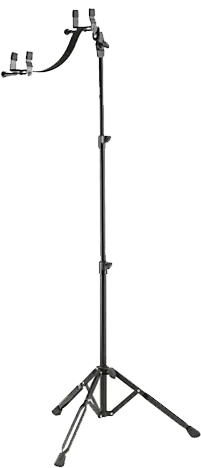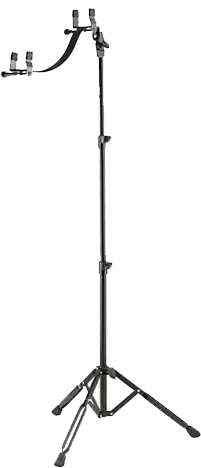 ---
2. Best Weight Relief Guitar Straps For Back, Neck, Shoulder Pain
There are many types of weight relief Guitar Strap but if you have existing back pain, feel like it is developing or are just aware and want to maintain a good position when practising then these 3 guitar straps are an excellent alternative.
Hip Guitar Strap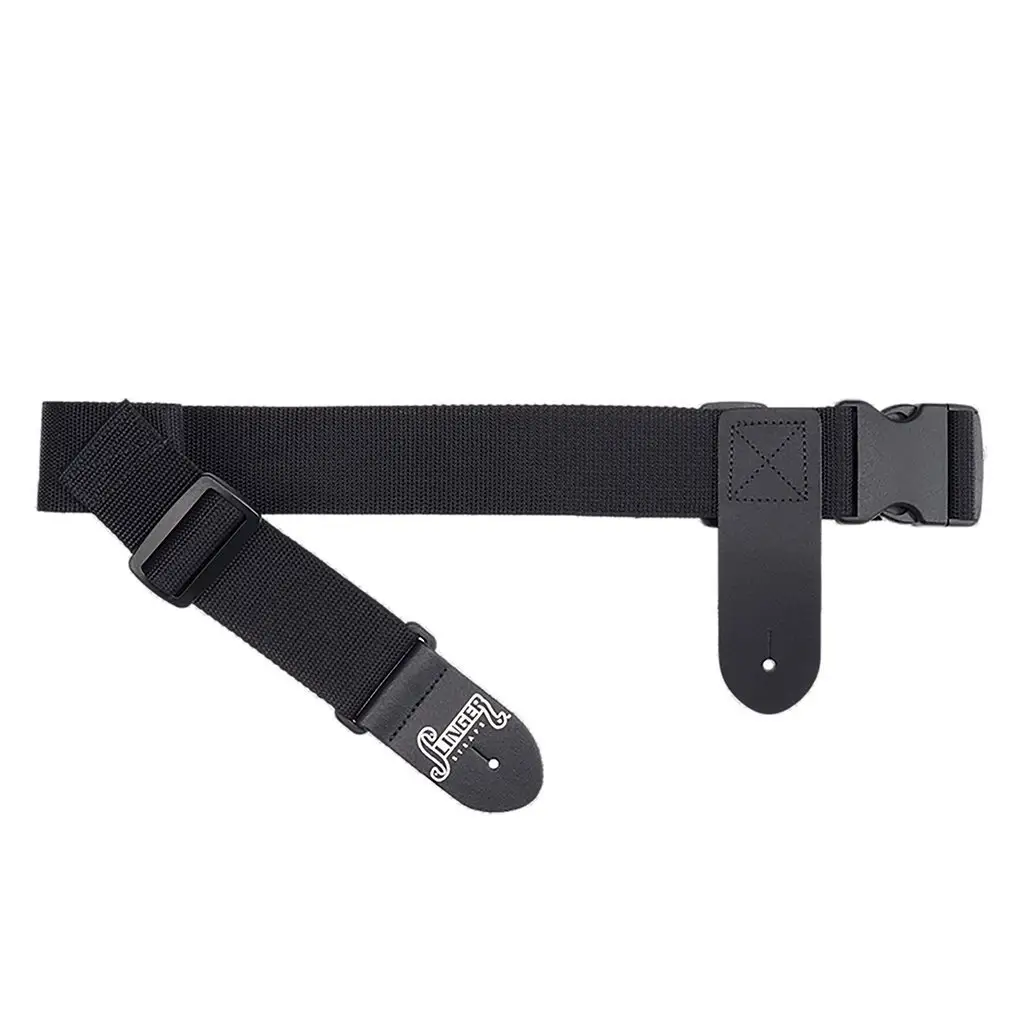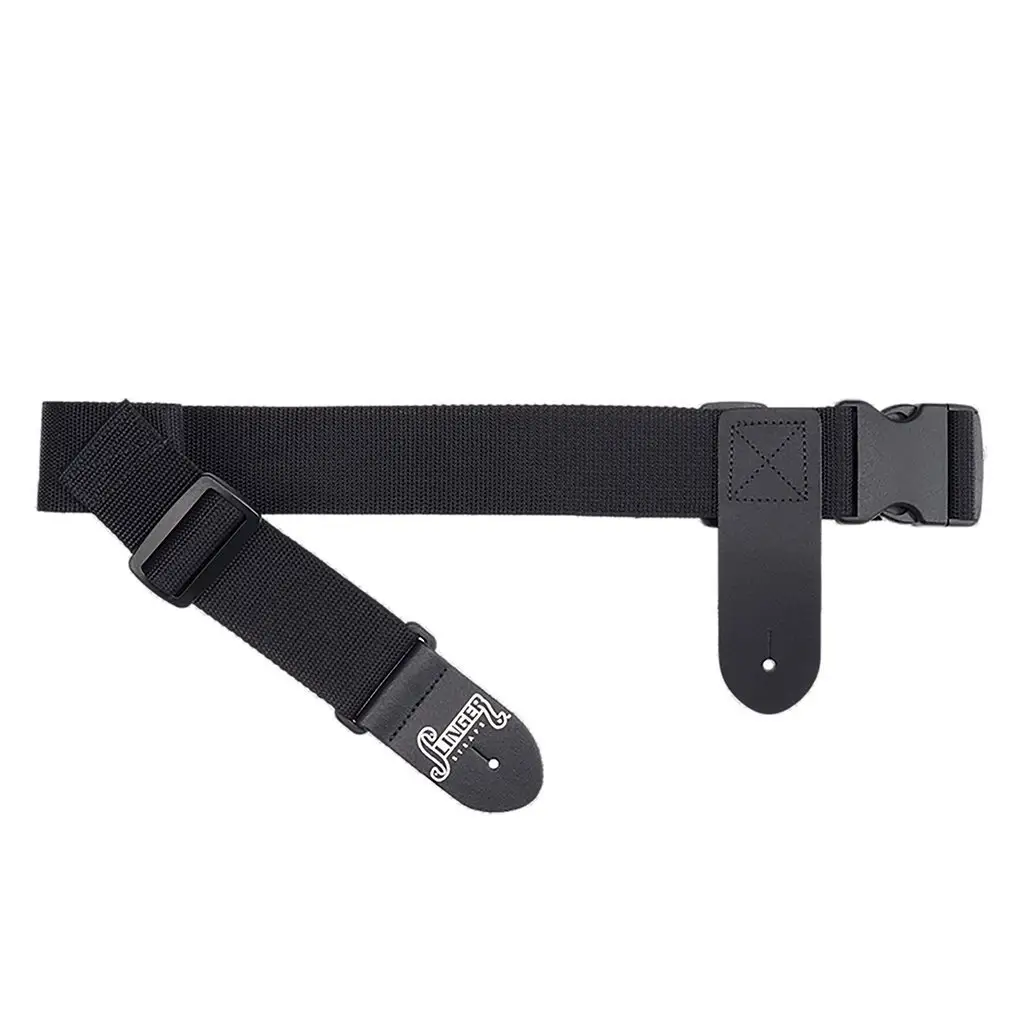 Remove the weight from your back and shoulders entirely with the Slinger Ergonomic Hip Strap that comes in versions for the acoustic / hollow body guitar as well as for electric and bass.
Acoustic / Hollow Body Guitar
---
Electric & Bass Guitar
Pros
Eliminates guitar weight on shoulders and back
Can be worn around the waist as well as the hips
Removes guitar neck dive
Holds Guitar Securely on Lap while seated
Fits up to a 42″ waist
Cons
Solid body guitars only
Not fit anyone with a waist larger than 42″
Additional standard strap button may need installing
---
Double Shoulder Guitar Strap
Gruv Gear Duo Ergonomic Strap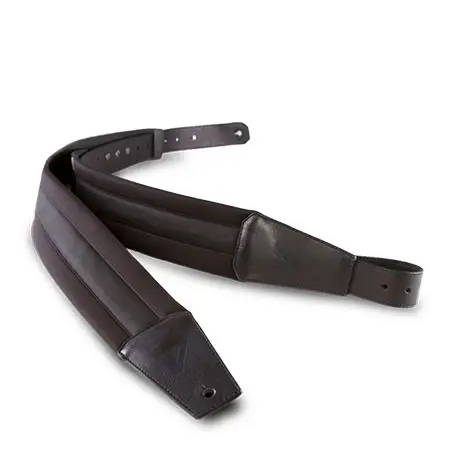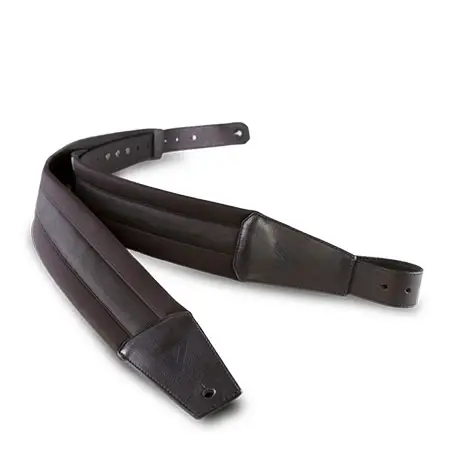 Good for both bass and 6 string guitar the Gruv Gear Duo Strap distributes the weight of the guitar across both shoulders.
Pros
High Quality
Helps maintain proper playing position to prevent injury.
Works great for double-cut basses and guitars
3.25″ wide soft-rolled neoprene, with lengths adjustable from 33″ to 44″ and an extra-long option that brings the total usable length to 56″.
Helps minimize shoulder and back pain by distributing the weight of your instrument.
Cons
Will require 'tension strap' for single cut guitars. (Les Pauls, Telecasters particularly)
Doesn't help with 'guitar neck dive'
Tends to hold guitar mid level or higher (you can buy longer straps on the Gruv website)
Requires a lot of initial adjustment
May require additional 'tail straps' that you can purchase from their website.
Some people complained that it can feel a little restrictive
---
Harness Guitar Strap
The Neotech double shoulder guitar strap is ideal for those who suffer from neck, shoulder or back pain. It distributes the weight to the torso instead and the pivoting snap that attaches the guitar to the strap allows you to adjust the neck angle of the guitar to find your ideal playing position.
Pros
Works on all guitars (bass, electric, acoustic) that have two strap pins
Reinforced support harness that's comfortable for both men and women
Shoulder pads with memory foam and interior Aluminum supports bend for a custom fit
Torso strap is adjustable 30″-60″ (76, 2cm-152, 4cm) and fastens with a convenient quick disconnect buckle
Adjustable torso strap fastens with handy quick disconnect buckle
Instrument's position is adjustable to the harness for optimum comfort and balance
Fully adjustable
Non-marring connectors
Easily switch between instruments by attaching an extra Guitar Support Back Strap (click here to check price at Amazon) to each guitar (additional back straps sold separately)
Can wear under a jacket to hide it.
Cons
You may have to buy an additional guitar strap (sold separately) if you have an extra wide/ deep guitar. You can get them here at Amazon
Some people complained there wasn't enough padding on the shoulder straps
Does not work for very slender or very wide frames
---
Best Weight Relief Guitar Strap (Extra Wide)
The Neotech Mega Axe Guitar Strap (click here to check price at Amazon) is 4″ wide comes in 4 different sizes, is made of neoprene with leather attachments, has a stretch system that provides weight relief and has extra foam padding to provide comfort along.
It has received excellent reviews from those looking for a traditional style guitar strap that helps back, shoulder and neck pain by providing weight relief and comfort.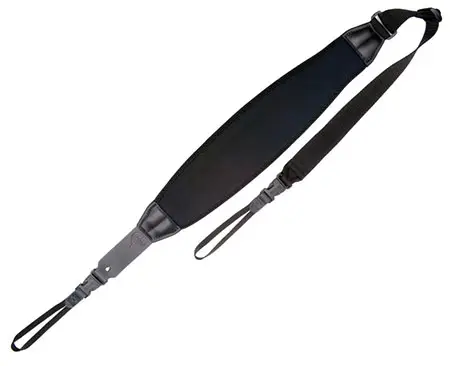 Pros
Available in 4 different sizes
Adjustable lengths
Soft durable neoprene with two layers of memory foam.
Leather attachments
Made in USA
Cons
Adjusts at only one end
Some complain the button holes are too tight.
---
3. Best Guitar Chair and Stool For Backpain (Back Support)
Sitting for extended periods of time is not good for any of us, so taking the time to find a guitar chair that is supportive to our backs is important.
Guitar High Chair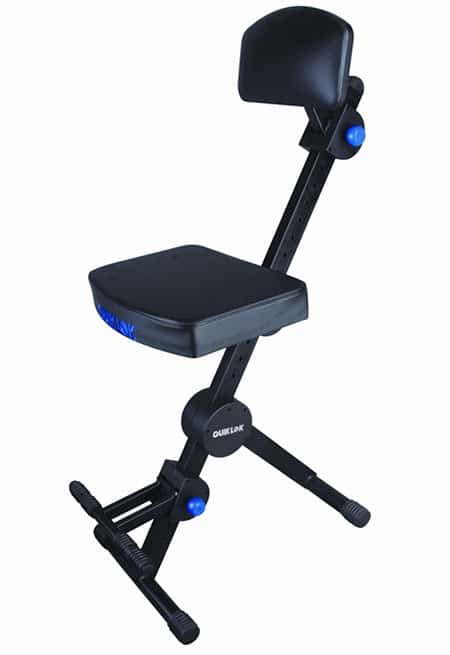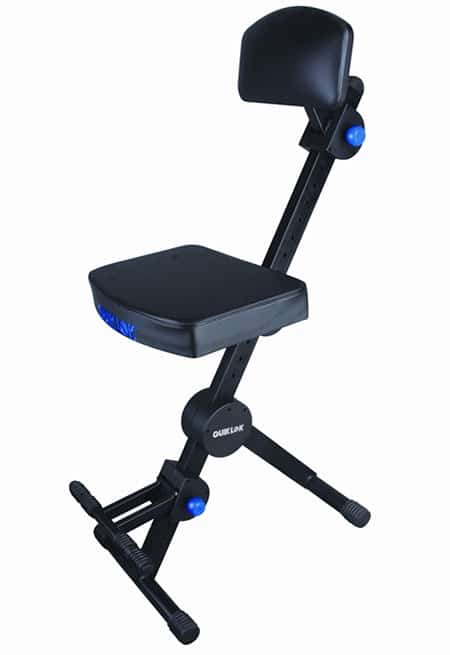 The Quik Lok DX749 is an excellent chair and will suit many of those look for a chair that provides an elevated position with the necessary back support.
You can buy a similar seat to this called the Gator Frameworks Guitar seat but the seat, back and foot support aren't adjustable and has limited space for your foot / feet. So for these main reasons I recommend the Quik Lok.
Pros
Back rest is height adjustable
Seat is height adjustable
Foot rest is adjustable
Good padding
Well built
Foldable
Cons
Some complain seat doesn't lower enough
Can tip forward quite easily
Assembly required
Quite heavy
Back rest a little small for some
---
Traditional Chair For Guitar
The Adjustrite Musician's chair is the best guitar chair for back pain, it is labelled as a 'musicians chair' but the features it has and the lack of other guitar chairs to really hit the mark make this the best. It does come with a catch and that is you will need your own guitar foot rest.
The chair provides the largest area of support, all the legs are individually height adjustable with 1″ increments, it is light, sturdy and comfortable and can be easily packed away.
Pros
Each leg is independently height adjustable (tilt can be created if required)
Wide area of support
Encourages proper posture
Lightweight
Sturdy
Folds easily
No assembly required
Micro adjustment feet for uneven floors
Cons
No foot rest (will need to buy one)
Quite heavy
Hardfeet not good for timber / softer natural floor
---
4. Best Seat Cushion For Lower Back Pain
If you don't want to go the expense of purchasing a new chair then using a balance disc on one of your existing chairs may be the ideal solution for your guitar playing.
Gaiam Balance Disc Wobble Cushion
It works by engaging your abs and core muscles while you sit. It will add about 2″ to the height of any seat you put it on so be aware of this for any existing chair you have.
If you slouch whilst using it then it wont benefit you but if you use with a chair with back support whilst playing guitar then it will aid and relieve you lower back.
Pros
Great for little movements when you are playing guitar
Encourages core strength
Low cost risk
Can be used for most seats
16″ wide
Cons
May not fit a larger posterior
Doesn't work for everyone
Takes a while to get used to due to the 'wobble'
---
5. Guitar Rest Support
A Guitar rest support are used by many classical guitar players to help them get the neck height desire. Posture is equally important when sitting and playing acoustic or electric guitars.
Guitar rest supports can provide an elevated position for playing guitar and so aid posture and pain that may occur in the back, neck and shoulders.
Most Affordable Guitar Rest Support
The Yifan Guitar Cushion (click here to check price at Amazon) works for acoustic, electric and bass as well as classical guitars.
It helps by raising the height of the guitar in relation to your torso and enables a steeper angle for easier access to the fretboard.
Pros
No attachment to the guitar
Contoured cushion, sits on thigh perfectly.
Built-in sponge for added comfort.
Fitting snugly on the right or left upper leg.With leather cover, protect inner sponge well
Zip design for convenience, easy to take it off and clean cover.
Comes with a pouch and a hook. Easy to carry along.
Product size: About 7.9 x 5.5 x 5.3 inch. Main material: PU Leather and Sponge
Cons
Some slimmer guitars may slip a little.
Doesn't fit all thighs – very slim and very wide thighs may struggle.
The angle that it provides to play guitar isn't for everyone.
---
Conclusion
So that rounds up the 10 best accessories for playing guitar when you have pain in your back neck or shoulders.
If you believe I have missed anything let me know in the comments below.