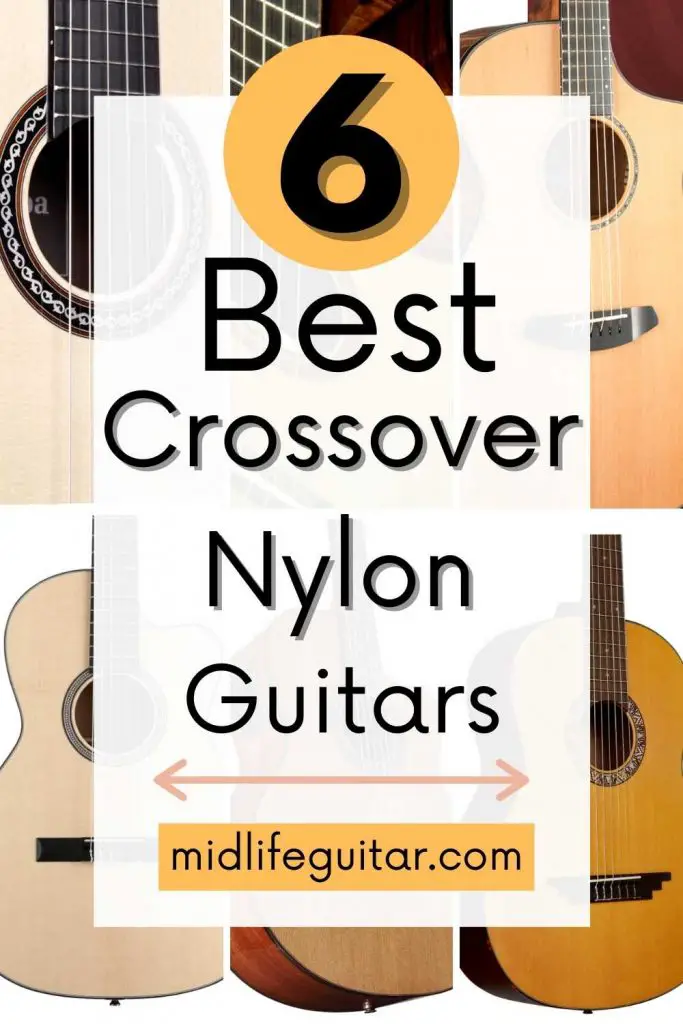 The Crossover nylon string guitar is fantastic for many guitar players who want the nylon string's comfort, but the feel of a more traditional steel-string guitar body. 
Simply put, the crossover guitar generally combines the best of both worlds in terms of comfort and playability. 
If you are unsure on whether you are ready to transition from classical to strig steel, read our "When You Should Buy A Crossover Guitar" article.
If however, you are sure you are ready for this change, this article will help you decide what is the best crossover nylon guitar for you.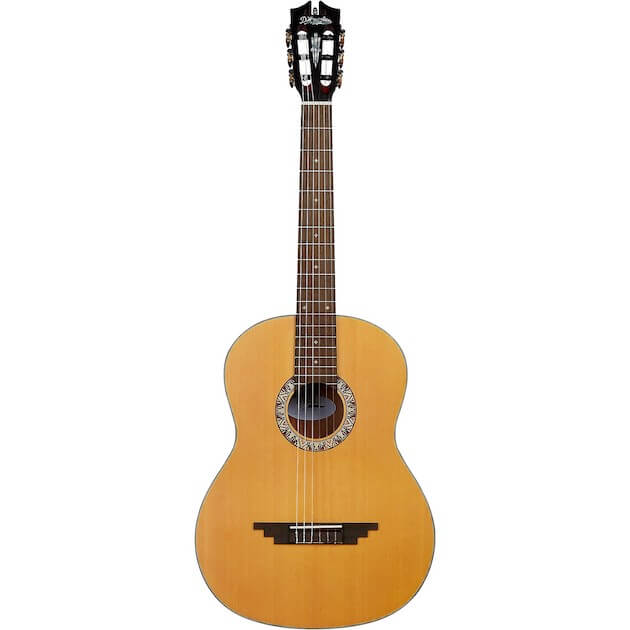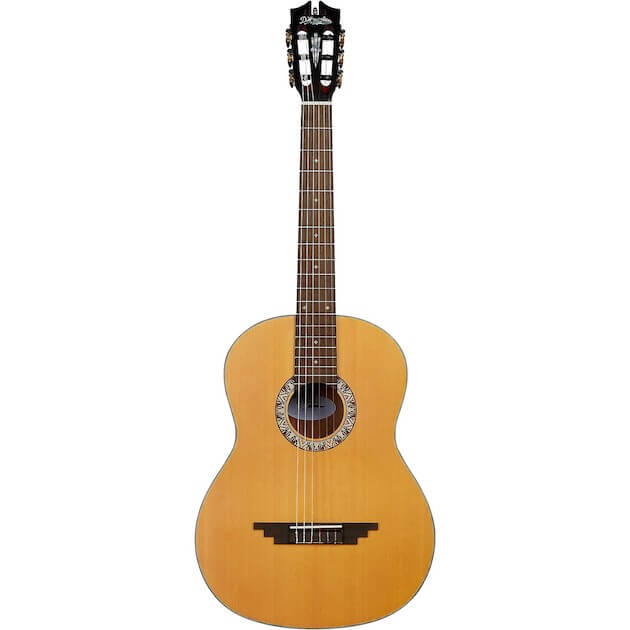 | Pros: | Cons: |
| --- | --- |
| Affordable ($250+/-) / Low Commitment | Cheaply Assembled |
| Quality Materials (Mostly) | No cutaway |
| Clear Sound | Hard to Find |
The D'Angelico Avellino is no longer in production, so just a warning that it may be tough to find.
It's one of the better entry-level guitars, and guitars like this tend to be scarce because people usually keep them.
Like many beginner models, it is low-priced (at $250) for a reason. These are made in China; however, most of the materials used are suitable for an entry-level guitar. Bone rather than plastic, for example, is used for the nut, which really makes a difference in tone quality. 
Solid spruce is used for the top, which is a very common and inexpensive tonewood. 
Still, it is nice to see the tonewood on an entry-level guitar rather than the usually laminated spruce or synthetic material.
One of the main reasons this guitar is on the cheaper side is the laminated mahogany back and sides. An inferior material, but acceptable for an entry-level instrument.
A notable downside would be the lack of a cutaway, which most intermediate-level players and beyond would find quite helpful. Still, another sacrifice perfectly acceptable for a beginner guitar player as beginners will not usually need to access the upper frets.
The bottom line is, this guitar is for beginners who don't want to put a lot of skin in the game at the very beginning. 
You may not know if the guitar is right for you, but you don't want a guitar that is so cheap it sounds like you are strumming an empty bag of chips. 
Note: Many guitars below this price point have a hard time staying in tune as well.
If you struggle with finding a guitar that suits your budget, you may just have to be diligent with your shopping; use the specs mentioned in this article as a template. 
It can be challenging to find a quality guitar with this price tag, so don't be surprised if you have to hunt a little. It's worth it, though, and the hunt can actually be kinda fun.


| Pros: | Cons: |
| --- | --- |
| Acoustic-Electric | Poor quality factory setup |
| Very High-Quality Materials | Cheap Preamp |
| Cutaway for upper fret access | |
Alvarez makes great beginner to middle-of-the-road guitars in general, so it's no surprise when I come across a good, very affordable model. 
The woods are all very high quality – no laminated body parts. Solid mahogany back and sides, along with a rosewood fretboard, make up an excellent, well-rounded warm sound. 
It has a cedar top which tends to lose clarity when played hard, so if you like to strum loud, just keep that in mind. 
It is also less dense and therefore less bright than spruce, creating a warmer, more complex tone, which many prefer with a nylon-string guitar.
These guitars tend to come from the factory with a very minimal setup, meaning not much time was spent on the guitar's playability after it was assembled. 
This is where much of the affordable price comes in. 
Count on spending another $65 or so getting the string height where you want it, which is undoubtedly worth the money.
The other place where the manufacturer cut costs is with the preamp. 
The cheap plastic parts and mediocre sound leave something to be desired for the weekend warrior and indeed for the more serious player. 
It's perfectly fine if you are performing only occasionally and want the electronics already installed for convenience. 
It's a great guitar with a killer price for the hobbyist or the player in the early learning stages.
Upgrading the pickup is pretty easy, so don't be too discouraged by the cheaper electronics if you really like the guitar. 
Budget about $150 – $200 to get a new pickup installed if you want to. 
Still, at that point, you may be better off to get a higher quality guitar with a better pickup toward the $800 range.
These guitars also tend to last a long time, and used models are very plentiful at local shops. 
As guitar players upgrade to better models or move on because they decided guitar wasn't for them, they find themselves back on the shelves. 
Getting a used one may be preferable as they may have been adjusted by the previous owner, thus being more comfortable than one direct from the factory. 
3. Martin 000C12-16E Best Acoustic Electric – $2,000


| Pros: | Cons: |
| --- | --- |
| Very High-Quality Construction | Slightly Overpriced |
| Superb Electronics | |
If you are looking for a natural performer, Martin has you covered. 
The 000 body style is a very comfortable guitar for just about anybody. 
They play great right from the factory, but as with any brand new guitar, you may want to spend the extra $65-$75 at your local guitar shop to get it just right for your style.
The biggest highlight with these guitars, other than their superior construction, is the electronics. 
Fishman makes some of the best pickups and guitar preamps around, making this guitar a dream to play live or in the studio. 
The sound you get when you plug it in is very natural and rich.
The downside to this guitar is the price. 
In my opinion, it's overpriced by a couple hundred bucks. 
It's worth it because it's Martin; you are paying for craftsmanship rather than materials. 
The materials are very good, don't get me wrong, but there is nothing rare or exotic about the woods or the nut and saddle. 
You can usually find one used for about $1500 or even less if you are patient.
However, people who buy Martins don't usually sell them. And when they do sell them, Martins hold value very well and aren't typically priced to move. 
You may even be able to find a used one that has been upgraded with stainless steel frets or a Tusq nut.


| Pros: | Cons: |
| --- | --- |
| Versatile Sound | Somewhat Fragile Pickup |
| Very Comfortable | Boomy Sound |
Breedloves make excellent guitars for the player looking to upgrade without crossing the $1k mark. 
Their Solo Concert model is a crossover nylon that is quite versatile, which is an excellent option for the broke musician who can only afford one guitar! 
Going from rhythmic strumming to finger-picking to lead lines is very doable with this guitar.
An impressive characteristic that is immediately noticeable is the hole in the side. 
No, this is not a preamp cavity. It's a "monitor" soundhole. 
The idea is so you, as the acoustic player, can hear yourself better. 
While this may serve some, if you are playing in a full-band scenario, this does nothing. 
In fact, it may even be a contributing factor for the "boomy" nature of the guitar's sound.
The monitor is kind of useful for the soloist or for a small unplugged set, so it's not a total waste. 
I just have a hard time justifying putting the extra hole in the guitar for this purpose. 
All things considered, I can take it or leave it. It's certainly not enough to put me off as it is still an excellent guitar; I just think it's moot.
To get back to the boomy sound, this might be a problem for the performing musician when first plugging in to play a show. 
A little tweaking of the EQ at the guitar or the front-of-house sound technician will usually fix this. 
Worst case scenario, you can insert a feedback buster in the soundhole. Not ideal, but the guitar still sounds good!
I learned from personal experience with these guitars, if you are heavy-handed you could end up knocking the pickup loose from under the bridge. This guitar doesn't like to be beaten upon. For about $175, you can get a pickup that will withstand a more percussive play style.


| Pros: | Cons: |
| --- | --- |
| Authentic Classical Sound | Not as versatile as other crossovers |
| High-Quality Materials | |
| High craftsmanship | |
I know it's shocking, but some people want to buy a nylon string guitar because they want to play classical style music! Cordoba is the way to go here. 
These are Spanish guitars that keep to the traditional standards of construction and sound.
This is a fantastic guitar for those who want to play classical guitar but have been put off by the difficulties of playing an actual classical guitar. 
These guitars are very artfully crafted and steeped in traditional lutherie, save for the "crossover" neck. 
They don't skimp on quality with the materials, and the sound is very authentic Spanish.
Make no mistake – this is for the player who is ready to get serious with classical or classical-style playing. 
A folk musician may be able to get away with one of these, but this will not be the guitar for the singer-songwriter or the rocker. 
If you are not into classical playing, then go try one of these. You probably will be after you play around with it!
6. Maestro Vera SR Best Boutique Crossover – $2,245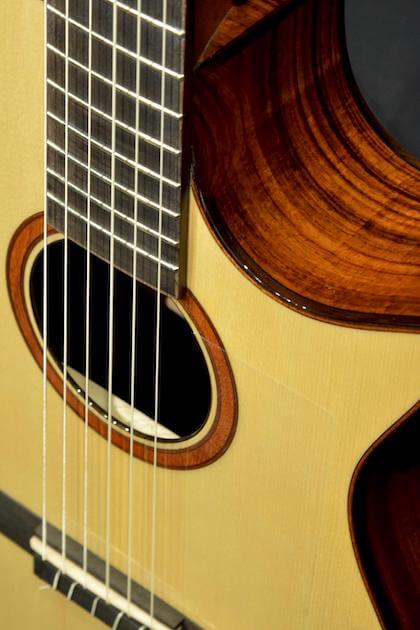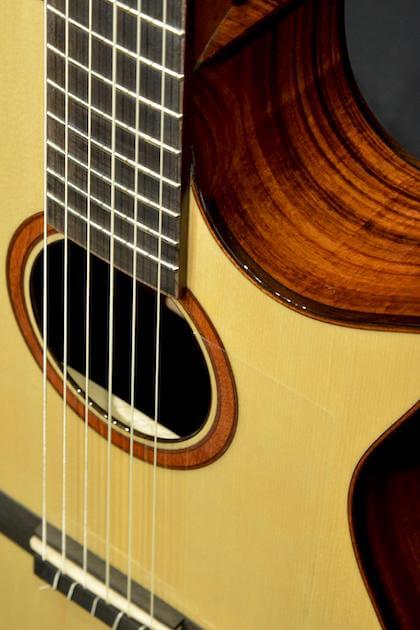 | Pros: | Cons: |
| --- | --- |
| Unique, rich sound | Expensive |
| Very Comfortable | Hard to find one just to try |
| Top-shelf materials, not mass-produced | |
Boutique guitars are all the rage. 
Luthiers are getting more creative and experimental, deviating from some of the "safer" materials and methods by the tried and true mainstream. 
The results are very unique sounding guitars with very complex tones.
The Vera SR has some fantastic features with some of the best tonewoods on the market. 
The artistic design and quality woodworking are just top-notch. 
The guitar has a beveled armrest for added comfort, along with a sound port on the side.
Again, the sound port for me is not a feature that I need, but I can see its value for specific situations. 
These guitars are known for their projection, and with the sound port, the player can hear the guitar the same way the audience members do. 
That can really give the player a sense of how they sound in more intimate settings.
The fact that these guitars are made one at a time by hand, means that a lot of time and attention has been given to them during the construction process. 
That fact paired with the top-of-the-line materials means that you will pay a premium. You do get what you pay for, though.
These guitars aren't just at every guitar shop. They are mainly special-order. 
Because of that, you may be hard-pressed to find one to try out to see how you like it. 
It's a high commitment, so it's not for the beginner or the casual player.
Maestro actually makes a few other crossover guitar models as well, and they are all worth checking out. 
The main differences are going to be in the tonewoods that are used. 
The MH uses a red cedar top with Khaya mahogany back and sides. 
The IR uses Indian rosewood for the back and sides.
Each of the guitars will be priced accordingly with the more exotic woods. 
I personally like the SR because I'm a big fan of Santos rosewood. 
It is very similar to the Holy Grail of guitar woods, Brazilian rosewood, which is now protected, highly regulated, and very rare, thus very expensive.
Is A Nylon String Guitar Easier To Play
While the softer nylon string is easier for playing, the typical nylon string guitar is not necessarily easier to play because of the construction, in particular the neck.
Nylon strings are mostly associated with classical guitars. 
The nylon strings make fretting easier than steel strings. 
Still, a classical guitar has a thicker, flat neck with more generous spacing between the strings. 
This can be difficult for smaller or even average-sized hands for making chords.
This is where the crossover or hybrid acoustic guitar comes into play. 
These guitars blend the comfort of nylon strings and traditional guitar construction. 
Many beginner models for kids are hybrids for this reason.
Can You Use A Pick On A Nylon String Guitar?
Yes, you can use a pick on a nylon string guitar. 
Most crossover acoustics will lend themselves to strumming and flat-picking a little better than traditional, classical nylon string guitars.
This is why it is better to go with a crossover acoustic if you are looking specifically to go with nylon. 
Classical guitars, on the other hand, do not take to a pick too well usually. 
They are designed to be finger-picked. 
The extra string spacing can make playing with a pick a little awkward feeling and awkward sounding. 
A good combination with either the classical guitar or the hybrid is to finger-pick and use a thumb pick.
Most classical players will grow out their fingernails and use an acrylic hardener to achieve volume and clarity. 
Shaping the nails is very important as well to be able to correctly pick without getting hung up or ripping through a string. 
An alternative to this is to use fake nails that are specially designed for classical players.
As for us "normal" guitarists, pay attention to the type of pick you use with a nylon string guitar. 
Thinner, nylon picks are the pick of choice for most players. 
The matching materials make for a smooth sound without much extra pick noise. 
Celluloid, gel, or Totex picks can sound a little "clicky" but are still perfectly acceptable, and it will be a matter of preference for the player.
Conclusion
Crossover acoustic guitars can be an excellent answer for players looking for something more comfortable to play. 
Selecting the right one based on your playing style can be a little tricky and may require trial and error.
It is best to get your hands on a few different guitars and play around with them if at all possible. 
No amount of research will be able to substitute playing them for yourself!