I love 12 string guitars. I love the big sound, the dissonance, the full spectrum of frequencies, and the variety it brings to the table. I have been fortunate enough to own quite a few of these – some great, some not so great.
I spoke about the reasons to buy a 12 string guitar in my article Should I Buy a 12 String Guitar?. Needless to say, they are great guitars and have their place in one's house, music room or studio. If you want to start exploring them and playing around with them for fun, you want a quality guitar for not much money.
If you are a bit more serious, you also need a quality guitar without too much of an investment seeing as how you are not likely to use it nearly as much as a six string.
Either way, we are going to look at a variety of the best 12 string guitars no matter where you are on the spectrum. Let's break them down by price, then we will look at some of the more immaculate vintage instruments for the serious player or collector.
If you are here then I assume you are researching which is the best 12 string to buy at your price point. I go in to my recommendations based on over 25 years experience further below.
BEST FIRST 12 STRING ACOUSTIC GUITAR UNDER $300
A few years ago, I discovered a "cheap" 12 string that actually sounded pretty good from Recording King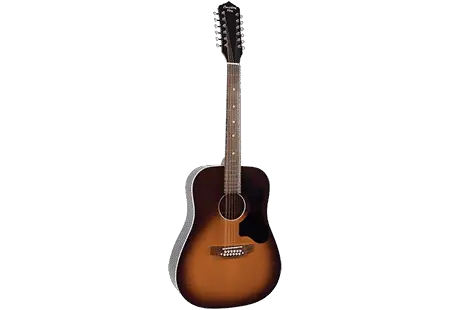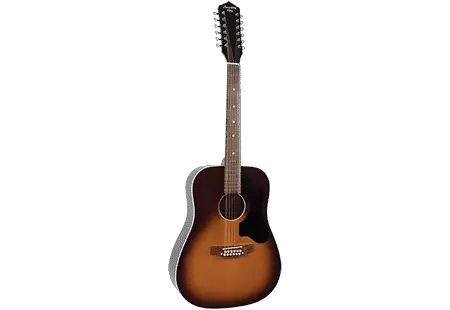 So, why the low price?
For one, the sides and back are made of whitewood. "Whitewood" is a family of woods that include a few different species such as pine, spruce, fir, etc. If you have ever read a food label that describes the oil(s) used with an "and/or" descriptor, that's the same thing here. It could be fir, it could be pine, or a mix. It just depends on what was available at the time. In that regard, the sound could end up being different from guitar to guitar.
Another reason it's so inexpensive is the material of the fretboard and bridge – Revebond. "Revebond" is typically a generic term for wood that is disguised to look like another type of wood. The second half of that name – "-bond"- is an indicator that it consists of multiple types of wood compressed together. It is then dyed black or brown to imitate rosewood, ebony, or walnut.

The neck is made of "Nato" wood, which is another generic, collective term for a particular type of wood. Usually, the species of wood that fit into this category look nice when finished, but can be very difficult to dry and shape. This is another factor that will make each guitar sound significantly different from one to another.
Preview:
Pros:
000 size; solid Sitka Spruce top
"Thin C" neck
Bone nut & saddle
Ivory button tuners
Cons:
Dyed, synthetic fretboard and bridge that can cause cosmetic imperfections
Generic woods used for back, sides, and neck which make for an unpredictable sound — not recommended to buy sight unseen.
This guitar was introduced back in the 1930's and based on a Gibson model at the time. It was discontinued before the 1940's, but had a bit of a cult following. Long story short, this guitar was revived back in the mid '00's and the construction of this guitar is about the best you will find for the price.
The upside here is the Spruce top – a really good, affordable resonant wood that is common for guitar tops. These guitars tend to have a great sound.
This is probably the best guitar to purchase if you are looking for your very first 12 string guitar. Being a triple-0 size, with a relatively thin neck, this will also be surprisingly comfortable for the 12 string newbie. When it comes to this guitar, or others like it in its price range, you will want to try multiple guitars to find the one that you like best in terms of sound and feel.

BEST 12 STRING ACOUSTIC GUITAR UNDER $500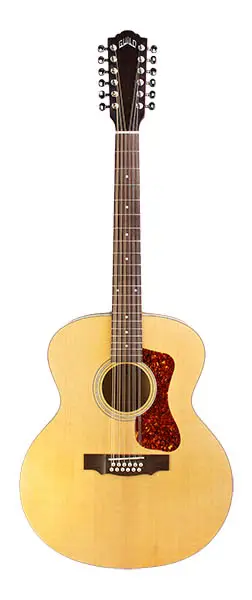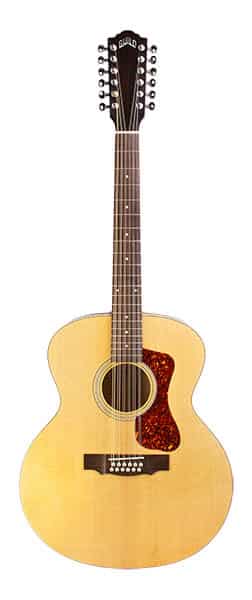 This gets a little easier to shop for. Again, going with a used guitar will get you the best deal in this "middle ground", but only after doing some hand-on research.

The category of "under $500" is pretty finicky in the world of guitar shopping, so give me some grace with this next one.

The Guild F2512 is one of my favorite guitars. I have a custom Guild from the 1980s and this is the closest available relative I can find. The difference in price is several hundred dollars, so if your budget is even close to the $500 mark, I recommend checking this one out.
This guitar tends to go for $499 new. But this is one that is fairly safe to shop for online if you are looking at pre-owned.
The 2512e is an acoustic-electric model (hence the 'e') which means it has a pickup. If you can find a Guild model 12 string that is not an acoustic-electric, then you may fare even better in terms of price.
Like the guitar discussed above, this has a solid Sitka Spruce top. Unlike the cheaper guitar, the Westerly Guild has maple back and sides which give it a much more rich and defined sound. The Jumbo body is something Guild is renowned for and they rarely disappoint. However, this bigger body can be a bit uncomfortable for some players, at least at first.

The pickup is not a necessity and is not the best in terms of sound quality in my experience. It's best to get one used, without a pickup, or with a broken pickup and replace it. If the pickup doesn't work in a guitar like this that you are looking for – all the better! Use that as a negotiation and just use the extra money you saved to upgrade if you are looking to play live.

A guitar like this is typically $800 or more, so why is this one so much less?
For one, the neck and bridge woods that are used is Pau Ferro. This is not low-quality per sé, but is one of those woods that can be hard to work with. For this reason, this wood is cheaper and can lead to imperfections which can affect the feel and sound, and make these guitars unpredictable from guitar to guitar.
In conclusion, this is a great guitar. However, like the Recording King mentioned above, it's a bit of a gamble and you will want to play with a few of these to try to find the one you like best – they will all sound a bit different. If buying sight unseen, you will usually fare pretty well, but you will still want to tread carefully and negotiate as much as you can.

*Note: The F-2512 is not to be confused with the Guild F-512 which runs upwards of $3700

Preview:

Pros:
Sitka Spurce top
Maple back & sides
Pickup for playing live
Thin, comfortable neck
Big, commanding sound
Cons:
Jumbo body size not the most comfortable for some
Cheaper wood for fingerboard and bridge which can make for a thinner, inconsistent sound
Stock electronics sound rather thin; will likely need to be upgraded if being used live
BEST 12 STRING ACOUSTIC GUITAR UNDER $1000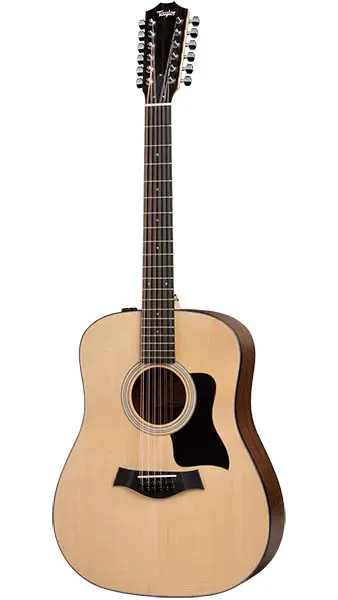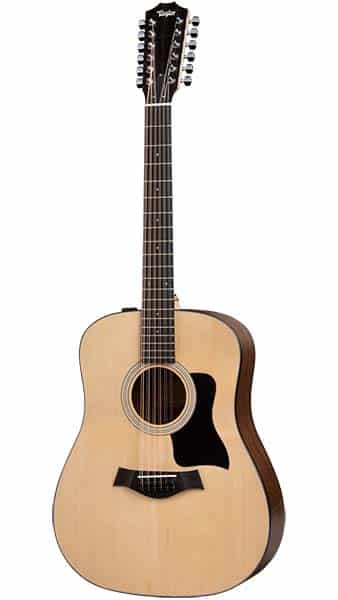 Okay, now we are talking! There are more options at this tier and the options are typically much better and of higher quality.

For the serious or semi-serious player who wants a quality 12 string, I don't usually recommend spending less that $800. You may be able to do a little bit better than that when being patient and looking for good deals in your local pre-owned market.

If you are in love with the 12 string sound and you have decided that you can learn to adapt to the small (yet significant) adjustments, then I would refer you to Taylor.
The Taylor 150e 12-String is one that I just love. The sound is big without being harsh or overpowering. It has great low-end, bass-y response, but also has that crisp high-end sound that makes it feel like you are chewing on a homemade Rice Crispy treat.
It's a dreadnought body shape which means it's easy to play with touch. There's no need to strum like a madman to get this to fill up a room.
The bracing is "updated" from earlier versions of the 12 string model to help with resonance, range of frequencies, and balance. The type of "12-string bracing" found in the Taylor is actually what will be commonly found in the construction of higher-priced 12 strings which is why a $1000+ 12 string sounds much better than an $299 12 string. Bracing designs will vary from model to model, but the higher end guitars almost always go the extra mile to achieve the best sound.

Like some of the other models we have discussed, this guitar comes equipped with a solid Sitka Spruce top* instead of going crazy with an exotic wood, which helps to keep this guitar lower in price in order to splurge a bit on the other parts.

*Maybe you are wondering about the qualifier of "solid" in the description. That means the entire top is just one layer. Much cheaper guitars may simply use a veneer – a very thin layer of the specified wood on top of a much cheaper wood to cut costs.

The neck is made of maple which helps to add sustain. Maple is also a fairly strong wood which is rather important for a 12 string neck with all of that extra string tension. Not an exotic wood by any stretch, but not always a cheap wood either. This is actually a "par for the course" type of wood that is largely agreed upon to be a great wood for the neck of a guitar – at least in my opinion as a lifelong guitar player.

The back and sides are made of walnut. More specifically, they are made of layered walnut which is different pieces of walnut that are adhered together – cheaper than solid walnut, which tends to be a cheaper alternative to mahogany. Again, this is another reason for the sub-$1k price. Walnut as a tonewood on a guitar has the reputation of being bright when played softly, and being warm, deep, and powerful when played with a bit of aggression.

The fretboard and bridge material are noteworthy: they are both Ebony. Ebony tends to be a little more aesthetically pleasing, but also adds brightness. This ebony fretboard (the place where you fret notes) and bridge (the place where the strings transfer vibration to the body) are really the pieces that give this the guitar the crispy, crunchy sound that gives it its definition and adds punch to the big resonance of the other woods that make up the guitar.

Finally, the nut and saddle material are quite nice. TUSQ is used for the nut which is a very high quality synthetic ivory. Micarta is what makes up the saddle. Micarta is a synthetic bone that is not quite as good as TUSQ or real bone, but it's a heck of a lot better than plastic!

These days, it can be difficult to find a 12 string that does NOT have electronics. I usually ignore this part of a 12 string since I will likely add electronics to a regular acoustic, or upgrade the stock electronics in an acoustic-electric. Since these guitars are usually marketed to guitarists that play live, don't let the pickup (or lack thereof) make or break your decision.

If you are buying used and a 12 string has the stock electronics in it, then consider them moot and negotiate for the price as if they don't have electronics in them at all. You'll notice that in most demos of these guitars, they are not even using the electronics. They are typically mic'd up with a pretty nice studio condenser microphone.

However, the electronics in this particular model are actually quite decent. If you want an idea of the sound of the pickup in action, check out this video demo. It's a 6-string, but that's okay – you can still get the basic idea of the sound.

The upside to this pickup system is that it is much more aesthetically pleasing as it is a much cleaner look. The downside in my experience is these pickups can be a little delicate. If you are a strong player who strums hard and gets really percussive with your strumming hand, you may knock the wiring loose and create crackling, popping, and loss of sound.

If the electronics have been replaced with upgraded parts, then you will want to research the electronics and, of course, test them to see if there is any unwanted distortion, crackling, or other unsavory noises.
Preview:
Pros:   
Walnut back & sides to help with depth and warmth
Ebony fingerboard and bridge for definition & brightness
Big, full sound without being overpowering
TUSQ nut
Readily available in left handed models
Good stock electronics
Cons:  –
Layered walnut for back & sides: not quite as good and can be inconsistent
Bigger dreadnought body can be uncomfortable for some
Plastic rosette around the soundhole looks rather plain and a little cheap
Delicate wiring for the under-the-bridge pickup system
Okay now that we have looked at some of the best options for specific price ranges, let's discuss what is going to be the best bang for your buck
BEST 12 STRING ACOUSTIC GUITAR FOR THE MONEY
I'm actually not going to pick a guitar that is on the list above, but I'm going to pick a guitar that is a little lower on the price scale. I could have used this guitar for "the best 12 string under $500", but if I have the $399-$499, I'm sticking with the Guild every time. I have had too many great experiences with Guild guitars.
However, if you have around $360 laying around and you want a great value, then look no further than the Alvarez Artist Series AD60-12.
Heck, if you have $250 or so, then do your best to search for a used one.
This is one of the few 12-string guitars which does not include electronics, thus a cheaper price. So if you don't need a pickup, then this is the way to go. This guitar has mahogany back & sides – a very nice tonewood that is highly sought after. It's a quality wood, but I really can't find info on what type of mahogany it is.

This is a wood that can vary widely in terms of quality depending on the tree and the part of the world it came from. My guess is that is on the cheaper side considering this guitar is a little flat in the sound department. That could be me nitpicking since I had some high expectations when I tried it out. Of course, it could have just been the particular model I picked up.

Also on this guitar is a bone nut and saddle. You can rest assured these pieces will last a long time and they really add to the punch and brightness of the guitar.

The tuners are premium die cast tuners so soild tuners for this price point.

If you are looking to not spend a lot of money and you just want a quality, enjoyable instrument to just play around with and to get acquainted with the 12-string, then you are not likely to find a better value.

Preview:
Pros:  
Solid Top
Premium die cast tuners
Saves money by not having electronics
Bone nut & saddle
Quality wood for body
Cons:
BEST VINTAGE 12 STRING ACOUSTIC GUITAR
Let's not stop just yet. Maybe you are in the vintage market and are looking for a great, older guitar to enjoy. For that, I have to recommend the 1965 Gibson B-45 12 Natural. This was one of (if not 'the') first major manufacturer to produce the 12 string and bring it back after they declined in popularity after the 1930s
These were made with two different bridge designs. Some have the typical bridge with the strings being held down with bridge pins, while others had the old "Trapeze" style bridge where the strings are held by a tailpiece back past the bridge. The former is what is recommended as being the best sounding, but I personally like the vintage look of the Trapeze bridge.

A few things on this guitar changed over the course of a few years, but the 1965 model is the one that is the most sought after. As is common practice, it has a solid Spruce top. It also has solid mahogany back and sides – another common quality material. What sets this apart is the Brazilian Rosewood fingerboard and bridge. Since 1992, it has been illegal to harvest this wood unless using a tree that has fallen naturally.

It is a topic of debate whether Brazilian Rosewood is the better sounding wood, or if the supply and demand market just leads people to believe it is a superior wood. Whichever camp you may fall into, it is a very pretty wood.

The nut and saddle may have been replaced if you get your hands on one of these, but what was typically used for the nut was bone and the saddle was actually made of Ebony. Some models may even boast an adjustable saddle.

The neck is a slightly shorter scale than most, so it makes the guitar reasonably comfortable to play. Most of these also came with jumbo frets which in my opinion only add to the comfort.

Kluson tuners were stock on these and these tuners are great. Although depending on the condition, you may need to have these replaced or cleaned.

If you ever want to update any piece on this or any other vintage guitar, you must go original to maintain its value. If you find one of these with replacement parts that differ from what was original to the guitar in the 60s, you can negotiate the price down and later have it restored. Another thing to look for on a Gibson of this age is the logo on the headstock which is the early rounded diamond inlay. If the headstock or neck has been replaced for any reason and this logo is different, it drives the price WAY down.

Preview:
Price: $1000 – $3000+ depending on condition
Notable Features:
Brazilian Rosewood fretboard and bridge
Old "rounded diamond" inlay on headstock
Some have the trapeze tailpiece bridge – a later addition
I really wish you well if you are on the hunt for a 12 string guitar, whether for the first or fifth time. It's a great instrument that has an interesting history in the world of guitar. They really deserve a place in your music room or on the stage at your next show. Such a beautiful, unique sounding instrument is sure to bring you many years of joy and creativity.