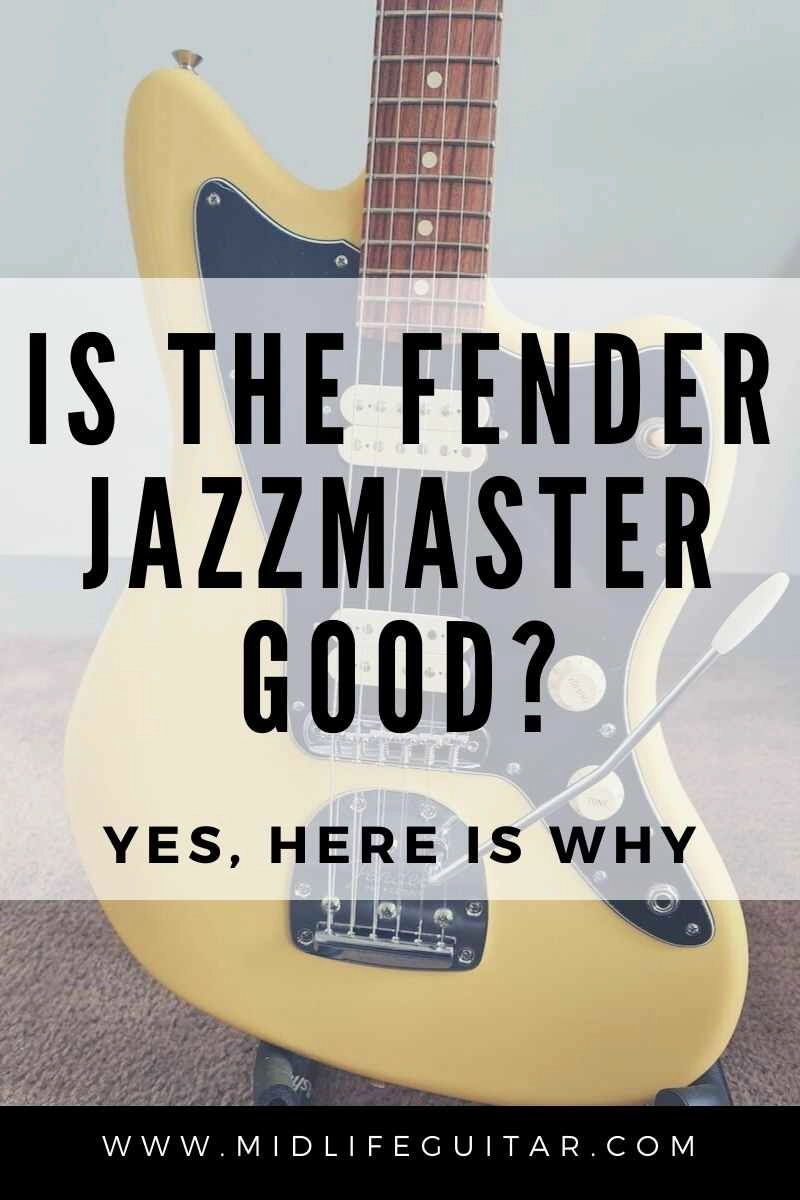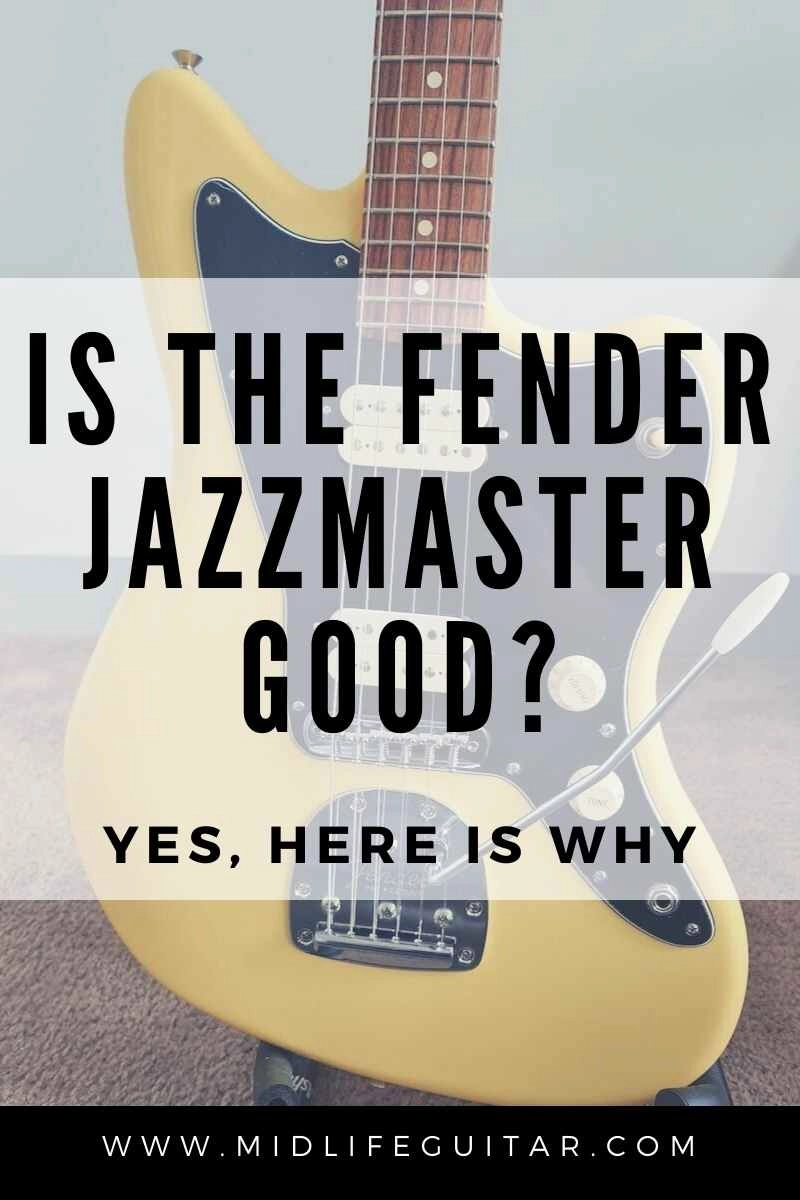 The Fender Jazzmaster is a renowned name to guitarists all over the world. 
Intended to resemble the solid body alternative to the hollow body archtop guitars, Fender had hoped to initiate a revolution amongst jazz guitarists with the introduction of the Jazzmaster. 
Its off-set body was designed for comfort while sitting down, a position popular amongst jazz and blues players. 
However, the Jazzmaster never really caught on with its intended target. Instead, it found favor with surf rock guitarists in the 1960s.
Today the Jazzmaster is used by notable players such as Tom Verlaine, Elvis Costello, Robert Smith, Alex Turner, Jim Root, Ric Ocasek, and J Mascis. 
But are the Fender Jazzmaster good guitars? 
Yes, the Fender Jazzmaster is a great and versatile guitar. Its robust build and excellent sound appeal to various genres ranging from blues, country, jazz, classic rock, fusion, and indie sounds. Furthermore, put some high gain pickups in, and you have a guitar to play metal with.
Although its intended purpose was to service Jazz and Blues musicians of the like, the Jazzmaster is versatile and used for an array of styles of music. 
With its lead and rhythm circuit switching and a full 25½ scale length, this particular guitar makes it a unique addition to any player's repertoire…. 
It also comes with a floating tremolo, tremolo lock, and a unique bridge.
The Jazzmaster features a tremolo lock that can be manually activated if a string is broken, keeping the remaining strings in tune. 
It also has an extra-long tremolo arm, which gives the Jazzmaster its different resonance and sustain. 
The bridge is a topic of discussion amongst many players… 
With its clipped sustain – due to it sitting on two fulcrum points and this moving back and forth with the tremolo motion – it is considered by some to be the reason for the signature guitar sound. 
The Pros and Cons Of playing a Fender Jazzmaster
The Pros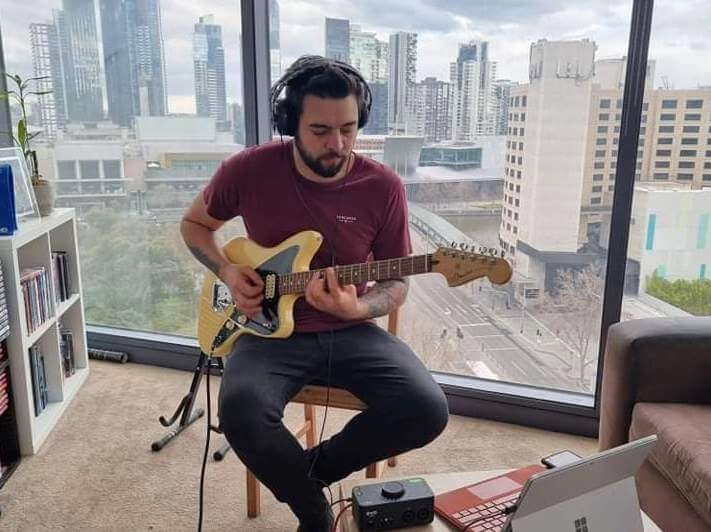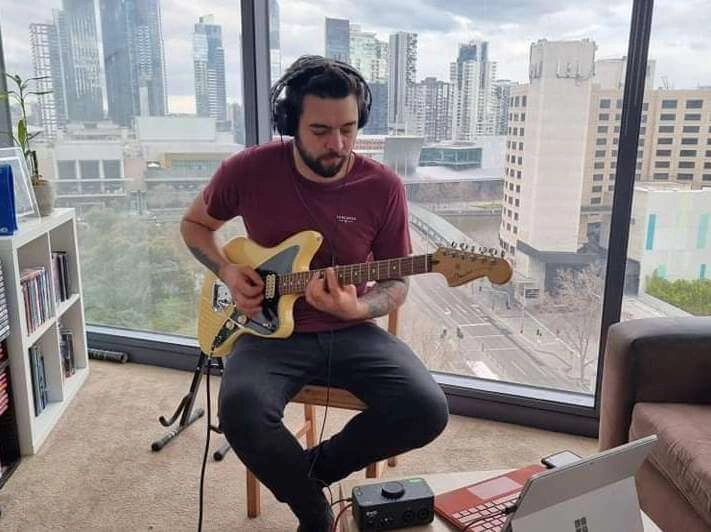 Is the Jazzmaster a good guitar, you ask? It's not without its flaws, but it's a great piece of ingenuity to have. 
How do I know? Well, I have one, and it's one of my personal favorites – just behind my duo-sonic, of course.
Most of my collection consists of Fender guitars, and there is a good reason for that.
They're gorgeous to look at, feel incredible, but most of all, they're versatile. 
The Jazzmaster is no exception. In fact, is the most versatile guitar in my whole collection.
Being a recording artist myself, the Jazzmaster is excellent for recording, as wells as sitting down and strumming away. 
Using it for its intended playing position (sitting down) is optimal, but playing it upright is just as comfortable. 
The feel and overall quality of the guitar are unparalleled, but the sound is where most players may be divided.
The Cons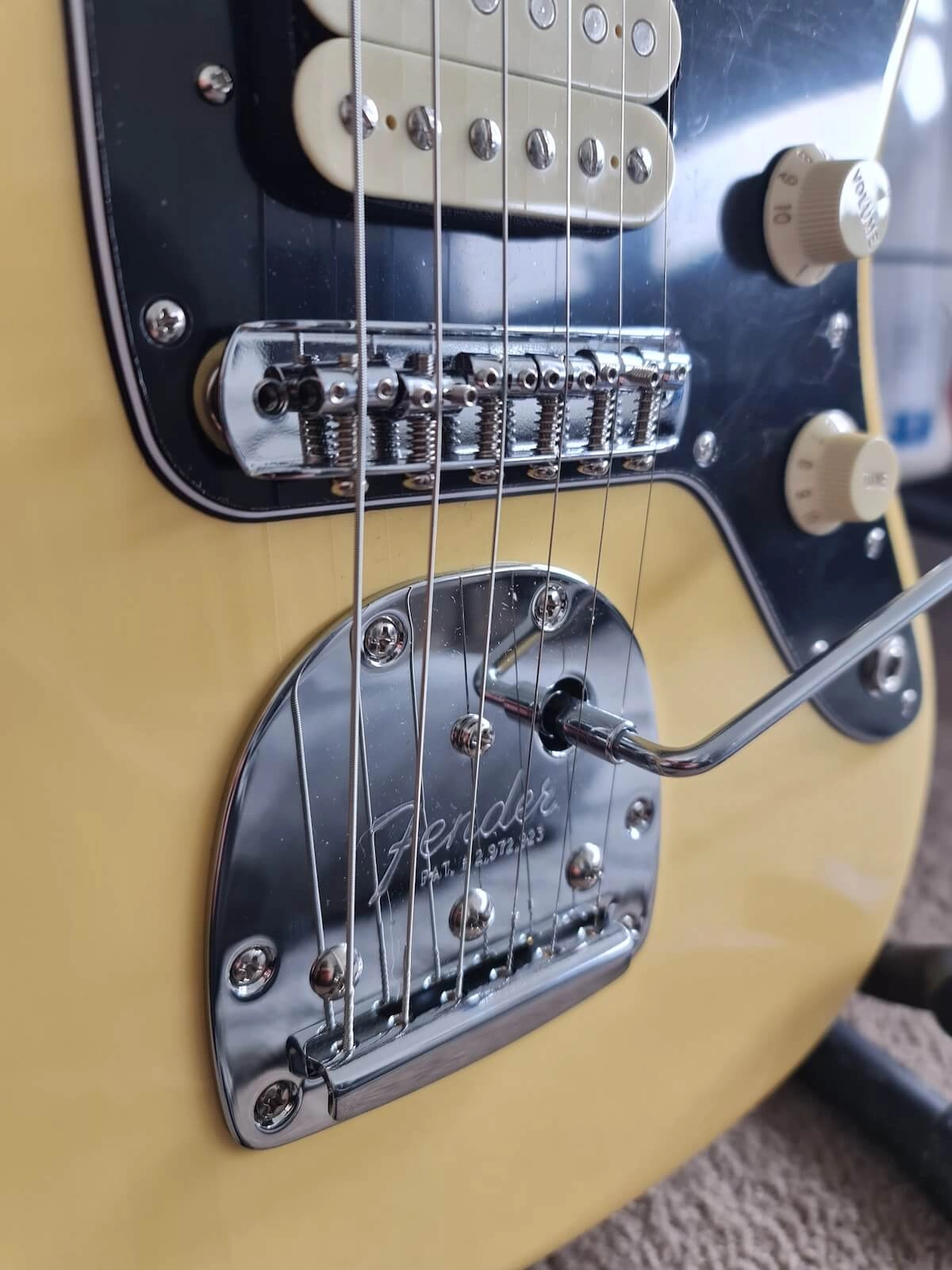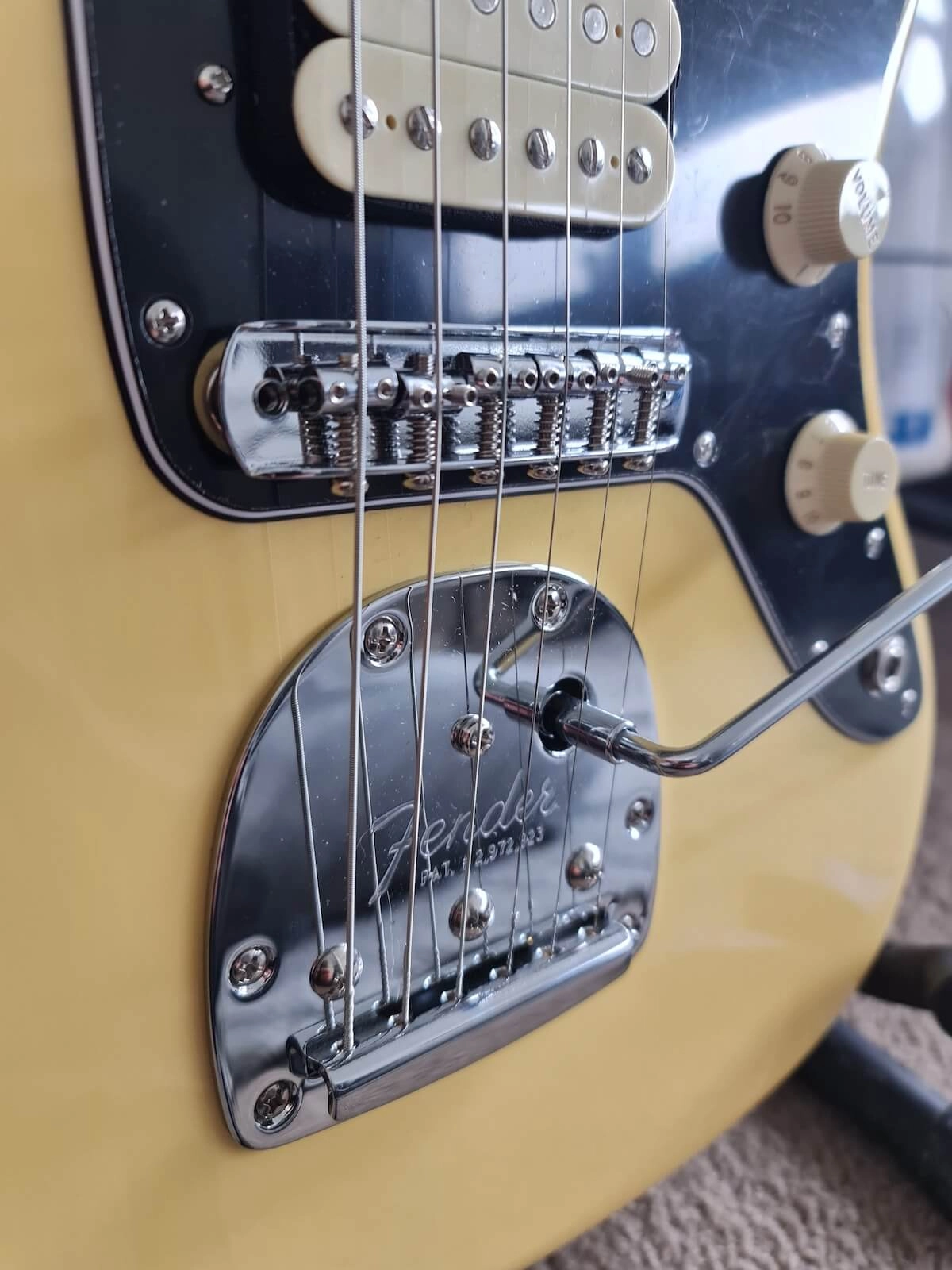 I cannot fault the Jazzmaster much, but if there is one thing I have to point out, it is the sound. 
Due to the bridge sitting on two fulcrum points, there is a lack of tension in the strings. 
It is that lack of tension on the strings that create a buzzing sound.
The sound is very noticeable, especially playing it unplugged. 
Jazzmaster Specifications and Features
Feel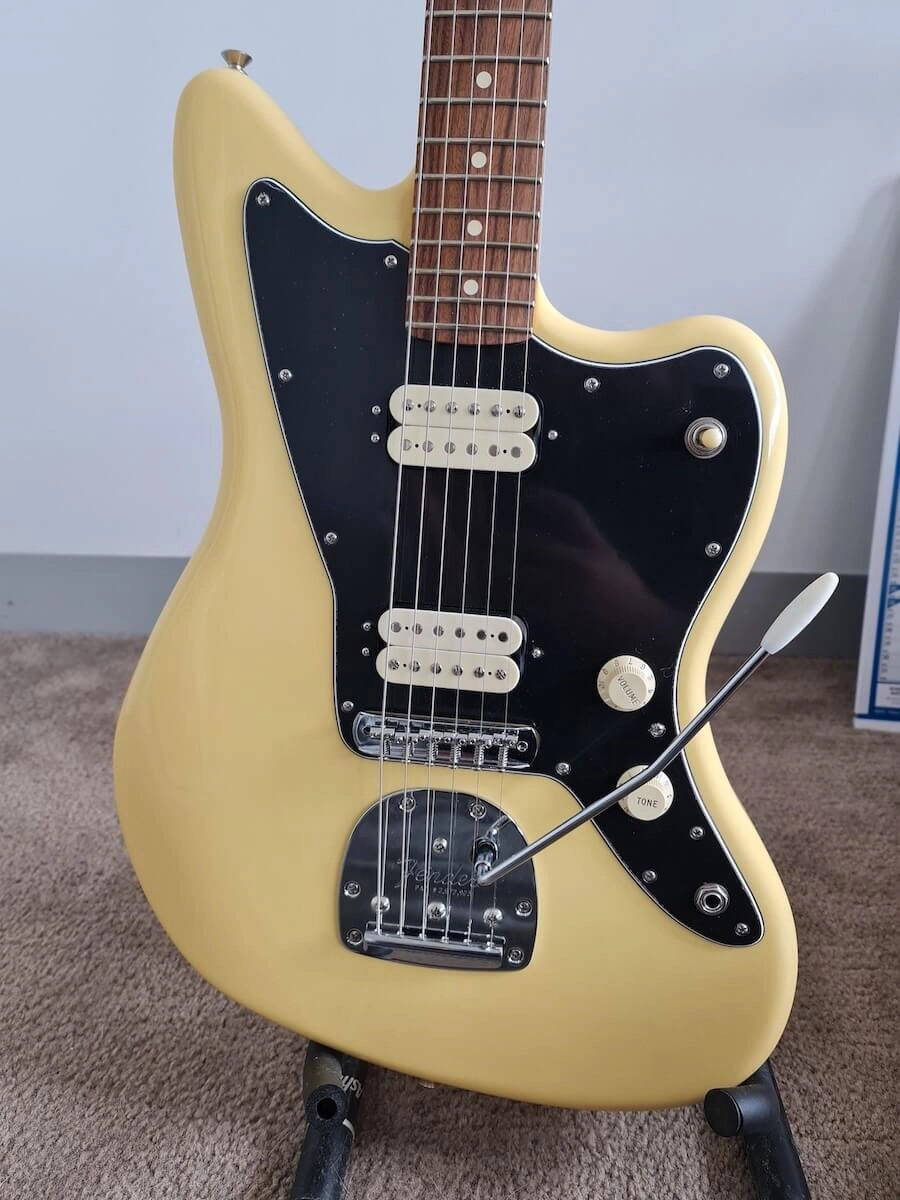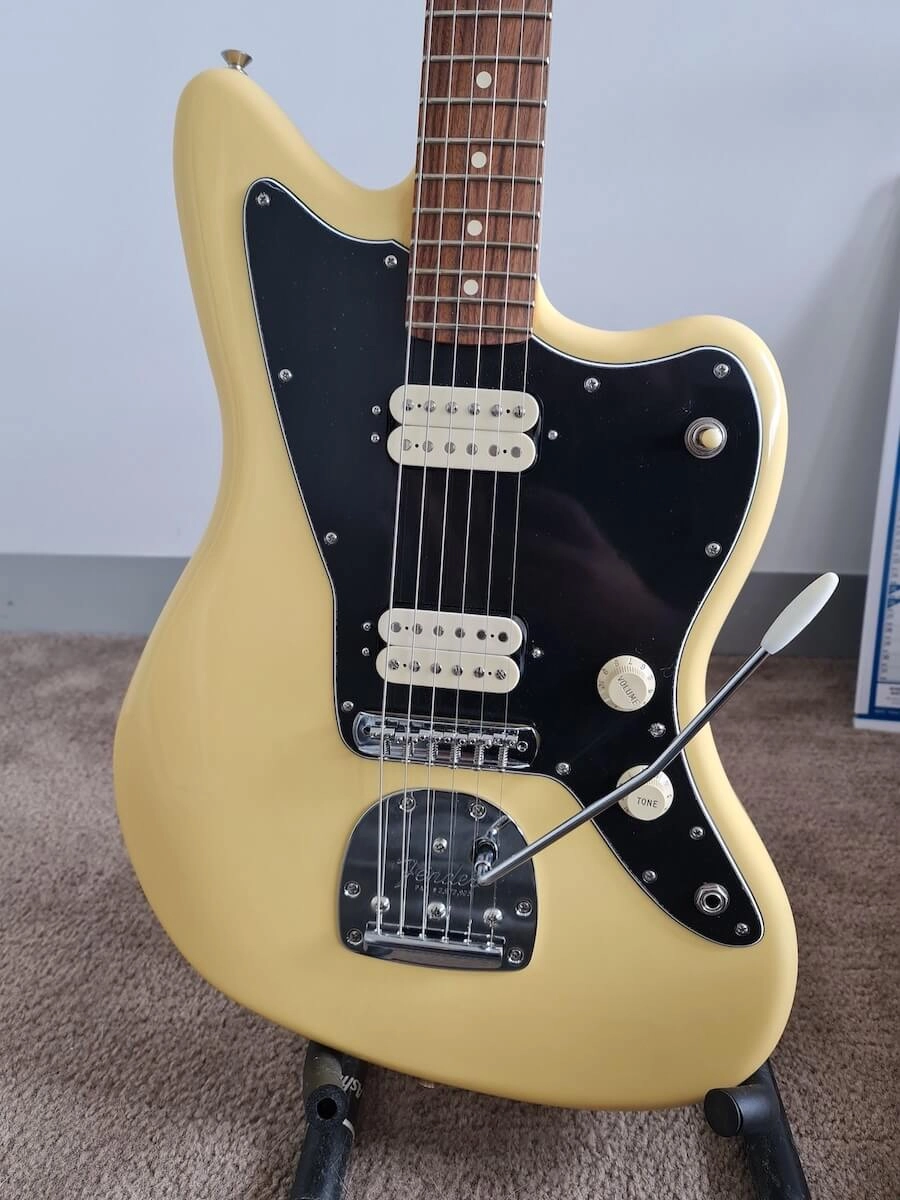 The feel of the guitar is sleek and smooth with its round edges and polished mahogany body.
The feel of the maple neck is incredible as you run down your palm and execute run-ups. 
The Rosewood fretboard adds to the Jazzmaster's unique sound, a warm sweet tone. 
It softens the otherwise bite and percussive characteristics of a maple neck…
But, of course, this is all down to the player. 
Personally, I love the Maple sound, but I also love the Rosewood feel. 
So I say it's always good to have both options!
Sound
As previously mentioned, the Jazzmaster has a buzzing sound that some players love while others hate!
As the bridge sits on two fulcrum points, the strings lack tension.
It is that lack of tension on the strings that create a buzzing sound.
It is very noticeable, especially playing it unplugged.
If the buzzing sound is not for you, you can remove it altogether by replacing the bridge or placing a buzz stopper (This video will show you how to place the buzz stopper).
However, some may argue that removing the buzzing sound may take its unique sound away.
It most likely will to some extent, but it is up to you and your preference. 
If you can bear the buzz and feel of the strings as you play, then leave it as the manufacturer intended it. You will not regret it! 
Quality
The overall quality of the Jazzmaster is worth the coin – I'll get to that soon. 
So, if you are willing to invest in a Jazzmaster, it may be your go-to instrument for all types of styles and genres. 
Its quality is unparalleled, and its ingenuity, genius.
The table below provides a quantitative measurement of how I believe this product measures up in various performance categories. 
Price
Like any other guitar, the Jazzmaster's price varies, depending on which model you select. 
The American series and the signature models are on the higher end of the spectrum, while the Player series is on the other end.
Here are a few prices from various music stores.
All prices are in US$.
American Professional II Jazzmaster
Classic 60s Jazzmaster
Player Jazzmaster
Fender
$3,299

Check your Fender American Professional II Jazzmaster, on the Fender store here. 
$929

Checkyour FenderClassic 60s Jazzmaster, on the Fender store here.
$1,499

CheckCheckyour FenderPlayer Jazzmaster,on the Fender store here.
Amazon 
$1,599

Check your Fender American Professional II Jazzmaster, on Amazon here
$449.99

Checkyour FenderClassic 60s Jazzmaster, on amazon here for the left-handed guitar, and here for the right-handed guitar.
$829.99

CheckCheckyour FenderPlayer Jazzmaster,on Amazon here.
Zzounds.com
$1,599

Check your Fender American Professional II Jazzmaster, on Zzounds here
$449.99

Checkyour FenderClassic 60s Jazzmaster,on Zzounds here.
$829.99

CheckCheckyour FenderPlayer Jazzmaster,onZzounds here.
What kind of music is a Jazzmaster good for?
As previously mentioned, The Jazzmaster is a versatile guitar that has been picked up by many musicians playing different genres and styles. 
Although built with Jazz and Blues players in mind, it remains a guitar versatile enough to have a cult following amongst other genres and players such as Rock and Surf Rock. 
Rock With a Jazzmaster
The Jazzmaster has been adopted by rock, indie, and heavy rock guitarists due to its deeper tone and larger scale length – from Slipknot to Sonic Youth. 
In addition, its unique tone and set-up allow for a fuller tone that can be adjusted by adding different pickups – all while pertaining to the signature sound of the Jazzmaster. 
Jazz and Blues With a Jazzmaster
Although snubbed by Jazz and Blues players alike, the Jazzmaster offers plenty of usable blues' tones if played in the right hands. 
With its unique tone, many jazz musicians replaced the factory strings with flatwound strings to mellow the tone.
Surf Rock With a Jazzmaster
Both the adopted Jazzmaster and Stratocaster dominated the surf rock scene for decades. 
The Jazzmaster is renowned for its defining tonality of twang and thin, clean sound drenched in reverb – a dream of surf rock players.
Other Related Question
Fender Jazzmaster vs. Fender Jaguar
Being the predecessor to the Jaguar, the two have a ton of similarities but differ in a few simple ways. So here are a few differences between the two.
Scale Length
The Jazzmaster's scale length is 25.5 inches, whereas the Jaguar has a 24-inch scale. 
Meaning the Jaguar's strings feel looser which makes big string bends easier.
Sound
Although both have the rhythm and lead circuits, the Jaguars are generally brighter in sound while the Jazzmaster can fill a bit more sonic. 
Aesthetics 
The two guitars undoubtedly look similar with their offset body shape…
But if you analyze the two closely, you'll notice that the top horn on the upper bout of the Jazzmaster is slightly bigger. 
The Jazzmaster also stands a little taller due to its larger-scale length.  
Conclusion
If you're looking for a guitar rich in tone and a clean twang feel by a flick of a switch, the Fender Jazzmaster is for you. 
No matter what style of music you play, this versatile machine will accommodate your every need.
This guitar will definitely surprise you with its ability to make any style of play its own. 
Be warned, though, the infamous buzz that comes with the guitar might be detrimental to your purchase. 
Although there are ways around it, you may need to fork out a few extra dollars to amend it. 
Alternatively, leave it and enjoy its unique sound.